Westling's advice to new faculty: live and advise
The reception at Sloane House following the New Faculty Orientation brought together, from left, Katherine Dewey, Michael Aeschliman, associate professor of education, Boyd Dewey, associate dean of SED, Rose Ray, clinical assistant professor of education, Joan Dee, associate dean of SED, John Cheffers, professor of education, Lawrence Ray and Rajai Masri, lecturer in the department of finance and economics. Aeschliman, Ray and Masri are new faculty members. Photo: Fred Sway
---
by Eric McHenry
As orientations go, it was rather disorienting.
BU president Jon Westling acknowledged that the "rapid- fire introduction of so many administrators and faculty members" lent Thursday night's New Faculty Orientation in Metcalf Hall a "mildly hypnotic" quality.
But Westling's call to action was clarion: he instructed the University's newest additions to take seriously their roles as academic advisors.
"This year, I'm changing, somewhat, my basic charge to new faculty members," he said. "Yes, I still very much want you to become intellectually serious mentors to Boston University students. But first, I'd like you to become competent participants in the University's academic advising system."
"Our commitment to educate the whole person," Westling said, "requires you to live your subject, to live the books that you teach, the ideas that you believe in. But practically, you can accomplish this only by being on campus, available to meet with your students in your office several hours a day and most days of the week. If students cannot see you, they cannot see you living your intellectual and professional enthusiasms and commitments."
Westling lamented the arrival of an era in which young Americans increasingly view higher education as a product for consumption, or as "lite entertainment." Echoing an essay by Mark Edmundson from the September issue of Harper's magazine, Westling suggested that "children who grow up in the latitude between bland receptivity and ironic detachment aren't primed for heroic journeys of the mind and spirit. They are not uneducable, but they can be very difficult to teach."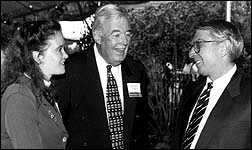 President Jon Westling spoke with Margaret Schwarzer, a new University chaplain, and Robert Watts Thornburg, dean of Marsh Chapel, during a reception at Sloane House following the New Faculty Orientation Sept. 18. Photo: Fred Sway
---
This assessment, he said, was borne out by responses to a 391-question survey of over 2,000 BU undergraduates conducted in 1996 by the office of Enrollment Services. These responses provided evidence that some BU students "do indeed view higher education through the tinted, glare-resistant lens of consumerism." Westling read excerpts from several of the responses. One student had written, "I'm worried about the real-world value of a BU diploma. I've paid about the same as those who attend Harvard or Yale, but their diplomas are worth much more than mine."
Westling noted, however, that such surveys give a platform to students who want to blow off steam, and that the significance of individual responses should not be overstated. "The art of making sense of these responses," he contended, "is to recognize the patterns."
He pointed to students' consistent expressions of disappointment concerning their academic and career advisors as one such pattern. He shared quotations in which those surveyed complained of their advisors' inaccessibility, lack of concern for advisees' well-being, and failure to provide necessary information.
"Some of the discontent focused on the professional advising staff," Westling said, "but the cri de coeur is for good, intelligent, substantively informed, individualized faculty advising."
His remarks followed introductions of new faculty members by deans and department chairs. Westling began by presenting the 1998 University Scholar/Teacher of the Year Award to Benjamin Kaminer, chair of the department of physiology at the School of Medicine [See "The accidental purist," p. 1]. The $2,000 award is sponsored by the United Methodist Church's division of higher education.
A reception at Sloane House, the President's residence, followed the event. Interviewed there, new members of the faculty said the atmosphere at BU seems conducive to productive faculty- student interaction.
"I've been pleased that students actually come to the office hours and talk with me," said Aaron Garrett, a new assistant professor of philosophy. "It's been very pleasant to see that the students don't just view their professors as people who, when class is over, cease to be people and go away to whatever academic clime they've drifted in from."
"I like places that have a great deal of energy and creativity," said Margaret Schwarzer, University chaplain and head of the Episcopal ministry. "I've just left Princeton, New Jersey, a fairly quiet town, and I'm glad to be in a more straight-shooting and creative place."