Departments
Arts



| | |
| --- | --- |
| Week of 26 September 1997 | Vol. I, No. 5 |

Arts

Alea III - Taking chances with new music
by Joan Schwartz
One of the problems in the world of contemporary concert music, observes Yuri Mazurkevich, professor of violin and chairman of the SFA string department, is that once a new piece is written, it often stays on the paper unperformed. "Alea III makes it come to life," he says. "Through its performances we learn new currents in music, new harmonies, new timbres. It's very important that students hear this."
Alea III is the contemporary music ensemble-in-residence at the School for the Arts. Its name comes from the Latin word for dice. In music, aleatoric refers to compositions that incorporate random or chance procedures -- musicians, for example, may have a choice of pitch at a given point in the score -- a technique often associated with John Cage or SFA's Lukas Foss. More broadly, the name suggests an ensemble willing to take chances with the breadth of 20th-century repertory.
"We exist," says Theodore Antoniou, Alea III's music director, "above all to convey love and belief in the music of our century."
This year Alea III celebrates its 20th anniversary with a series of five free concerts at the Tsai Performance Center. The concerts feature world premieres of works by Gunther Schuller, Foss, and Donald Martino. Many of the soloists are faculty members at SFA.
The season opens on Saturday, September 27 with the 15th International Composition Competition for Young Composers with world premiere perfomances of works by eight young composers, including Castilian Dances by Roman Yacub.
"We exist above all to convey love and belief in the music of our century," says Theodore Antoniou, Alea III's music director. Photo: Kalman Zabarsky
---
Finalists for this year's competition were chosen by a panel of composers, performers, musicologists, conductors, and educators from a field of nearly 250 entries.

"Antoniou has really been a champion of the composer," says Phyllis Hoffman, director of the music division at SFA. "Alea III has provided a forum for an incredible number and variety of new works by a broad spectrum of composers from masters to fledgling. This kind of forum is part of what determines the masterworks of the future."

Composer, conductor, and author Schuller says that through Alea, "we have been privileged to hear excellent performances of works not only by the younger generations of composers . . . but of the earlier masterpieces of the twentieth century."

Concertos are the theme of the October 29 program, which includes new works by Schuller and by James Boznos (SFA'91). The Double Concerto for Harp, Marimba and Orchestra by Theodore Antoniou rounds out the concert.

The December 8 concert, called "Generations," includes a new work by Foss as well as pieces by SFA graduate student Apostolos Paraskevas and Marti Epstein (SFA'84).

The fourth concert, on February 5, focuses on Massachusetts-based composers and includes works by SFA faculty members Charles Fussell and Tison Street, as well as Alexandros Kalogeras (SFA'82). The final concert, on April 4, celebrates the music of the 1970s with pieces by George Crumb and Steve Reich. It is the eighth in the Millennium Project, Alea III's decade-by-decade survey of 20th-century music.

For more information about Alea III's upcoming season, call 353-3340. For tickets, call the Tsai Performance Center box office, 353-8724.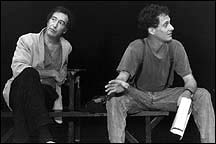 The Boston Playwrights' Theatre season opens on Friday, September 28, at 8 p.m. with a staged reading of "Pound of Flesh," a funny and disturbing examination of the poet Ezra Pound in captivity written by Boston University alumnus Michael Bolus (CAS'85). Randall Forsythe (left) and Joel Reider portray the poet and a young jailer. The performance is free. The Playwrights' Theatre is located at 949 Commonwealth Ave. For information call 353-5443. Photo: Kalman Zabarsky
---
Professor of Painting John Walker (center) is pictured at the opening of A Theater of Recollection, an exhibition of his latest paintings and prints, with Kim Sichel, director of Boston University Art Gallery, and John Elderfield, chief curator of the Museum of Modern Art, New York. The exhibition runs through October 19 at the gallery at 855 Commonwealth Ave. Photo: Boston University Photo Services
---