Departments




| | |
| --- | --- |
| Week of 19 September 1997 | Vol. I, No. 4 |

Feature Article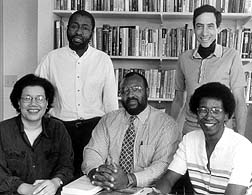 The staff of BU's new Institute on Race and Social Division (front, from left): Sherry Chafin, administrative assistant, Glenn Loury, director, and Research Associate Prof. Linda Datcher Loury; (back, from left) visiting scholars Marcellus Andrews and Leland Neuberg. Not pictured is visiting scholar Phillip Richards. Photo: Fred Sway
---
Bridging the gap


BU's Institute on Race and Social Division
by Jim Graves
In a time of widespread discouragement over persistent black-white divisions in America, Glenn Loury is hopeful -- and busy. Indeed, the UNI and CAS economics professor has started an interdisciplinary center to explore fresh approaches to the crisis whose intractabilities have mocked both liberal interventionism and a Reaganomics that promised to float all boats. Under his direction, the Institute on Race and Social Division (IRSD) began operating at summer's end amid the clatter of workmen completing the renovation of its quarters on the fifth floor of 704 Commonwealth Ave.
By now, the work of IRSD's staff, which besides Loury in-cludes three visiting scholars in residence this year and a research professor, is approaching full stride. "Our central focus is on racial division in America," Loury explains. "But social conflicts along economic, political, and cultural lines are unhappily prominent in many nations, and the IRSD is proceeding on the assumption that the important features of this problem are universal. To gain perspective on the problem in America, we will also investigate the causes, consequences, and methods of resolution of social conflicts within modern nation states around the world."
Some inspiration for the international emphasis, Loury says, came this past May when he attended the Salzburg Seminar in Austria, where he took part in an international conference for developing ideas to resolve conflicts around the world. "At the end of the week in Salzburg," he says, "it was clear that the Asians, Africans, North and South Americans, and Europeans who participated -- including Serbs, Bosnians, Sri Lankans, and others with deep grievances and animosities -- had developed a hopeful sense that the conflicts they discussed can be transcended by the application of reason and good will. I went to Salzburg as a skeptic, but I left there energized."
Which is not to say that he underestimates the extent or potential of racial divisions in America. Unless bridged, says Loury, these divisions could threaten national social, economic, and political chaos. "That's a worst-case scenario, but for too many youngsters in inner cities across America who are without responsible parents or a supportive community life, the worst case is already a reality. A corresponding reality is the cold impersonality with which some social critics and policy makers discuss the plight of these children. Both facts help measure the size of the problem."
The time has come, he argues, to rid this complex and deep-seated dilemma of wishful thinking, code words, and finger-pointing by both the left and the right. If the institute brings about nothing more than candid and objective reflection on the subject, that will be much, he says. But he believes that IRSD's multidisciplinary approach, combining the insights of several fields, can yield useful new understandings.
"And while bringing the methods of quantitative social science heavily to bear," he says, "we're also adding a new emphasis to the exploration of ethical and moral dimensions of these questions. I believe, for instance, that collaborations between the institute and Christian ministries in inner cities can prove fruitful to both scholars and activists. In this connection, we've persuaded Pastor Ray Hammond of the Bethel AME Church in Boston to take an active part on our advisory board. Likewise, the institute is joining George Washington University's Institute for Communitarian Studies in sponsoring a major conference to be held in Boston and Washington, D.C. The topic, Racial Reconciliation in the United States, will tap in to a dialogue on reconciliation that has emerged among evangelical Christians."
A second major conference, Race Policy in the United States and Great Britain, will take place in Boston and London and will focus on international aspects of the problem. Already under way is the institute's public seminar program, in which scholars and advanced graduate students present works-in-progress. Throughout the academic year researchers in diverse fields will address pertinent topics at the institute each Wednesday from 4 to 5:30 p.m. "Besides publishing, conferences, and public lectures, we're training future scholars to look for ways to heal social gaps," says Loury. "There's much to be done."
IRSD advisory board member UNI Prof. Alan Wolfe says that he looks for positive results from the new institute. Although discrimination remains powerful, Wolfe says, "we've reached a post-civil-rights era that marks a new phase in American race relations. I feel Glenn and the institute are capable of articulating the new parameters of the problem and of resolving some of our racial conflicts. Which is why I signed on as an advisor."
New at BU
The IRSD staff
UNI and CAS Economics Prof. Glenn Loury, the director of BU's new Institute on Race and Social Division, is the author of the 1996 American Book Award winner, One by One from the Inside Out: Essays and Reviews on Race and Responsibility in America. He has been at the University since 1991.
The visiting scholars who are pursuing research at the institute and teaching at BU during the 1997-98 academic year include economist Marcellus Andrews of Wellesley College. During his residence at the institute, Andrews is studying the political economy of prisons in the United States. Leland Neuberg, who earned a doctorate in city and regional planning at the University of California at Berkeley, is the author of Conceptual Anomalies in Economics and Statistics. At IRSD, he is conducting research on aspects of welfare reform and social experimentation. Phillip Richards, a scholar of Early American literature at Colgate University, is writing his autobiography. And IRSD Research Associate Prof. Linda Datcher Loury, a labor economist at Tufts University, is an authority on the effects of family background on schooling and the effects of affirmative action in college admissions. Linda Loury, who is Glenn Loury's wife, is analyzing the relationship between religiosity and socio-economic outcomes for young adults.