New state health commissioner Koh
He'd rather prevent than cure
by Brian Fitzgerald
Dr. Howard Koh, the new Massachusetts public health commissioner, is a man on a mission. As he assumes the post September 16, his mission is to eradicate preventable disease. And because he has seen so much needless suffering in his career, he says, he's not afraid to use the position as a bully pulpit to get results.
Koh, a skin cancer specialist and professor at Boston University's Schools of Medicine and Public Health, says his passionate interest in preventive medicine, especially in an urban setting, began 20 years ago when he was an intern at Boston City Hospital. There he saw patients in advanced stages of lung disease, many of them doomed to painful deaths because of their addiction to cigarettes. He went on to become the hospital's chief medical resident.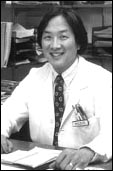 Dr. Howard Koh
Photo: Albert L'Étoile
---
"Like all physicians, I began to witness this kind of thing every day -- patient after patient suffering from avoidable illnesses," he says. "In a majority of these cases it was clear that prevention and early detection were overlooked, but most clinicians and physicians still don't address prevention because they're too busy focusing on treating acute disease."

But he says that in the past few years this state has taken a giant step in the right direction, especially since 1992, when Massachusetts became the second state in the country to pass a special tax initiative to fund a multimillion-dollar statewide tobacco-control program. That year voters approved a 25-cent-per-pack increase on cigarettes "with the express purpose of using that extra revenue for education on the dangers of tobacco and for programs to help people quit smoking," he says.

The referendum question passed thanks in part to lobbying by the Massachusetts Coalition for a Healthy Future, which Koh later chaired. This victory in the voting booths provided the state with a shot in the arm in its fight against tobacco companies. "It gave us a $67 million-a-year statewide tobacco control program," he says. "It funds the antitobacco ads on TV and radio, comprehensive school health education for kids that focuses on prevention, and smoking cessation services in just about every community in the state. The money basically gave us the ammunition to do something about tobacco that we weren't able to do before."

Koh has also boosted cancer prevention efforts at the BU Medical Center, winning a grant last year for BUMC's Cancer Prevention and Control Center. The grant, $283,000 over five years from the National Cancer Institute, is being used to integrate and coordinate the teaching of cancer prevention throughout all four years of a medical student's curriculum. He notes that the one element lacking in his education as a medical student was prevention issues. While the primary emphasis of BUMC's new curriculum is on tobacco control and smoking cessation, it also includes instruction on skin cancer prevention, breast cancer screening, and other areas.

Breast cancer screening was the focus of his testimony before Congress in July, when he pushed for more screening programs for Asian-Americans. Koh, whose parents are from Korea, says that minority health issues are important to him and that one of the reasons his name was on the list of candidates for Massachusetts health commissioner was his desire to "advocate for the interests of those who don't have a voice -- to address the disparity in health care for minorities."

He says that his new position will limit his teaching duties to an occasional guest lecture. Koh, 45, looks younger than his years, but his deep, authoritative voice, knowledge of health issues, and enthusiasm compel one to listen attentively.

A graduate of Yale University Medical School, the Cambridge native came back to the Boston area and interned at Boston City Hospital "because, like so many others who worked there, I wanted to do my best to improve health care in an urban setting." His roots in Boston are indeed strong: his parents did their graduate studies in this city, and his mother, Hesung Koh, received her Ph.D. in sociology from Boston University in 1955. His father, the late Kwang Lim Koh, taught at the BU School of Law.

"BU has been wonderful to me," he says. "When I joined the junior faculty at the BU School of Medicine and the School of Public Health, I knew very little about public health. I had no formal training in it, but BUSM and SPH are on the same campus and work closely with each other. People in both schools really care about public health issues such as tobacco, substance abuse, and H.I.V. There is no other place I can think of where two such schools work so well together."

Likewise, he says, Massachusetts, with one of the most envied public health departments in the country, is clearly heading in the right direction. He points out that on September 5 Boston Mayor Thomas Menino announced that city employees will be granted four hours a year paid leave for cancer screening tests. "We need that kind of commitment from our leaders," he says.

There was some doubt that former Gov. William Weld would pick Koh for public health commissioner because they had disagreed on the tobacco tax. But Koh says that he and Weld, as well as Acting Governor Paul Cellucci, share the same public health goals. In fact, on September 18, Koh and Cellucci will both speak at a conference on women and cancer in Marlboro, Mass.

To be sure, Koh's broad background made him a leading candidate for the post: he has training in internal medicine, oncology, hematology, and dermatology. He also has a master's degree in public health, and as director of cancer prevention and control at BUMC, he has plenty of on-the-job experience.

"The Boston Medical Center and its president, Elaine Ullian, have been doing a great job of serving the underserved," he says. "I think that's the overall mission of public health: to help the most vulnerable; and I'm going to make sure that the health-care system in Massachusetts does just that."