Departments




| | |
| --- | --- |
| Week of 5 September 1997 | Vol. I, No. 2 |

Feature Article
Good-bye, Joe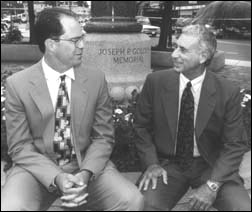 Hello and goodbye: Boston University's new community relations director, Joe Walsh (left), chats with his predecessor, Joe Amorosino. Photo: Vernon Doucette
by Marguerite Lamb
As community relations director at BU's Office of Government and Community Affairs (OGCA) since 1986, Joseph Amorosino served as the University's ambassador to the neighborhoods, leading a highly successful campaign to improve town-gown relations. His children now grown, he and his wife decided to move to Florida. On June 30, he left BU to become a full-time scout for the Charlotte Hornets of the National Basketball Association, a job this longtime coach and fan describes as a "dream come true." During his final hectic hours here, Amorosino took time out to talk to the Bridge about two of his great loves -- BU and basketball.
Tucked in one corner of the fifth floor at 125 Bay State Road, Joseph Amorosino's office has the uncluttered feel of a space seldom used. While this may be where he has parked his desk for more than a decade, it is clearly not where Amorosino has done his best work: that he saved for the streets of Allston and Brighton, Brookline and the Fenway.
"When I first stepped into this job, people were fed up," recalls Amorosino, explaining that frequent student disturbances in the neighborhoods had left area residents exasperated. "My first task was to curb the student problem so that we could get everyone to the table and talking."
It was a crucial time, he says, for BU and its neighbors: the University was in the process of formulating its first 10-year Master Plan for the development of the Charles River Campus, and no plan would go forward without the support of commu-nity leaders from Packard's Cor-ner to Kenmore Square.
Amorosino took to the streets. "I knocked on doors, I introduced myself to residents, community leaders, students. I asked about the problems that were plaguing the neighborhoods and about how BU might begin to address them.
"I brought a visibility to the job that I think calmed a lot of people," he continues. "Until that point, the University's only real presence in the neighborhoods for many people had been its students."
By the fall of 1986, Amorosino had begun a ride-along program with the Boston police, accompanying car patrols through Allston and Brighton on most September nights and many other weekend nights throughout the academic year, keeping a lookout for loud parties or unruly students. So familiar a sight did he become that the BU Bookstore Mall sold a T-shirt with his picture and a caption reading, "Would you invite this man to your party?"
Students got the message. "Today our students know that if they cause trouble in the neighborhoods, they will get called in, they will get a letter from their deans, they may face sanctions, they will be held accountable by this University," says Amorosino.
"Many people have told me how much they appreciate being able to get a good night's sleep," he continues. "Many have thanked me for quieting down the streets. But I could not have done this job without the cooperation and support of the police, the courts, community leaders, the Dean of Students office, and especially the leaders of this institution -- President Westling, Chancellor Silber, [Executive Vice President] Joe Mercurio, and [OGCA Vice President] Ed King."
By the end of Amorosino's rookie year with OGCA, a BU/Community Task Force, representing more than 20 neighborhood groups, reached an agreement with the University regarding its Master Plan, clearing the way for approval by the city.
With that plan now completed, University administrators this past year set to work finalizing a second Master Plan, and so Amorosino spent his last weeks at BU much as he had spent his first: presenting the University's long-range development goals to the community. "I like to think that I have been a part of 20 years of BU history," says Amorosino.
While admittedly thrilled to be going to work for the NBA, Amorosino gets choked up when talk turns to leaving BU. "I've met some wonderful people here. I've made some great friends. I will miss my colleagues. I will miss Ed King -- who is not only a terrific boss, but one of my best friends."
At an emotional going-away party at The Castle in June, President Jon Westling described Amorosino as having been "an important member of the Boston University faculty."
"He has taught our students lessons that perhaps they hadn't expected to learn in college, perhaps they didn't want to learn, but they are some of the most important lessons that a university can teach," said Westling. "They are lessons in civility and civilized behavior, in sympathy and understanding for other people, and in taking responsibility for one's actions."
Too often, said Westling, colleges and universities "duck the responsibility" of teaching such lessons. Boston University, he said, deserves credit for facing the challenge head-on. "But no one," he added, "could have predicted how wonderfully well -- with such love and such seriousness and such good spirits -- that work would be undertaken by Joe. We will be poorer for [his] departure and we were richer for [his] presence here."
Also on hand to bid a fond farewell were John Silber, Ed King, OGCA Director of City Relations Robert Donahue, Brookline Police Captain Peter Scott, Boston Police Superintendent James Claiborne, and Allston-Brighton community activist Ellen Murphy.
But while Amorosino may be cutting the cord to OGCA, his ties to the University are permanent: he is an alumnus, having earned a master's degree at the School of Education in 1966, and he is also a four-time BU parent. Joseph, Jr., is a 1992 graduate of the College of Communication; son Paul holds both a bachelor's degree and a master's degree from Sargent College; Mark, a 1995 graduate of the College of Arts and Sciences, earned his master of arts in medical sciences in 1996, and is now a second-year medical student at the BU School of Medicine; and daughter Lisa earned her bachelor's degree at CAS in 1996 and a master's degree at SED in 1997.
Old friends, new opportunities
"Basketball has been a big part of my life," says Joseph Amorosino, who this summer resigned from the University's Office of Government and Community Affairs to become an NBA talent scout.
Indeed, the game has shaped his life in some unexpected ways: it was basketball that brought Amorosino to BU in 1983. Tapped by the then-outgoing Terriers head coach (and the Boston Celtics' new best hope), Rick Pitino, Amorosino accepted a job as assistant coach under the recently promoted John Kuester. "I was so excited to come to BU," recalls Amorosino, who had just come from 25 years of coaching at Quincy and North Quincy High Schools and was ready and eager to make the move to college ball.
Even in the fickle world of sports, he says, he'd hoped for five or more years with the Terriers. He got two. "Kuester left and that was the end for us assistant coaches," he says. "We were out of jobs."
It wasn't long, however, before BU was once again at his door, this time with the offer that would take him off the court and send him instead courting the community.
Was he disappointed? "At the time, yes," he confesses, then quickly adds, "but the past 11 and a half years have been the absolute best years of my life. Hands down."
Still, he is looking forward to one last shot in a game that has been a lifelong passion. Feeding him the ball is former Celtics great and Basketball Hall of Famer Dave Cowens, who, after taking over as head coach of the Charlotte Hornets last season, called upon Amorosino to be the team's eyes and ears in Boston. (The two are longtime friends and together have run a summer basketball camp at Wheaton College for the past 18 years.) Amorosino attended Celtics' home games at the FleetCenter and reported back on the strengths and vulnerabilities of visiting teams. Cowens, who led the Hornets to a franchise record of 55 wins, repaid his friend for a job well done with a full-time scouting position.
The new job has meant a new home for Amorosino and his wife, Janice. The two have relocated to Fort Lauderdale, Fla., where she is teaching at an elementary school and he is gearing up for a year of scouting in a state with two NBA teams -- the Orlando Magic and the Miami Heat -- and six major college conferences. "It'll keep me busy," predicts Amorosino, a wide smile lighting up his face.