Category: Exposed
What is your role in 'Exposed'?
Candy. The ex-showgirl wife of Seymour Sackeroff.
What have you learned while creating this role?
Oh, so much. I have learned more about trusting myself, my process, and respect for others I am fortunate enough to work with.
How did you approach and play your character? Have there been any surprising discoveries about your character during the rehearsal process?
Creating Candy has been too much fun. Originally, the role was written to be the archetypal shiksa chorus girl, but clearly (look at any picture of me and you will see), I am not a shiksa, so she became Jewish! Working with a writer like Bob, who is so collaborative and accommodating, makes it so easy to bring his characters to light and create something really special.
As an actor, what are the unique challenges of working on a new play?
The challenges of working on a new play are also the advantages, in my perspective. Creating and trying to predict how audiences will react, perceive, or understand the show, and the constant updating and editing that occurs are triggers of occasional frustration and tons of excitement. The positive of being a part of this collaborative process is the deeper connection developed between fellow actors and the play. I really feel like I have played a unique part in creating something brand new that will always be ours, no matter where it goes next!
What else inspires you artistically?
Watching television. I feel like that sounds so simple and obvious, but watching some of my favorite comedians always fuels me reignites my passion for this industry–or at least the performance aspect!
What's next for you?
I will be performing on AIDA Cruise Line in Germany and the Mediterranean Sea for a few months doing six pop/rock shows on board!
Don't miss Robert Brustein's 'Exposed,' a new collaboration with our friends at Boston Center for American Performance, now through December 18.  Tickets
About two years ago, while putting the finishing touches on my eleventh play, The King of Second Avenue, I found myself sharing an increasing state of dejection about our arts and our society. Greed and corruption had replaced the original ideals of the American democracy, a small fraction of the population was expropriating large amounts of income, and elections were being bought for candidates in order to bring any regulatory government to an absolute standstill.
These developments were meanwhile being given spiritual justification by evangelicals who believed that humanity had been been created 6,000 years ago out of Adam's rib. I thought immediately of Molière's Tartuffe, an 18th Century comedy about human stupidity and religious hypocrisy, and decided to write Exposed, a 21st Century comedy about human stupidity and religious hypocrisy. Plus ca Change, Plus C'est Le Meme Chose.
The object was to have some fun with it, and I thought that the character of an evangelist with Presidential ambitions who runs around exposing his privates until he is publicly exposed had comic possibilities. I also thought it might be fun to satirize those power brokers who were spending millions of dollars in order to personally pick their own political candidates, and that is how the character of Seymour Sackeroff came into being.
The writing of the play was a breeze, but my greatest enjoyment was in the rewriting. Every day brought some new juicy revelation about the way the one-percenters were evading taxes and manipulating the economy. And it was fun to examine such other familiars in our society as Sackeroff's lusty mother, his derisive au pere, his ex-chorus girl wife, and his gay son, desperately trying to make apologies to the ecology.
Readings both at Suffolk's Modern Theatre and the Vineyard Playhouse demonstrated that many of my perceptions were shared, and so I quickly accepted Kate Snodgrass' and Jim Petosa's kind offer to produce Exposed at the Calderwood under the auspices of the Boston Playwrights' Theatre and Boston Center for American Performance. I eagerly look forward to learning what people think of the play in full production.
—Robert Brustein

Don't miss Robert Brustein's Exposed, a Boston University New Play Initiative co-produced with Boston Center for American Performance, which opens this week for a limited engagement (Dec. 10-18) at the Boston Center for the Arts' Wimberly Theatre.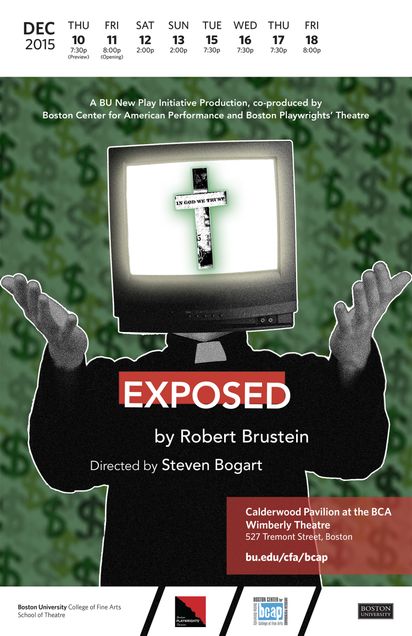 Exposed by Robert Brustein—a BU New Play Initiative Production, co-produced with the Boston Center for American Performance—opens next week. The multi-talented Tim Spears (an MFA Director who was also in the cast of Uncle Jack last season) designed the poster to show evangelical conservatism, "the Right, the Left, the NRA, AIPAC, and greed in all its guises"! It's a bawdy good time. We hope you'll join us!