Boston Playwrights' Theatre
Home of New Plays in Boston
Boston Playwrights' Theatre 35th Season
Welcome to Boston Playwrights' Theatre, the professional wing of our Graduate Playwriting Program at Boston University.* We produce plays by alumni of our Playwriting Program (and of Boston University faculty and staff) only, and our mission is to serve our writers'  theatrical visions, to guide them into their first productions. We work with talented professionals in all aspects of our productions. Plus, our playwrights are a gifted cadre of theatre artists, and their awards and productions speak to this. Talented alumni continue to write for theaters across the nation and overseas, so explore our website to learn more about them and our current and past professional seasons of new works.
Our 2016–2017 Season
*We are part of the College of Arts and Sciences in collaboration with the College of Fine Arts School of Theatre.
November, 2016. A close-knit board game group meets for its weekly game night in Oberon's father's garage with an uncomfortable "game" on the menu: kick Dez out. But echoes of the polarized world outside invade their sacred space, and no one is prepared to face the real problem, which threatens to flip the board on them all. Deal Me Out is a comic drama set inside the world of gamers.
Venue:
Boston Playwrights' Theatre 949 Commonwealth Ave. Boston, MA 02215
Ana is a Type A personality who lives in a letter-perfect world with an adoring husband, the perfect job and her greatest passion: Book Club. But when her cherished group becomes the focus of a documentary film, their intimate discussions about life and literature take a turn for the hilarious in front of the inescapable camera lens. Add a provocative new member along with some surprising new book titles, and these six friends are bound for pandemonium. A delightful play about life, love, literature, and the side-splitting results when friends start reading between the lines.
A Boston premiere.
Produced by special arrangement with THE DRAMATIC PUBLISHING COMPANY of Woodstock, Illinois.
Venue:
Boston Playwrights' Theatre 949 Commonwealth Ave. Boston, MA 02215
Tim Finnegan came to America coz he heard
it's where opportunity knocks.
But the wife's going to leave him,
unless he pulls up his socks.
He's on his hocks.
Until he sees an opportunity
to help people disappear
then reappear
while robbing
a safety deposit box.
the smuggler. One man. 9000 words in rhyme.
You've got to see it to believe it.
A New England premiere.
Winner of the Best Playwright Award at Origin Theatre Company's 1st Irish Festival (2019).
Featuring Billy Meleady.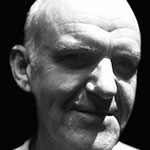 Venue:
Boston Playwrights' Theatre 949 Commonwealth Ave. Boston, MA 02215