Boston Playwrights' Theatre
Home of New Plays in Boston
Boston Playwrights' Theatre 35th Season
Welcome to Boston Playwrights' Theatre, the professional wing of our Graduate Playwriting Program at Boston University.* We produce plays by alumni of our Playwriting Program (and of Boston University faculty and staff) only, and our mission is to serve our writers'  theatrical visions, to guide them into their first productions. We work with talented professionals in all aspects of our productions. Plus, our playwrights are a gifted cadre of theatre artists, and their awards and productions speak to this. Talented alumni continue to write for theaters across the nation and overseas, so explore our website to learn more about them and our current and past professional seasons of new works.
Our 2016–2017 Season
*We are part of the College of Arts and Sciences in collaboration with the College of Fine Arts School of Theatre.
Boston Theater Marathon XXII: Special Zoom Edition
Boston Theater Marathon XXII: Special Zoom Edition features readings of ten-minute plays by New England playwrights in collaboration with New England theatres, via the video conferencing tool Zoom. Audiences are encouraged to lend their support to area theatre companies and to the Theatre Community Benevolent Fund, which provides financial support to theatres and theatre artists in times of need.
Readings begin at 12 noon EDT daily through May 17. To join the Zoom, click on the "Purchase Tickets" button on the right from your computer, phone, or other device. You'll need the Zoom app (it's free!) to participate, and it is recommended you call in a few minutes before "curtain" time.
May 17 at 12 noon
12 Days by John Kuntz
Sponsored by Acropolis Stage Company
Directed by Evan Turissini
Featuring Adrian Peguero
A meeting at a poetry slam seems harmless enough until Christmas rolls around. From pears and birds to maids and pipers, maybe true love is possible after all.
Visit our blog for the complete schedule of plays featured in Boston Theater Marathon XXII: Special Zoom Edition.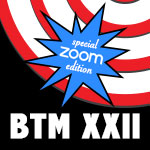 Venue:
BTM XXII: Special Zoom Edition may be over, but TCBF still needs our help! <<< Look left.