Make a donation to the Kunz Fund
One of the world's leading authorities on the biology of bats, Professor Thomas H. Kunz, has for the past 40+ years been an inspiring teacher to thousands of undergraduates, an enthusiastic proponent for bats and science in the public arena, and an exceptional mentor to dozens of graduate students, post-doctoral fellows, and junior faculty. A William Fairfield Warren Distinguished Professor, the highest academic honor conferred by Boston University, Tom has also been one of our most productive and highly regarded scientists.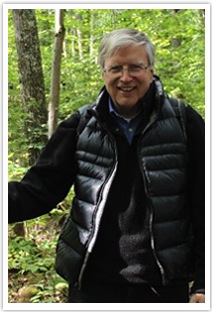 In recognition and appreciation of Tom's mentorship, his current and former graduate students established the Thomas H. Kunz Fund in Biology to serve as a lasting legacy of Tom's contributions at BU and beyond, and to support future graduate education in ecology at Boston University. With support from Tom's former students, his family, his colleagues in the Biology department, other Biology alumni, and a growing list of friends and colleagues from around the world, the fund is now closing in on the critical $100,000 mark, the level needed to transition into a permanently endowed fund at Boston University.
The first Kunz Fund in Biology Award was presented to PhD candidate Jesse Delia, who is working with Prof. Karen Warkintin. Jesse is conducting comparative research on the evolution of parental care and embryo behavior in several species of glassfrogs in the forests of Panama, Colombia, and Ecuador.
Jesse's research has been featured in news outlets such as: Science, LiveScience and IFLScience, as well as the New York Times. Jesse has gone to extraordinary lengths to stretch small grants from various organizations to complete his international fieldwork and wrote the following after receiving the award: "I am honored to be the first recipient of the Thomas H. Kunz Award…funding opportunities like the Kunz Award are critical for opening up opportunities and enabling graduate students to independently pursue new and potentially risky research directions."
Please join us in supporting the Thomas H. Kunz Fund in Biology and help push it past $100,000. The positive responses we have received from Tom's students and BU colleagues have been exceptional. We hope we can add you to the list of contributors!
As you may know, Tom is now retired and continuing with an arduous recovery from the serious brain injuries he suffered in a tragic accident at the end of October 2011. Tom has made amazing progress over the past four years and generally seems to be doing well; if you're interested in visiting him and his wife Margaret, feel free to get in touch with Mike Sorenson.
Make a Contribution
To contribute to the Thomas H. Kunz Fund in Biology, you can send a check made out to "Boston University" to our Biology Department address or you can click here to make an online contribution!
Please see the BU Alumni page for information on other ways to give.
Please feel free to contact us with questions or simply to let us know that you've made a contribution – it would be great to hear from you.