Dr. Jennifer Talbot is a recipient of the 3 year Peter Paul Career Development Professorship.
Each year, Boston University recognizes a handful of talented junior educators emerging as future leaders within their respective fields through the award of Career Development Professorships.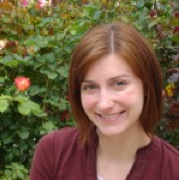 Dr. Jennifer Talbot, a microbial biologist in the Department of Biology, utilizes biochemical analysis and advanced sequencing technologies to help uncover the unique mechanisms microbes use to process carbon and nutrients through ecosystems. She is a graduate of Boston University, received her doctorate in Biological Sciences from the University of California, Irvine, and completed her postdoctoral research at Stanford University.
Talbot's research focuses on how climate change and other factors, such as pollution and drought, affect the interactions among millions of species of fungi, and in turn affect the structure and health of the ecosystem. Talbot's ultimate goal is to include findings about these underground interactions into predictive models about the Earth's ecosystem that may produce insights about the Earth's future.
She says the land surface portion of land-climate models varies greatly when projected into the future. "If you project all the models we have now out for 100 years and 500 years, they go in all different directions," says Talbot, a chemistry major at BU who went on to earn a doctorate in biological sciences from the University of California at Irvine and do postdoctoral research at Stanford. "We want to put microorganisms into those models."
Supported by a National Science Foundation grant, she has been studying the interactions between microorganisms. She says the Peter Paul Professorship will provide an important boost to her research by enabling her lab to create simulations of changing environmental conditions—for example, by dumping fertilizer on fungi.
Observing the decomposition of these fungi—which look like beautiful mushrooms in her lab website photos—can help us to understand what our environment will look like many years from now, Talbot says, and at the same time, it's "opening up a new universe of organisms in the Earth's microbiome. We're discovering a new species every day, mapping them on the Earth, where they live, why they are there, and what it means for us."
Congratulations, Dr. Talbot!