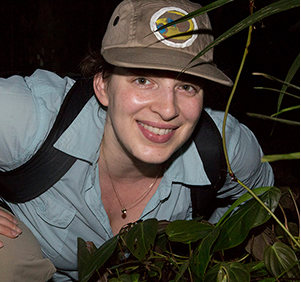 Kristina Cohen of the Karen Warkentin lab was awarded Outstanding Teaching Fellow of the Year for Biology, academic year 2014/2015. Cohen was nominated by 3 professors in Biology for her outstanding contributions to all areas of teaching in the Department of Biology over the last five years. Kristina entered BU with both formal training in pedagogy, as a certified teacher, and substantial practical experience as a middle and high school science teacher. Her teaching strategies and skills, and her daily interactions with students, clearly reflect a depth and breadth of knowledge about pedagogy, and a well-developed ability to function effectively in the classroom.
Over the last five years, she has taught in courses as diverse as Evolution, Vertebrate Zoology and Herpetology.
Kristina's dedication to and enthusiasm for teaching is clear, not only in the classroom but in all aspects of modern university teaching. Outside of the classroom, Kristina has been instrumental in the inclusion of a Research Experience for Teachers (RET) component in one of Professor Warkentin's funded NSF projects, and leveraging the RET for greater impact via collaborative development of resources for high school science teaching. She has also been superb in the mentoring of many undergraduates in Prof. Warkentin's lab at BU and in the field in Panama, helping them with UROP applications, research, conference presentations and their personal growth and development. Professor Warkentin writes "Her skill, effort, dedication, and performance as a teacher, and her vision for improving pedagogy more broadly have been clear throughout her time at BU".