Tagged: restaurant
By: Stanley I. Buchin, D.B.A.
Last year, restaurant trends stretched from a rise of dining in retail stores to paleo and gluten-free menus. According to Baum + Whiteman 2015 Food & Beverage Forecast, this year's trends will include technology like tablets immersed into the dining experience, expanding on diners restless palates who have had enough Sriracha, bacon, and craft beer, and creating new concepts to fill in a restaurant or bar's "down time".  With trends changing so rapidly, restaurants and bars must be more proactive than ever before to continuously stimulate business and prepare for a products natural life cycle (PLC).
According to Dr. Jean-Paul Rodrigue of Hofstra University, product life cycle is "the period that starts with the initial product design (research and development) and ends with the withdrawal of the product from the marketplace" and is characterized by four stages: introduction, growth, maturity, and decline. A typical product life cycle observes rapid growth in its first eight months followed by a gradual decline to plateau as customer populations are depleted, and as trends and needs shift.  As a business owner in today's market, it is vital to understand product life cycle and how to apply current trends to strategically stimulate business.
This article explores a model of predicting PLC and strategic practices that can extend the mature phase of a restaurant or bar.
First-time Trial Customers
Product life cycle is partly caused by a combination of two types of customers, first-time trial and repeat. Trial purchasing follows the typical pattern of rapidly increasing purchases during the first seven months of business and steadily decreasing as the population of first time customers is exhausted.
This is a result of the following new customer behavior:
• Customer first-time trial purchases start slowly while the market is first learning about the new restaurant or bar.
• New first-time customer interest begins to surge several months after the restaurant or bar opens until it hits a peak.
• New customer interest falls off after this peak and gradually drops off to zero (or a very small fraction of the market, when you run out of new first-time customers in your target market.)
Repeat Purchasing Behavior
Each group of first-time customers has the following typical subsequent repeat purchasing behavior:
This repeat purchasing behavior has the following characteristics:
• Only some fraction of the trial customers will return to the restaurant or bar for a first repeat visit.
• This fraction will decline for subsequent repeat visits.
• The rate of decline depends on two major drivers;
• Customer satisfaction with the products/services being offered
• Number and strength of new products/services being offered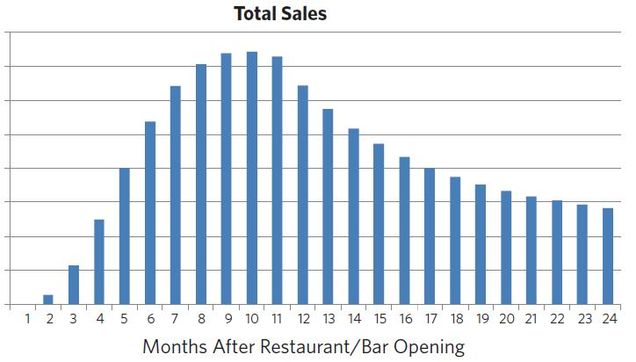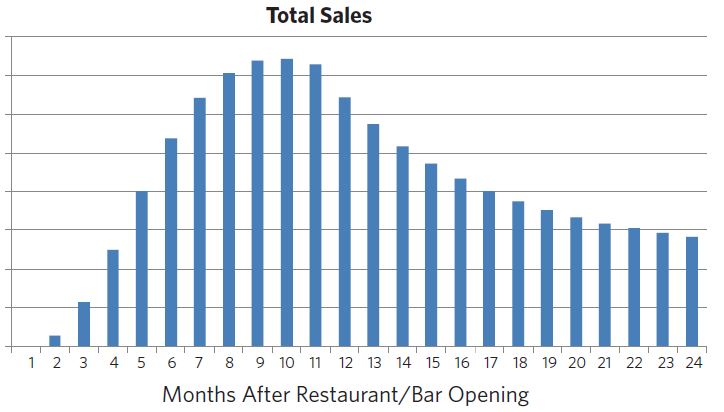 Forecasting Future Behavior of New Trial and Repeat Purchase Behavior
Once a restaurant or bar has reached its peak monthly new trial and repeat demand, the following purchase behaviors are observed (Graph 1, Graph 2).
An Excel regression analysis can be used to fit an exponential curve, like the new trial purchase behavior after its peak performance, to the actual observations.
In Excel terms, the "best fit" exponential equation has the following format:
New trial purchasers per month = Constant1 * EXP(-Constant2 * Months since opening of restaurant/bar lounge)
Repeat purchasers per month = Constant3 * EXP(-Constant4 * Months since opening of restaurant/bar lounge)
This "best-fit" exponential equation yields forecasts of new trial or repeat purchase behavior for future months.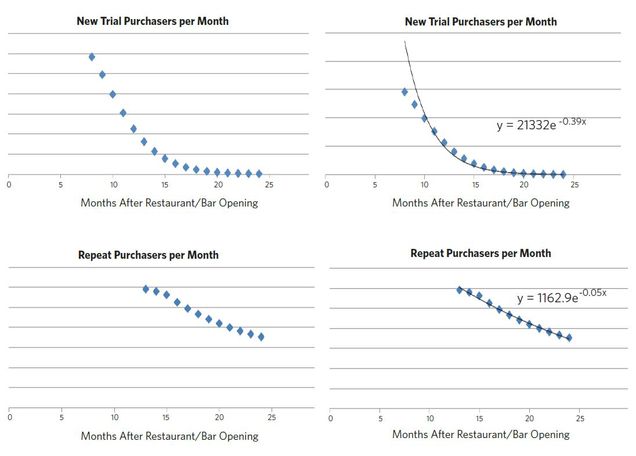 Forecasting Total Demand
Customer visit and spending data is used to convert the above customer forecasts into monthly demand forecasts. This information is usually determined by using both trial and repeat customer purchasing information from market research and/or internal financial data.
The primary data requirement for tracking the product life cycle of a restaurant/bar is the ability to differentiate between the purchases of first time trial customers and repeat customers.  Even if information is not available for 100% of the customers, a sample of the customers is usually sufficient.
The forecasts below were determined using the above "best-fit" regression equations from step one, and converting them to demand forecasts.
These are then converted to demand forecasts using the equation:
Demand = Customers x Average number of visits per month x Average spending per visit
If the breakeven demand per month was $3,000 per month, our forecasts indicate we will reach this level by month about month 35 or 10 months from today if this is calculated in month 25. It is now known that corrective action is vital and within just 10 months.
Corrective Actions to Reverse Declining Purchasers per Month
Corrective actions such as introducing new products, like McDonald's and their breakfast menu, re-branding,  or changing target markets should be strategically decided upon, taking the mission, brand, goals, and market into consideration. There are two dominant classes of corrective actions:
• Stimulate new first-time trial purchasers
• Stimulate repeat purchase purchasers
Stimulating New Trial Demand
Stimulating first-time trial customers typically involves basic, but risky, actions. If carefully determined and employed, successfully stimulating trial customers come with higher return.  Properly engaging new first-time customers at a restaurant or bar requires the following criteria:
• Finding new target markets that the current restaurant or bar does not currently appeal to
• Re-theming the restaurant or bar to make it feel like a new product.
• Offering a new menu that is perceived in the market as being significantly different from the current menu.
In-depth target market research is key to deciding which markets will be worth the risk of making major changes to a restaurant or bar. After deciding on the most valuable target market, a combination of the following can be used to stimulate these potential new customers (in order of decreasing risk):
• Relocating the establishment
• Re-theming the current restaurant or bar
• Making major revisions in the restaurant or bar current menu offerings and prices
Currently, Starbucks is rolling out new plans to make food sales account for 25% of total sales by fiscal year 2019, up 9% from 2010 by adding high quality menu items that will capitalize on breakfast and the especially under-utilized lunch customer. Even more, the coffee company plans to introduce evening hours and menu items, like wine, to approximately 2,000 stores (almost 25% of their portfolio) by fiscal year 2019. Meanwhile, it's more casual competitor, Dunkin' Donuts instilled 'happy hours' at many of its franchises, offering discounted drinks during late afternoon hours.
Stimulation of Repeat Purchase Demand
Narrowing an establishment's focus on operations and service quality is often the base of stimulating repeat customers and include the following strategies:
• Operations focus on service quality and customer satisfaction
• Customer loyalty programs
• Special pricing for repeat customers
• Online restaurant reservations
In 2014, Chili's installed tablets at every table in its 823 restaurants allowing customers to order appetizers, desserts, and drink refills, plus play interactive games and pay their bill all from the personal device. The strategy was meant to not only increase revenue through additional beverage, food, and gaming sales, but to increase customer satisfaction as they now have the ability to pay their bill faster.
Starbucks and Dunkin Donuts have both created repeat customer strategies using customer loyalty programs and special pricing programs. Both coffee shops have popular mobile apps that reward customers with points for every purchase like free or discounted drinks, food items, or the coveted premium Starbucks Gold Card, and encourage easy mobile payment directly from a customer's phone.
Starbucks took the "happy hour" strategy one step further by providing afternoon discounts to morning customers who brought their receipt back between 3-5pm to make another purchase.
Classic Stimulation: McDonald's Breakfast
By 1975, successful fast-food chain, McDonald's had been in business for 27 years and remained loyal to hamburgers with a few additions including chicken, fish, roast beef sandwiches, and the legendary Big Mac. Wanting to increase new and repeat customer visits, franchisee owner Jim Delligatti sought to fill the morning hours with profitable menu items. After trial and error with coffee, doughnuts, sweet rolls, pancakes and sausage, the Egg McMuffin sandwich was developed, turning new profits and making the additional business hours worthwhile.  The creation of a popular breakfast menu stimulated customer behavior and has remained strong; breakfast items make up 15% of McDonald's annual sales.
As hospitality trends and consumers needs rapidly change, the product life cycle and brand loyalty of a typical restaurant or bar is trending shorter. Combining market and customer data, current and predicted trends, and by calculating an establishments product life cycle, it is possible to develop corrective strategies to remain a strong, profitable brand.
---
Dr. Stanley I. Buchin is a Professor of the Practice Emeritus at the BU School of Hospitality Administration and Chair of the Faculty. He had been at the School since 1997 after a long career in management consulting and teaching. Dr. Buchin was a founder and president of Applied Decision Systems, a senior vice president at Temple, Barker & Sloane (now Mercer Management Consulting) and a principal at Arthur D. Little. His hospitality consulting clients include Harrah's, Hilton, Holiday Inn, Hyatt, Marriott, Norwegian Cruise Lines, Royal Caribbean Cruise Lines, Sheraton and United Parcel Services. He has been a faculty member at Harvard Business School, Templeton College at Oxford University and the Arthur D Little School of Management (now the Hult International Business School). Dr. Buchin has also been president of Boston-Bermuda Cruising and General Ship Cruising. He is a graduate of the Massachusetts Institute of Technology and the Harvard Business School.
By Bradford Hudson
Three decades ago, American industry was obsessed with quality management. Thomas Peters and Robert Waterman helped create the enthusiasm during this era with their best-selling book In Search of Excellence. Although the subsequent quality movement was quite successful in the manufacturing sector, it has been less successful in services. Indeed, there is little evidence of effective quality management in the hospitality sector today.
The Quality Movement
The effort to increase consistency, minimize errors, and reduce costs has been a priority in manufacturing since the beginning of the Industrial Revolution. Notable milestones and pioneers include the interchangeability of parts attributed to Eli Whitney, the scientific management approach promoted by Frederick Taylor, the development of statistical process control by Walter Shewhart at the Hawthorne Works, and the influence of quality experts such as Edwards Deming and Joseph Juran on industrial reconstruction in post-war Japan.
The latter contributed to a significant and unexpected quality advantage among Japanese cars, which resulted in serious competitive pressure on the American automobile industry and the near collapse of Chrysler. This served as a wake-up call for automobile executives, but it also served as the catalyst for a renaissance in quality management throughout the economy.
The quality movement reached its zenith during the 1990s, in terms of its prevalence as a topic of discussion among business practitioners and within the popular media, and it has faded in importance during the following two decades. This decline could be attributed to several causes. Perhaps quality was never actually a problem, maybe quality was simply a fad, perhaps ideas about quality were not communicated well, or maybe the solutions proposed by experts never actually worked.
My suggestion is that the principles of quality management were embedded in the repertoires of practitioners and the curricula of business schools, and that quality management has become routine for any executive in the manufacturing sector. The lessons learned from the Japanese were widely adopted in the United States and Europe, and have now become global standards that are followed even in developing nations. The quality problems in manufacturing that existed two decades ago have now been solved or at least improved significantly.
The quality movement in manufacturing was followed shortly thereafter by a quality movement in services. A new academic field, variably referred to as service management or services marketing, was developed by faculty members at several leading business schools. Notable among these were Leonard Berry (Texas A&M University), Roland Rust (now at the University of Maryland), and Valarie Zeithaml (University of North Carolina). The pioneers also included numerous academics affiliated with Harvard Business School including Christopher Hart, James Heskett, Christopher Lovelock, Earl Sasser, and Leonard Schlesinger.
Services marketing is now an established field with its own extensive literature. At the core are two basic principles. First, services differ from manufacturing due to their intangibility, variability, simultaneity, and perishability. These characteristics can be problematic for managers who use principles and tools designed for manufacturing without adapting them to the unique aspects of the service sector. Second, services are usually produced and delivered by people rather than machines. This means that service companies must understand the linkage between employee behavior and customer satisfaction, and develop sophisticated systems in the areas of human resources, management, and organizational behavior.
Service Quality Today
Despite the attention paid to service quality over the past three decades, and the extensive academic literature that has appeared during this time, my contention is that service quality has not improved at all. Problems with service are prevalent throughout the economy, but they are especially notable in the hospitality sector. Two cases from my own experience will illustrate this point.
The first case involves hotels in the luxury segment. Two decades ago, we vacationed at a beach resort, which was part of an international chain of luxury hotels renowned for its quality management systems. The individual property was rated
'Five-Star' by the Mobil Travel Guide and ranked as the top resort in the United States by a leading travel magazine. During our stay, we experienced a series of errors and lapses in service that compelled us to write a letter of complaint. The general manager responded with a tepid letter of apology, which offered a complimentary visit to make amends. However, the problems were so serious that we never returned.
Earlier this month, my family vacationed at a different beach resort, which is part of another internationally renowned chain of luxury hotels. This property was rated 'Five-Star' by the Forbes Travel Guide and ranked among the top 20 resorts in the world by a leading magazine. Again, during our stay we experienced a series of errors and lapses in service that compelled us to write a letter of complaint. The problems were very similar to those experienced at the other hotel two decades earlier. Again, the general manager responded with a tepid letter of apology, which offered a complimentary visit to make amends. And again, the problems were so serious that we resolved not to return.
The second case involves restaurants in the quick service segment. Two decades ago, we visited a quick service restaurant that was part of an international chain renowned for its standards and consistency. During our lunch, we experienced a series of errors and lapses in service that compelled us to write a letter of complaint to the corporate headquarters. The area manager subsequently contacted me to apologize and offer some coupons to make amends. He admitted that similar problems at this location had occurred so often that his company decided to rescind the franchise rights and assume direct control of the unit.
Earlier this month, my family visited a different quick service restaurant, which is also part of an international chain respected for its standards and consistency. Again, we experienced a series of errors and lapses in service that compelled us to write a letter of complaint to the corporate headquarters. Again, a senior manager contacted us to offer apologies and coupons.
These two cases occurred in different industries within the hospitality sector, in different segments of their industries, with locations operated by different managers, represented by different chains, in different parts of the country, across the span of two decades. And yet, in both cases, the quality problems and the management responses were almost identical.
An astute reader might wonder if the problems in these cases were attributable to difficult customers who were impossible to satisfy or a typical guests with unusual preferences. In response, it should be noted that every unmet standard had been established by someone else. Guest expectations were calibrated against widely recognized industry or segment norms, explicit standards of the chain or property, or the star-rating system that the property was promoting.
One could also argue that these cases, while compelling, are limited and anecdotal. However, my personal experience as a consumer of services in numerous industries and contexts indicates otherwise. It seems indisputable that poor service remains a real and widespread phenomenon, and that these cases are representative of the status of service quality throughout the hospitality sector to day.
A Missed Opportunity
My academic expertise includes services marketing and hospitality management. My prior career includes work as a manager with a leading luxury hotel chain and as a consultant in the area of service quality for multinational corporations in numerous industries. Based on these experiences, three conclusions seem valid.
First, the quality management revolution somehow bypassed the hospitality sector. This is a stunning contention, given that leaders in the hotel and restaurant industries consider themselves to be the exemplars of superior service.
Second, the basic principles of quality management, specifically that poor quality and customer dissatisfaction are costly, remain valid. Service problems undermine the financial performance of hospitality companies and, due to the immersive nature of services, have a significant impact on the quality of life for guests.
Third, the techniques of quality management have proven to be quite successful in the manufacturing sector, and academics have subsequently offered voluminous advice on how these principles should be applied to the unique characteristics of services. The hospitality sector is simply not using them.
The Cost of Quality
Business practitioner and quality consultant Philip Crosby devised the maxim 'quality is free' to convey the idea that the savings achieved through improved quality typically exceed the expense of implementing quality programs. This reflects the prior work of Demings and Juran, who had proven conclusively that improved quality delivers financial benefits in manufacturing contexts.
The same dynamic also occurs in services. An example in the hotel industry is an erroneous room service order, which requires the entire production and delivery sequence to be repeated and the improperly prepared item to be discarded. The duplication in labor and food costs, which typically represent about two-thirds of the revenue generated from the order, are quite significant and completely eliminate any operating profit for that transaction. Now imagine the cumulative cost if such errors occur repeatedly.
My first job in the hospitality sector was as a room service manager in a five-star hotel. Even minor errors, such as a missing spoon on a tray, would cause significant problems, because the server would be required to repeat the delivery process. Given the consequences of failure, it was astounding to discover that the error rate for orders in room service was nearly 50 percent. More astounding was the revelation that senior managers had known about this situation for months and, while concerned, had not done anything to implement a systematic approach to diagnose and resolve the problem.
The hospitality sector has an amazingly lackadaisical attitude about service failures. Even in five-star hotels, a service failure will result in little more than a sharp rebuke to the manager responsible, a computer-generated apology letter to the guest involved, and perhaps an offer of a complimentary dessert or a room during the off-season.
This amounts to little more than appeasement of angry guests, and does virtually nothing to correct the root causes of problems, which will undoubtedly occur again.
Underlying Dynamics
Although service failures are typically regarded as independent events, caused by uncontrollable circumstances or ineffective employees, they are more often the result of poorly designed service delivery systems or inferior management systems throughout the organization. In some instances, such problems reflect the nature of an entire industry. My contention is that quality failures in the hotel and restaurant industries have fundamental causes.
First, the hospitality sector is not particularly sophisticated in terms of management systems and practices. The inseparability of production and consumption results in thousands of small and relatively independent locations, which cannot support the types or layers of specialized management that are common in centralized manufacturing facilities. This is further exacerbated in the case of independents, which have no corporate infrastructure. The tools required to effectively manage service quality are simply unavailable. Even if front-line hospitality managers understand quality techniques, the analysis necessary is often seen as peripheral to basic operations.
Second, the financial costs of implementing quality management systems are readily measurable and significant, while the financial costs of service failures are hard to measure and easily overlooked. It is very difficult to predict, capture, and measure events that never occur. Services generally cannot be returned after delivery, and the easiest remedy for unsatisfied guests is simply to return less often or never return at all. Nonetheless, the work of Frederick Reichheld and others in the area of loyalty and retention has demonstrated conclusively that a lost customer has a significant negative financial impact.
One of the case scenarios discussed earlier will illustrate this point. Since we experienced problems at the first beach hotel two decades ago, we have never visited another property in that chain, despite staying at numerous competing luxury hotels in destinations where the offending brand had a hotel. The leaders of the parent company have no idea that they have lost us as potential customers, nor have they attempted to measure the lifetime value of our patronage, which amounts to tens of thousands of dollars.
Third, strategic management is often separated from daily operations, even in contexts where operational experience is a necessity for career progression, such as the hospitality sector. During my appointment as chief executive officer of a restaurant company, my attention was devoted almost exclusively to financial performance and acquisitions, rather than the details of daily operations and the satisfaction of individual guests.
It was amazing how quickly my own experience as a quality consultant was forgotten, despite my philosophical commitment and practical expertise in this area.
A Way Forward
Another round of enthusiastic promotion and persuasion by quality experts, in which a series of logical arguments is used to garner commitment to quality principles by hospitality executives, is unlikely to have the intended effect. If the impasse is being caused by excessive attention to the costs of implementing quality management programs, and a lack of understanding about the true costs of service failures, then perhaps a solution can be found in the particulars of cost accounting rather than the platitudes of service excellence.
It is my contention that academics in business schools and hospitality programs who are committed to service excellence, and who have their primary appointments in non-financial disciplines (such as marketing, management, or operations) should engage more effectively with topics and colleagues in the disciplines of finance and accounting. The financial analysis of quality failures must be embedded within courses or modules about service management or services marketing. To the extent possible, faculty members interested in services should also request and encourage the discussion of service quality in courses about financial accounting, managerial accounting, and corporate finance.
One practical example of integrating quality management and financial management can be found in the service guarantee technique. In its purest form, guests are offered the opportunity to 'return' unsatisfactory service experiences by invoking a guarantee, which results in an immediate and unchallenged refund of their expenses.
To be clear, this is not the same as offering a complimentary dessert or room during off-season to placate a guest. This is a reversal of the entire amount charged to their credit card for the visit in question, which must then be deemed waste, in the same manner as an improperly formed beam in the steel manufacturing industry.
The nuances of the guarantee approach are described extensively in the work of Christopher Hart, who popularized the technique during his time at Harvard Business School, and will not be repeated here. The point is that, in the guarantee system, the amorphous nature of poor quality is made concrete, because it is formalized as an exact amount of unrealized revenue in the financial statements. At the end of every month, even the chief executive officer of a huge chain can evaluate the effect of quality levels at the unit level, and even a chief financial officer will become committed to guest satisfaction.
A Time for Reckoning
It is time for executives in the hospitality sector to be honest about the ubiquitous nature of service failures and admit that service quality has not improved in decades. Quality management systems must be adopted or improved, even at five-star properties. Significant advances could be made by more closely linking service operations to financial accounting, and academic curricula should be adapted to recognize this connection. Beyond that, we have an ethical responsibility to deliver on our promises. We can and should do better.
---
Bradford T. Hudson, Ph.D. is Associate Professor of the Practice of Marketing in the Carroll School of Management at Boston College. He is also Assistant Chairperson of the Marketing Department at Boston College. Previously he was a faculty member at Boston University, with concurrent appointments as Associate Professor of the Practice of Marketing in the School of Hospitality Administration and Lecturer in Marketing at the Graduate School of Management. He holds a master's degree in services marketing from the Cornell Hotel School and a Ph.D. in business history from Boston University. He is a former Fulbright Scholar. Email bradford.hudson@bc.edu
By: Christopher Muller
What is unique about being a designer and also an artist is that you are always composing and designing. It's like breathing. It's inherent. It's like musicians who are always humming when they walk down the street and don't even know they are doing it.-Morris Nathanson
For more than a half century, Morris Nathanson has been at the forefront of creative interior design for the hospitality industry. Along with his own artistry, his influence on many of today's top hospitality designers is a testament to his lasting vision.
Originally trained in theatrical and stage design, Nathanson worked early in his career for the Paramount Restaurant Supply Company in his native Rhode Island, where he helped create iconic concept designs for companies such as Dunkin' Donuts
With an entrepreneur's drive and an artist's eye, he was a pioneer in the field of restaurant and hospitality design when he opened his own firm in 1967, Morris Nathanson Design. Since then Morris has nurtured, trained, and mentored scores of designers and project managers, while helping to launch the concept and brand development for dozens of landmark restaurant companies.
Nathanson has been designated as a 'Thought Leader' by the American Society of Interior Designers and his firm has received numerous accolades. He is also a recognized fine artist and an exhibiting member of the Providence Art Club, which was founded in 1880 and is one of the oldest in the country
The images that follow are a small sample of the more than 400 hand-drawn renderings of restaurant, hotel, and resort projects that have been donated to Boston University. They are part of the Morris Nathanson Design Collection in the renowned Howard Gotlieb Archival Research Center.
All images from the Morris Nathanson Design Collection in the Howard Gotlieb Archival Research Center at Boston University, reproduced by permission.
---
Christopher C. Muller is Professor of the Practice of Hospitality Administration and former Dean of the School of Hospitality Administration at Boston University. Each year, he moderates the European Food Service Summit, a major conference for restaurant and supply executives. He holds a bachelor's degree in political science from Hobart College and two graduate degrees from Cornell University, including a Ph.D. in hospitality administration. Email cmuller@bu.edu