Category: Fall 2016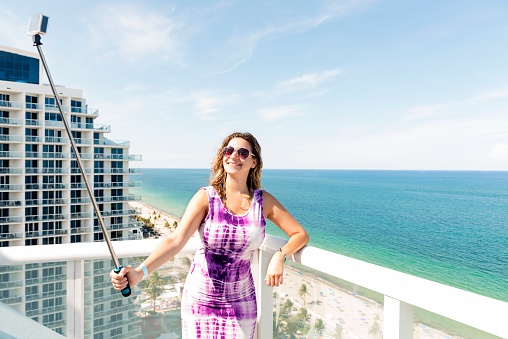 By Allen Adamson and Chekitan S. Dev
The Exponential Growth in Both Hospitality Brands and the Millennial Audience Requires an Exponential Shift in Brand Portfolio Strategy
The past decade has seen exponential growth in hospitality brands making for an often confounding proliferation of options for travelers. According to Smith Travel Research, from hard to soft, boutique to lifestyle, consumers are looking at a choice of almost 1,000 hotel brands globally [1].
While the number of brand names has increased, the number of holding companies has decreased, the result of several significant mergers within the hospitality industry. The Marriott/Starwood merger is among the most recent example of holding companies combining assets to create larger brand families. According to the Marriott website, prior to merging with Starwood, it had "more than 4,400 properties in 87 countries and territories, with reported revenues of more than $14 billion in 2015." In addition to 19 of its own hotel brands, Marriott stands to add 11 of Starwood's brands to its portfolio upon the completion of the $12.2 billion merger.[2] As another example, in late 2015, hotel companies AccorHotels and Fairmont announced their merger. As stated on the Fairmont website in December, 2015, "We [Fairmont] are excited to share the news that FRHI Hotels & Resorts and our three leading brands, Fairmont Hotels & Resorts, Raffles Hotels & Resorts, and Swissôtel Hotels & Resorts, will soon join the AccorHotels group. AccorHotels is a global leader in the travel industry with a diverse portfolio, located in 94 countries, with over 3,800 properties and 20 recognized luxury, mid-scale and economy brands including Sofitel, Pullman, MGallery, Grand Mercure, and Novotel." The transaction, expected to close in mid-2016, was completed for a percentage of Starwood's price tag, a comparably modest $2.9 billion, but resulted in an equally impressive unification of hotel industry power players. In a similar vein, Intercontinental Hotels Group and Kimpton merged in 2014, a $430 million deal, which added nine InterContinental brands to Kimpton's 59 hotels in 30 U.S. cities.[3]
In addition to this trifecta of hospitality's large brand consolidations, boutique hotel groups Commune and Destination Hotels merged in the beginning of 2016, as well. As per Destination Hotels' press release, "The combined company will manage over 90 hotels and resorts in seven countries with approximately $2 billion of total property revenues under management, and will look to opportunistically broaden the geographic reach of its brands both domestically and internationally in urban and resort markets".[4]
This combination of fewer holding companies, each with extra brand names in their portfolios, presents a challenge for consumers, not simply in terms of the myriad names, but the inability to distinguish the inherent differences in one brand from another. According to a 2015 article in Skift, "Vacationers once relied on big-name hotel brands to signal the kind of experience they could expect. People knew what Holiday Inn, Hilton, Hyatt or Marriott meant. Familiarity bred a sense of comfort. No longer. The world's 10 largest hotel chains now offer a combined 113 brands at various price points, 31 of which didn't exist a decade ago. And there's no sign of this proliferation slowing down."[5] As companies assemble more and more brands under their corporate 'umbrella' organizing these brands in a clear, cohesive and compelling way in the new challenge facing these multi-brand hotel companies.
Traditionally, this proliferation of brands – the creation of an enormous brand portfolio –  would be dealt with in two interrelated ways; consumer segmentation and brand architecture. By way of explanation, segmentation is an analytical tool that allows marketers to take a large, diverse population and organize it into manageable, homogeneous groups which makes it possible to more fully understand, prioritize and address the individual needs of these groups rather than trying to address an entire population.[6] Segmentation is valuable because in its efforts to mean a lot to many people, a brand can easily begin to mean very little to very few. Segmentation allows brands to focus intimately on understanding the barriers, desires, needs, and aspirations of a specific group. Through segment identification, the brand can provide customized messages and products to fit the needs of the segment, focusing on those needs which both differentiate and unify the target segment.
Relative to segmentation and the hospitality industry, this might include breaking down hotels into unique segments of hotels, one that might offer limited service, another full service, and another luxury service. Further segmentation might then break these groupings into venues that are more appropriate to a business traveler, to a family traveling with children, or as a honeymoon destination. By way of example, within the IHG portfolio, brands are segmented by the need that they fulfill for the consumer, such as "Family Time," "Romantic Getaway," or "Rest and Go." The brands are then further differentiated on a price point spectrum, from mid-scale to luxury. This allows IHG to better identify the target market—and the needs—in alignment with their various hotel brands.
Given the exponential growth of hotel brands, however, there are no longer enough stratas of segmentation to make this tool feasible. In one Bloomberg article, travel industry analyst Harvey Harteveldt, considering the differences between brands Element and Aloft, ironically notes, "I think one uses blue a little more in its color palette, and one uses green a little bit more," a statement which perfectly nails the challenge. As Gary Leff writes on View From The Wing, "A consumer might know a brand, like a brand, and choose hotels flying that flag because the brand tells them just what they're going to get – that consistent experience they're comfortable and familiar with and feel favorably towards. But with too many brands, and brands that don't clearly distinguish themselves, it's hard for guests to 'get' the brand idea. With conversion brands, or brands whose story is that they're unique to their locations, there's not really even a clear brand idea to start with."[7]
Brand architecture, on the other hand, has been utilized to fine-tune the segmentation by way of focusing on a brand's organization and the resulting branding strategy. Again, traditionally, architecture would become the platform for expansion and innovation within the brand portfolio, while providing direction for that growth.[8] By way of explanation, there are generally four meaningful structures within brand architecture: master-branded, shared, endorsed, and no affiliation. Using Marriott as an example, "master-branded" would be simply Marriott; the name stands alone. Then, "shared," would be Marriott Courtyard, whereby each name is given a fifty-fifty share of ownership in the consumer's mind. "Endorsed" would be Courtyard by Marriott, giving Courtyard the majority ownership in the consumer's mind, but giving consumers the assurance that it's part of the Marriott family. "No affiliation" is just that. The hotel property gives no evidence of being anything but independently owned.
The old model of structuring a growing brand portfolio, using segmentation along with architecture to "scaffold" the segmentation, worked well for many years, especially in a world largely based on one-way communication wherein the brand was able to control the messages, if not always the experience.  Now, however, traditional segmentation is no longer robust enough to handle the huge number of brands. There are simply not enough ways to slice and dice consumer segments by need, effectively or efficiently, and, equally important, in a way that is understandable to consumers. Even the most nuanced architectural overlay model is not sufficient to support the myriad brand names in the marketplace. There are too many brands for the required infrastructure.
The current scenario? Fewer hospitality holding companies and more brand names, few which are distinguished by any unique brand story. In the first chart below is the traditional segmentation approach, inclusive of the pruning and consolidation of properties; hotel names neatly divided and subdivided by target, occasion, price point or location. It is rigid in structure, components fixed in place based on conventional marketing segmentation strategies.
A segmentation based architecture paradigm is ineffective when the largest purchasing audience engages and consumes in radically different ways. For a target market—the millennials– for whose new travel priorities include an increasing demand for authentic experience-based travel, a segmentation based brand architecture is inadequate, if not useless. There are eighty million millennials in the United States, alone, representing about one quarter of the population, with $200 billion in buying power. "Over the next five to ten years, millennials will become the biggest customer segment for hotels worldwide, and hotel brands are rushing to meet and exceed the needs of these travelers," said Signature Travel Network Vice President Ignacio Maza. In fact, by 2025, Gen Y will account for 75 percent of the workforce, according to a 2014 study by Deloitte."[9] Beyond sheer numbers, a study conducted by Goldman-Sachs states, "Millennials have come of age during a time of technological change, globalization and economic disruption. That's given them a different set of behaviors and experiences than their parents."[10] No matter how luxe or legacy a brand, the millennial consumer is not impressed unless a brand differentiates itself and proves its worth and experiential value. For millennials, more often than not, it's all about the experience—along with the resulting Instagram or Snapchat photo.
A study by Havas's Hashtag Nation reported in Adweek noted that, "Today's youth are significantly more apt than their elders to recognize—and value—the role brands play in their lives." But this can be a tricky relationship to maintain, the study notes, as 40 percent of respondents ages 16-24 complain that brands don't take them seriously enough. Brands also need to recognize that they're now dealing with a generation of consumers who are much savvier than their parents were at that age,' the study concluded. "Young people have an innate understanding of marketing and of their value as consumers. And they're significantly more likely than older generations to believe they have the capacity to help a brand succeed or fail. And why would they think that? Virtually every day they see some evidence of the power of ordinary people to effect change, whether it's using Twitter to foment a rebellion in the Middle East or using social media to compel a company to behave better."[11]
Before we unveil our new approach, we are finding there are three key millennial traits that must be taken into consideration as they move forward in their challenge to identify an effective brand portfolio model:
1.Millennials don't fall into neat hospitality buckets. They can't and won't be segmented. They move fluidly from business to pleasure. They don't compartmentalize their lives the ways in which their parents did. Recognizing this and providing the opportunities to do so is paramount to success according to a series of reports aggregated by consumer research firm Sprinklr, "Brands need to stop marketing to millennials in the same way they've marketed to previous generations… they're looking for brands that embody them."[12]
2. Millennials seek unique experiences – and they love to share these experiences. Millennials don't like big brands. They don't want to wake up in a hotel room that looks the same whether it's in Prague or Peoria. They want just the opposite. More than this, millennials are a generation that want to co-create the product and the brand with you. Companies that understand this and figure out ways to engage in this co-creation relationship millennials will have an edge. An example of a company that understands and has successfully tapped into this new paradigm, is American Express, with its Nextpedition campaign. As detailed in its 2011 press release, "[Nextpedition offers] a new way to travel targeted to travel enthusiasts in their 20s and 30s. Through Nextpedition, American Express Travel offers consumers the exciting opportunity to take a vacation where the destination and itinerary are unknown until the actual journey begins and is revealed day by day via a customized Smartphone. The "mystery trip" is customized to reflect the traveler's personality traits, providing an opportunity for him or her to explore the world in an unexpected and intuitive way."[13] In this synopsis of its campaign, American Express captures precisely the elements of the travel and hospitality experience that millennials crave. As noted in the same report by Sprinklr, "Research shows that millennials influence the shopping behavior of their parents, who are increasingly mimicking the demands of their children for a seamless customer experience." A seamless experience may include elements such as customized offerings, including better, faster, more personalized service, a single, streamlined customer experience, and integrated IT platforms.[14]
3. For millennials, technology and social media are part of their DNA. This is in good part what makes traditional architectural models ineffective. Millennials operate in a digital, transparent world. They can see everything and share everything. That a hotel brand is "shared" or "endorsed" doesn't matter. They'll get to the who and what behind a brand on their own, holding whomever is responsible, good or bad experience, accountable. That high-tech and word-of-mouth play an essential part in today's marketing strategies is an understatement. In fact, 40% of millennials share details of a trip to social media while traveling.[15] While traditional media may still have some role in building a brand, the old top-down, mass marketing dynamic is very quickly being replaced by the top-down, bottom-up approach – a conscious mix of your messaging and their The not-so-secret to success, however, is giving them something worth talking about.
This massive and incredibly influential consumer group is upsetting the whole framework  which marketers have heretofore utilized to manage large portfolios, specifically being able to build on segmentation based brand architecture strategies. Given all of the above, this article proposes that a shift in thinking is required to succeed in hospitality branding, especially as brands pivot to reach and break through to millennials. More specifically, it proposes that what is needed is a fundamentally different brand portfolio model, tailored to meet the needs of millennials, not their parents.
The context for this shift in thinking can best be appreciated by looking at the accompanying chart representing a different systematic approach. The proposed model is created to take into account all of the aforementioned challenges, especially those presented by the millennial consumer.
Resembling more of a "solar system," this model is organic, fluid, and dynamic with components moving in and out, taking on different values predicated on constantly changing consumer and market circumstances. At the core of this solar system is a membership-based loyalty program, not branded with a specific hotel name, but an entirely agnostic entity.
The ideal hospitality brand portfolio model must also take into account that there must be an organizing principle for all of the properties, along with a "gravitational force" that compels consumers to choose one hospitality group versus another. Ergo, the loyalty program at the core of this solar system model. However, rather than the traditional discount-based loyalty program which rewards multiple stays with an extra night or a room upgrade, to be effective, this proposed loyalty program must be based on what is relevant to millennials. Far beyond financial rewards, it should be perceived as a "brand experience enhancement program." Rather than a conventional buy-one-get-one loyalty program, it must be a program built on surprising and delighting the user in, both, a personalized manner and a manner unique to each of the properties. Whether checking into property A, B, or C, the user experience should be customized in some meaningful way. According to a study by Loyalty One, personalization is a critical factor for these travelers, with 79% of millennials saying they would even pay for rewards that correspond to their specific needs. A program with "brand experience enhancement" at its core will allow smaller brands to retain their authentic and unique quality, and larger brands to acquire the associative status of being in the same program. As is their preference,users control the price-value equation relative to their need. Millennials, and their ilk, get to discover new experiences, calling the shots –  and taking the shots –  to share with others.
The nature of this proposed solar system model is elliptical in form, properties, some large, some small, moving in and out, back and forth, each having its own "value" based on the needs of the user at a given point in time. The orbits of these planets are not preordained. In this model, segmentation is irrelevant. Architecture is irrelevant. Marketing strategy and media budgets are used to support the core program, to ensure its message is differentiated in a way that is meaningful. By ensuring a powerful and compelling story for the core program, and by delivering on this story, you no longer have to look at which properties in the solar system get the biggest share of the media buy. By creating extraordinary experiences within the solar system, millennials will do the heavy lifting given their affinity for social media.
REBRANDING THE IHG REWARDS PROGRAM [15]:

Kirk Kinsell, former President of the Americas for Intercontinental Hotels Group (IHG), led a session at the 2013 Cornell Hospitality Brand Management Roundtable by sharing IHG's effort to restructure its' brands around its loyalty program: PriorityClub Rewards. Noting that IHG had been an umbrella brand for only ten years, Kinsell shared a recent history that includes 30% growth through a relentless brand-building program and the industry's first loyalty program. The most recognizable IHG brand is, of course, the Holiday Inn brand family, which enjoys broad recognition. As he put it, when employees go through customs and say they work for IHG they are often greeted with a blank stare. But if they then add that it means Holiday Inn they are given a warm "Welcome!"

The key to his brand portfolio management effort is the re-launch of the priority program and simplification of brand communications, which has included adopting orange as the signature brand color. Now called IHG Rewards Club, the program offers a range of amenities including free Internet access to club members at all properties. If you're a club member near an IHG property, you need not even be an overnight guest to access the Internet in the facility. More broadly, IHG is focusing on using the rewards program to provide better guest recognition and leveraging the program to solve corporate challenges such as capturing a portion of the $2 billion cross-selling potential, and reducing the costs of using online travel agencies (OTAs) which cannot extend PriorityClub benefits to their customers.
In summary, our proposed new model for organizing hospitality brand portfolios is in direct response to the fact that the traditional approach is no longer relevant. While it used to be possible to place brands, targets, and target requirements into neat boxes and buckets, the world has become far too complex for this linear framework. This is especially true for those with a millennial mindset, be they millennials, themselves, or the growing number of audiences influenced by this mindset. Millennials simply can't and won't be segmented, and they don't hew toward brands that represent the usual segments. They morph fluidly from business to pleasure and, at the same time, seek out unique experiences. To succeed, hospitality branding professionals need a model that can incorporate the growing number of small, idiosyncratic brands and the attitude toward these brands, inclusive of the desire for discovery and personalization.
---
Allen Adamson, founder and CEO of BrandSimple, was most recently Chairman, North America, of Landor Associates, a global brand consulting and design firm, where he was responsible for operations and overseeing branding efforts. Under his leadership, the company partnered with a wide array of iconic brands, including Accenture, GE, Johnson & Johnson, FedEx, HBO, Marriott, MetLife, and Verizon. Additionally, he provided guidance for non-profit organizations including the 9/11 Memorial & Museum, the Central Park Conservancy, the Council on Foreign Relations, and Iraq and Afghanistan Veterans of America (IAVA). He is the author of three books — The Edge: 50 Tips from Brands that Lead, BrandDigital, and BrandSimple, and writes a monthly column for

 

Forbes.com about the impact of general business and cultural trends on branding. A sought-after industry commentator and has appeared on NBC's Today Show, CNBC's Squawk Box and Closing Bell, Fox Business Network, and has been quoted in The New York Times, the Wall Street Journal, Advertising Age, USA Today, the Washington Post, and Forbes.
Chekitan S. Dev is Associate Professor of Strategic Marketing and Brand Management in the School of Hotel Administration at Cornell University. His articles have appeared in numerous leading publications including Journal of Marketing and Harvard Business Review. He received the John Wiley & Sons Award for Lifetime Contribution to Hospitality and Tourism Research in 2002. Professor Dev holds a Ph.D. from Virginia Polytechnic Institute and State University, a master's degree from the Institut de Management Hotelier International at ESSEC, and a bachelor's degree from the University of Delhi. Email csd5@cornell.edu
Resources:
http://www.strglobal.com/Media/Default/Documents/STRGlobalChainScales2016.pdF

http://www.bloomberg.com/news/articles/2015-11-17/why-there-are-so-many-hotel-chains

http://www.usatoday.com/story/travel/roadwarriorvoices/2016/02/26/ihg-ceo-pledges-let-kimpton-maintain-its-identity/80989290/

https://www.destinationhotels.com/media-center/press-releases/destination-hotels-press-release

https://skift.com/2015/04/13/behind-the-boom-of-new-hotel-brands-from-major-chains

Philip Kotler and Gary Armstrong, Principles of Marketing, 2014, p. 381.

http://viewfromthewing.boardingarea.com/2015/04/15/simple-truth-there-are-too-many-hotel-brands-and-well-keep-getting-more/

Kevin Lane Keller, Building, Measuring and Managing Brand Equity, 2013, p.359.

http://travel.usnews.com/features/Millennial-Appeal-5-ways-hotels-are-engaging-Gen-Y/

Goldman-Sachs, "Millennials: Coming of Age." http://www.goldmansachs.com/our-thinking/pages/millennials Accessed August 14, 2016.

Hoffman, Melissa. Adweek. "Attention Brands: This Is How You Get Millennials to Like You: Looking at what resonates with most marketers' dream demo." http://www.adweek.com/news/advertising-branding/attention-brands-how-you-get-millennials-you-160575 Accessed August 14, 2016

Sprinklr. "Marketing to Millennials: 6 Studies & Reports You Need to Read" <https://www.sprinklr.com/the-way/marketing-to millennials-studies-reports> August, 2016.

http://about.americanexpress.com/news/pr/2011/nextpedition.aspx

"Marketing to Millennials: 6 Studies & Reports You Need to Read" <https://www.sprinklr.com/the-way/marketing-to millennials-studies-reports> Accessed August 14, 2016.

Taken from Chekitan S. Dev (2013), "Challenges in Contemporary Hospitality Branding,"

Cornell Hospitality Proceedings

, 5(6), page 10.
By Peter Szende and Annie Holcombe
The evolution of society and technology has created new trends and innovations. The hospitality industry tries to stay level with new technological advances in order to keep up and engage with their guests. This modernization has eliminated various practices and inventions that were once predominant in the industry.
Throughout the 19th and 20th centuries, tourism changed dramatically due to the industrial revolution. A middle class emerged in society. This new class had the money and opportunity to spend on food and travel. Travel was made easier with the invention of steam engines that powered locomotives and automobiles. Through modernization, steam engines have been eradicated and replaced by diesel-powered engines.
With travel being made more accessible throughout the decades, the hospitality industry constantly evolved their practices as society and technology progressed. Hotels looked for news ways up service their customers, which led to the invention of the Servidor in 1918. The Servidor enhanced a guest's privacy during their hotel stay. In Chicago, the Berghoff restaurant successfully operated on an old German system of coins until 1980. These once revolutionary innovations have gone extinct, merely becoming fragments of the past.
The Servidor – The Silent Servant
During the early 1900's, technological advances such as the electric fridge invented in 1910 and the creation of stainless steel in 1916 started to modernize the hospitality industry. In June 1918, the contraption known as the Servidor began emerging in hotels. The Hotel Fort Shelby of Detroit was the first hotel in the world that implemented Servidor service. (Ibbotson, p. 45).  The Servidor transformed the way hotels provided guest services by offering guests the privacy of a real home.
Hotel Cleveland advertising Servidor Service. Source: Hotel Cleveland [Advertisement]. (1922, January). The Hotel Monthly, 30(346), 103.
Servidors consisted of a full-length cabinet, which has one door on the room side and another one on the corridor side. Its privacy feature was the fact that the doors could not be opened at the same time due to an interlocking device. For safety, the door to the room side could only be opened from inside the guest room, not from the outside. This protected guests from intruders. In order to notify the guests that there was a completed delivery in the door there was a silent signal device on the room side of the door. (Hastings, 1919).
A Servidor was used to minimize interaction between guests and employees. Guests would telephone the front desk and request for items to be delivered to their rooms. Guests could also leave their clothes to be pressed or shoes to be shined in the Servidor. A hotel employee would grab it and then return it without disturbing or interrupting guests.  Servidors provided a modernized, efficient system for guests to receive and deliver their personal belongings. Guests were saved the trouble of bringing their parcels to and from the lobby.
Hotels highlighting minimized interaction with staff. Source: The Servidor Co. [Advertisement]. (1921, June). The Hotel World, 92(26) 4.
This particular invention reduced inefficient practices such as delayed messengers and repeated service calls when guests were out of the room. All of these faulty practices resulted in an ineffective use of employees paid time.  Regardless of where the guests were and the time of day, Servidors allowed for a 24/7, delivery service, whether it was to the guest room or from the guest room. Employees would be able to leave guests' belongings in the Servidor, thus making the hotel's labor more efficient.
The following magazine ad summarizes the anticipated advantages of Servidor. According to the Servidor company, installing their doors is a not only a service enrichment but also a profitable investment.
Source: The Servidor Co. [Advertisement]. (1922, June). Hotel Management, I(5) 237.
When the Hotel Pennsylvania, the largest hotel in the world at the time opened its door in 1919, the Statler management, known for breakthrough innovations, equipped the hotel with servidor. They enhanced this new feature with a morning newspapers amenity delivered discreetly through the servidor. (World's biggest, 1919).
Source: Hastings, C. W. (1919, March) Hotel Pennsylvania, New York. Architecture and Building. LI, Number 3. 18-24.
The Servidor changed the way hotels provided service to its guest, but also created new problems within its hotels. One issue was that guests would request items and have them charged to their hotel bills, but leave without having paid their bills. These guests were commonly known as skippers. In addition, because the Servidor minimized the interaction between hotel employees and guests, tipping occurred less frequently. When ensuring items were taken from and delivered to the Servidor employees did not come in contact with the guests in order to be tipped.
Although the Servidor was widely seen in hotel advertisements in the middle of the twentieth century, the concept soon disappeared altogether from hotel advertisements. As hotels underwent upgrades and renovations the Servidor slowly disappeared. Today, the only place in the United States where Servidors still exist is the Hotel Pennsylvania in New York City. However, the Servidors are no longer in use and have not been for decades. The doors have been sealed shut and are slowly being phased for modern wooden doors, eventually becoming a fragment of the hotel industry's past.
One of the few remaining Servidors in the Hotel Pennsylvania. (Source: the author)
Servers are Independent Contractors: The German System of Coins
When the first author did his military service in the early 1980th in Hungary, he worked as a server for a night in an upscale military club where drinks could only be delivered to the guests if he paid for the drinks from his own pocket at the bar and then charged it to the customers. At that time he didn't know too much about old time European restaurant cash control systems.      
During the 1890's Herman Berghoff, a German restaurateur began his career by selling beer from a stand outside the World's Columbia Exposition in Chicago. He went on to open the Berghoff Café in 1898 where he sold his Berghoff Dortmunder Beer for five cents a glass and ten cents a stein. During the Prohibition era, which lasted from 1920 through 1933, Berghoff refocused his efforts from beer to making Bergo soda pops. To this day, the Berghoff Rootbeer is still popular. When the end of the prohibition came in 1933, Berghoff became the first person to receive his liquor license, Liquor License #1 was awarded to him for his bar and Liquor License #2 was awarded to him for his restaurant. Since then, Berghoff has received the first liquor license in Chicago every year.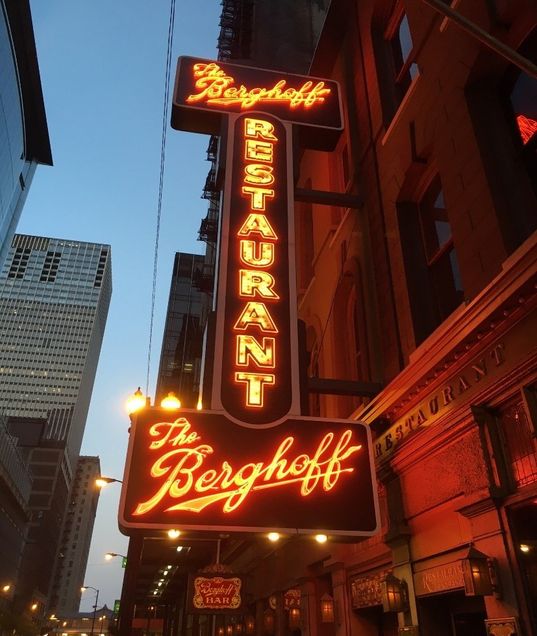 Throughout the years the bar itself has gone through various changes. Originally, Berghoff's was a men-only bar. However, during the American Feminist Movement in the 1960s through 1970s, Gloria Steinem, a famous women's rights activist walked into Berghoff's and demanded to be served. Since, then Berghoff became a men and women's bar. She modernized the traditional way Berghoff operated. In the 1950's and 1960's barstools became very popular and could soon be found in every restaurant and bar. Until 2001, Berghoff was a stand-up bar. Stools could not be found in the bar until 2001. Men and women would eat their sandwiches and drink their beer while standing up. To support themselves they would put their foot on a brass rail that can be found along the bottom of the mahogany bar.
However, the biggest change the bar experienced occurred with modern technology in the 1980's. Until 1980, the restaurant staff operated on the old German system of coins. The old German system of coins consisted of the waiters buying metal coins from the restaurant at the beginning of their shifts and using those coins to buy their customers' food and beverages. In return, customers would pay for their bills using cash. At the end of their shifts, waiters' checks were audited and to prevent theft, they had to "zero out." (Berghoff, p. 41) Why coins? Servers were busy carrying plates in one hand, so they could easily reach the coins in the pocket of their aprons. (Ledermann, 2004). Their source of income came from their cash tips. With the 1980's bringing about new technology, this system was soon eradicated with the modernization of computers, credit cards, and the new automated ordering and billing systems.
True, this system seems to have largely disappeared but sporadic, old time examples indicate restaurants' relentless efforts to secure their revenue. New Orleans' Café Du Monde is one example of a modern restaurant that loosely follows the German System of Coins. (First Stop in New Orleans, 2010). Servers have trays that they will fill with Du Monde's famous beignets and chicory root coffee. After they fill their trays, the food is purchased with their cash and the waiters serve their customers with the food. After, they have been served the customers pay the servers for their meal, therefore mimicking the German system of coins. Though the system has largely been eradicated it still influences how some businesses today are run.
(Photo Courtesy of The Berghoff)
---
 Dr. Peter Szende has over 25 years of management experience in the hospitality industry in both Europe and North America. He joined the Boston University School of Hospitality Administration as an Assistant Professor in 2003. He was promoted to Associate Professor of the Practice in 2010. Currently, he serves as Associate Dean of Academic Affairs.   
 
Annie Holcombe is a senior at Boston University's School of Hospitality Administration. Her studies and areas of interest include sales and digital marketing, revenue management, and finance. 
References:
Berghoff, C., Ryan, N. R. & Berghoff, J. (2007). The Berghoff Family Cookbook: From Our Table to Yours, Celebrating a Century of Entertaining. Kansas City, MO: Andrews McMeel Publishing, LLC.
Berghoff Restaurant History Facts [Information Sheet]. (n.d.) Chicago, IL: Berghoff Restaurant.
First Stop in New Orleans, Café Du Monde. (2010, November 15). ChefsOnTheRoad. Retrieved from http://www.chefsontheroad.com/?p=3195
Hastings, C. W. (1919, March) Hotel Pennsylvania, New York. Architecture and Building. LI, Number 3. 18-24.
Ibbotson, P. (2007). Detroit's Historic Hotels and Restaurants. Charleston, SC: Arcadia Publishing.
Mazur, A. (2016. May 23.) Personal Interview.
Ledermann, R.P. (2004). Chicago's State Street Christmas Parade. Charleston, SC: Arcadia Publishing.
World's biggest hotel opens today (1919, January 19). The New York Times, p. 9.
Acknowledgments:
The authors of this article would like to acknowledge the staff of the Hotel Pennsylvania who made taking pictures of the Servidor possible.
The authors would also like to thank Ashley Mazur, Marketing & Media Manager of Berghoff Catering & Restaurant Group as well as Paul Turner, server at the Berghoff for their assistance.
By Erinn Tucker, Leora Halpern Lanz, & Juan Lesmes
There is a saying in events management, "If the event goes well, the client is congratulated. If the event goes wrong, blame the event planner." This saying holds true when cities bid, plan and execute a spotlight event, such as the 2016 Democratic National Convention (DNC). The 2016 DNC was held in Philadelphia, Pennsylvania July 25th-30th with approximately 50,000 stakeholders who traveled to the city. These stakeholders were comprised of 6,000 delegates with families or constituents, 20,000 media and 24,000 guest, VIPs, dignitaries, donors and "Friends of the Party."
What exactly is a spotlight event?
The participants of spotlight events are either numerous, noteworthy, or both.

It appeals to national or international audiences.

It garners tremendous media coverage.

The event automatically places its host city into the spotlight.
Cities are enticed to host such events because of the direct and indirect economic potential they bring. They also serve as a way for the city to reposition or rebrand its image within the country as a whole. Hosting a spotlight event such as a national political convention is a major feather in a city's tourism cap.
With spotlight events, all segments of the tourism industry benefit from the offerings presented to the lodging, culinary, retail, and transportation sectors. During the recent DNC in Philadelphia, both hotel occupancy and hotel revenue increased by 10.3% and $16.3 million respectively as compared to the same period in 2015. RevPAR (Revenue Per Available Room) was 6.6% ahead it of what it was during the same time the prior year. It is predicted that the city generated approximately $200M from the DNC, pending a final report which will be released in late fall of 2016.
Hospitality Planning Used with a Spotlight Event

The Philadelphia 2016 DNC Host Committee and the Democratic National Convention Committee (DNCC), the two independent yet collaborative entities, worked together to ensure that diversity and inclusion were the primary themes of the event, and that hospitality was fully incorporated into the themes execution. A specific initiative called the Philly Ambassador Program was a substantial element in carrying out these themes.
The Philadelphia DNC Host Committee, a nonprofit organization, was responsible for raising funds and offering the city's amenities. These funds help support and sustain the following: [1]
Arena and Convention Center

Delegate Experience

Technology and Communications

Digital and Social Media

Housing and Hotels

Diversity Business Outreach

Neighborhood and Civic Relations

Security and Transportation

Volunteer Outreach

Philadelphia Legacy
The Host Committee was comprised of leaders with varying backgrounds including professionals of the lodging, events, and restaurant industries. The committee assembled 10,000 volunteers to assist with all the needs before, during, and after the convention. A select 60 volunteers were selected to into the Philly Ambassador Program; which provided additional "concierge-like" services to visiting delegates. The selection process of these ambassadors was based on the volunteer's knowledge of Philadelphia and the surrounding area, hospitality experience and the spirit to serve. The Host Committee used this best practice as a result of their previous experience during the 2000 RNC and then crafted four initiatives to ensure smooth hospitality and a welcoming ambiance:
Initiative #1. The "Donkey's Around Town" was an installation of 57 fiberglass donkeys, each painted by a local artist, to represent a participating Convention delegation. They were placed in publicly accessible locations across the city and were also used to create a warm reception for delegates at their respective host hotels.

Massachusetts donkey located outside of the Sheraton Society Hill Hotel, July 2016. Photo Source: Creative Commons
Initiative #2. The Pennsylvania State assembly passed a bill known as The Fiscal Code which allowed bars holding convention-related events to apply for special permits to stay open later than usual. This gesture acknowledged that the hospitality industry was a significant part of the Convention activities.

Initiative #3. Uber hosted a hospitality tent at the designated pick up and drop off areas at the Wells Fargo Center, the primary venue for the televised portion of the DNC. The tent included charging stations, Wi-Fi, bottled water, and light refreshments. During the last day of the convention, on Thursday, Uber provided ponchos and arranged for staff to escort riders from their Uber to the tent with umbrellas.
Uber tent at the 2016 DNC, July 2016. Photo reprinted with permission.
Initiative #4. The positive outreach from the Philly Ambassadors were supplemented by the equally positive welcome and friendliness of the local police. During the 2000 Republican National Convention, Philadelphia suffered scrutiny after the police arrested nearly 400 protesters resulting in numerous lawsuits. It is not unusual for activists to use a spotlight event to "spotlight" their own causes. However, for the 2016 DNC, Philadelphia designated specific, safe spaces for protesters and provided sensitivity training to both city police and all volunteers.
Volunteers and local police outside of Philadelphia Convention Center, July 2016. Photo reprinted with permission.
Diversity and Inclusion Planning Used with a Spotlight Event

The Democratic National Committee is the principal governing organization of the United States Democratic Party. In regards to this spotlight event, the Committee is therefore "the client" and worked closely with the local Host Committee in logistics planning and execution. The mission of the DNC is to present the Party's nominee for President (Secretary Hilary Clinton) and share the Party's platform to the delegates and the media during the Convention. This year the platform included civil rights, women's rights, LGBT rights, rights of people with disabilities, and the protection of voting rights, placing diversity, inclusion and equality as the central theme.
This theme was also translated into the event itself. Inside the Wells Fargo Center were designated spaces for prayer, nursing, ADA services, recovery and wellness, a quiet room, and a first for the Convention, all-gender restrooms. The attention that was given to diversity and inclusion was paramount and notable.

Inclusion planning also considered guests with special needs via "convention troubleshooting" preparations. Delegates and attendees with special needs were provided with designated areas, and scheduled timelines were orchestrated to ensure that everyone was accommodated. For example, protesters inside the arena who supported Bernie Sanders were just as welcomed as Hillary Clinton supporters. In fact, unlike other political officials, Bernie Sanders was present at the DNC the entire week.
Outside of the Wells Fargo Center, protesters were given bottled water, EMT's were stationed for health emergencies, and the city police was requested to not wear riot gear. This set an overall tone of a non-confrontational and inclusive environment.
DNCC signage at Wells Fargo Arena, July 2016. Photo reprinted with permission.
Unfortunately, if something goes terribly wrong during a spotlight event, the city itself can be remembered with lasting negative images. As previously mentioned, Philadelphia was still remembered for the large number of protester arrest during the 2000 RNC. Chicago is still reminded of the images of the riot-plagued 1968 DNC convention, let alone  Miami for the 1972 DNC in terms of a sheer fiasco, or even the 1868 DNC held in New York City whose slogan was "This is a white man's country, Let a white man rule". The Convention has come a long way since these times as this change has been recorded and duly noted.

Therefore, with all of the bidding, planning and logistical needs of a spotlight event, the event overwhelmingly helps put a city on the map in terms of travel, tourism, and business environment. Further success is most often found when personalized hospitality is provided to all stakeholders. Even more, when themes like the 2016 DNC's diversity and inclusion are genuinely felt throughout all aspects of the event, the city, organizing entities, and event are elevated into long-lasting positive spotlight moment.
---
Erinn Tucker, Ph.D. is an Assistant Professor in the School Tourism and Hospitality Management at Temple University. She has 20 years of corporate and academic experience. Her teaching and research is in the areas of event management and student engagement. She holds a bachelor's degree in business administration from Florida A&M University, a master's degree in sport administration from Florida State University and a Master's in Business Administration (MBA) from Winthrop University and Ph.D. in Hospitality Administration from Oklahoma State University. Dr. Tucker served as a Philadelphia Host Volunteer Ambassador and was also on the Trouble Shooting Team during the 2016 Democratic National Convention. Email: erinn.tucker@temple.edu or Twitter @erinntucker
  Leora Halpern Lanz is President of LHL Communications and a full time lecturer at Boston University's School of Hospitality Administration. A graduate of Cornell University with a Masters from Boston University, Leora served for 15 years as Global Director of Marketing for HVS, one of the leading hospitality consultancies, 10 years as Director of Public Relations and Advertising for the ITT Sheraton Hotels of New York, and 5 years as the Director of Public Relations for the Greater Boston Convention & Visitors Bureau. During her Sheraton tenure, she actively facilitated the public relations, hospitality and logistical details at the 1992 DNC headquarter hotel, the Sheraton New York. Email: leora@lhlcommunications.com or lhlanz@bu.edu Twitter @LeoraLanz2.

  Juan Lesmes is a rising senior at Boston University's School of Hospitality Administration (SHA). His studies and areas of interest include hospitality media relations and integrated marketing communications. Juan's previous experience includes work at public relations firm DataMedia Communications Group and at digital marketing platform Let's Get Weddy in London. He is currently working with LHL Communications and The Ritz London. Beyond his studies at SHA, he serves as co-founder and marketing coordinator of Boston University's International Society. After graduation, Juan intends to continue his studies in hospitality marketing and communications. 
[1] Philadelphia 2016 Host Committee Leadership, http://www.phldnc.com/committee/
By Bradford Hudson
Almost everyone understands that fantasy is integral to the thematic elements in a Disney amusement park. Less understood, especially among people who have never visited one of these parks, is that Disney themes are often historical. Occasionally such themes relate to the heritage of the company itself, but in many cases they refer to our broader cultural heritage. Disney has appropriated genuine historical references and integrated these within fictional proprietary narratives, to create a blend of real and false (or faux) heritage that has become the core of its brand identity.
Corporate Heritage at Disney
As the Disney parks grow older, thematic elements increasingly refer to the history of the company and the foundational role of Walt Disney. This is especially notable at the original Disneyland in California and the adjacent Disney California Adventure expansion. A statue of the man standing alongside his most famous character, Mickey Mouse, has a place of honor at the center of Disneyland. The World of Color extravaganza at California Adventure, which is an outdoor light and video show that substitutes for the evening fireworks at many other parks, is essentially a documentary about the life and legacy of Walt Disney. Vintage photographs and memorabilia are displayed throughout the lobby of the Disneyland Hotel. Elements of Disney heritage often appear in the theme or design of products offered in retail stores, especially characters from the Disney archives.
Disney also deliberately uses milestones in its corporate history as promotional opportunities. During the past year, the original Disneyland celebrated its 60th birthday, for which a special Diamond Anniversary logo was created. This was displayed throughout the park and incorporated into the design of multiple retail and restaurant offerings, ranging from emblematic suitcases to plastic lighted diamonds that were added to premium cocktails.
Cultural Heritage at Disney
Historical references unrelated to its corporate history also appear at Disneyland. Sometimes these are representations of real events or people, such as the animatronic figure of Abraham Lincoln that anchors the Great Moments show. More often these are elements of design or narrative that are incorporated into the imaginary themes of structures or attractions.
Historical elements are both pronounced and ubiquitous in Disney parks. When arriving at the gates of Disneyland, you immediately see a railroad with steam powered locomotives reminiscent of the nineteenth century. You enter the gates and proceed down Main Street, which is a reproduction of a midwestern American town circa 1900. Guests can ride into the park on a variety of vehicles including a horse-drawn streetcar and a replica of an antique fire engine.
At the end is a traffic circle, which serves as a central hub with different themed neighborhoods radiating outward. Here you will also find the focal point of the entire park, a castle devoted to the fairytale princess Sleeping Beauty. This is a stylized interpretation of medieval castles found throughout Europe, with inspiration also provided by Neuschwanstein Castle in Bavaria, a neo-gothic and Romanesque revival style palace built during the 1880s.
Directly ahead is Fantasyland, with rides hidden within or adjacent to buildings that resemble a historic European village (such as the King Arthur Carrousel and Snow White's Scary Adventures). To the left is Frontierland, with attractions that include references to the midwestern and southwestern United States during the nineteenth century (Big Thunder Mountain and Mark Twain Riverboat). Also to the left is Adventureland, which includes rides with themes related to historic exploration (Jungle Cruise and Indiana Jones Adventure). Beyond that is New Orleans Square and Critter Country, with historical references to the American southern states and the Caribbean region (Haunted Mansion and Pirates of the Caribbean).
The only original neighborhood that was not developed with a historical theme is Tomorrowland, which is focused on space exploration. However, even this was subsequently re-positioned with themes that are vaguely historical. The futuristic design elements used in 1955 had become distinctly obsolete four decades later, but Disney executives were concerned about the cost of constantly updating the area to maintain pace with advancing technology in the real world. The solution was to develop a retrospective theme set in a specific period that need not change, with an internal viewpoint from the past toward the future. This became a playful interpretation of science fiction movies from the 1950s.
Historical themes and design elements are also ubiquitous at the adjacent park Disney California Adventure. Guests enter along Buena Vista Street, a replica of a Hollywood neighborhood from the 1920s, which includes an old-fashioned streetcar ride. One of the most popular new additions here is the Frozen Live attraction, which recreates the blockbuster animated movie as a Broadway-style stage musical. It should be apparent to anyone who has seen the film that the costumes and settings in Frozen are historical.
To the right is the Grizzly Peak neighborhood, with design elements reminiscent of a national park, including a vintage Rambler station wagon parked outside the retail store. To the left is the Tower of Terror ride, with a theme that combines a fictional historic hotel (supposedly abandoned after an elevator accident in 1939) with a video introduction by Rod Serling from the Twilight Zone television show (circa 1960). Beyond that is Cars Land, a reproduction of the fictional American southwestern town Radiator Springs, from the animated movie Cars. This features a pronounced nostalgic theme, including vintage automobile design elements from the 1950s and 1960s, and ubiquitous references to the legendary Route 66 highway.
At the rear of Disney California Adventure is the Paradise Pier neighborhood, which is a replica of a seaside amusement park at the turn of the twentieth century. Although the design elements include images of Mickey Mouse and his friends, the theme emphasizes a historical period as much as the Disney characters. The architecture and signage are Victorian, the main attractions are a wooden roller coaster and Ferris wheel, the boardwalk includes carnival games and arcades, and the food options include corn dogs. Heritage co-branding is evident in a billboard for Coca-Cola, which features tourists in Victorian clothing visiting a seaside boardwalk with the classic slogan 'Delicious and Refreshing.'
Without going into excessive detail, it should also be apparent to visitors that historical themes abound in other Disney parks. The most obvious examples are the fairytale princess castles, which serve as focal points at every Disney park globally. Historical themes are also quite evident in Disney hotel and restaurant venues, especially throughout the extensive lodging system in Florida.
Brand Heritage
Brand heritage is an emerging topic within the marketing discipline, which suggests that the con­sumer appeal of products and services offered by older companies may be enhanced by the histori­cal characters of their brands. A few years ago, I developed a theoretical model for brand heritage in collaboration with John Balmer at Brunel University in London and based on prior work by the pioneering social psychologist George Herbert Mead, which was published in the journal Corporate Communications. This suggested that the phenomenon of brand heritage has several dimensions.
In the 'innate heritage' dimension, the historical elements of the brand serve as signals regarding the attributes or benefits of the brand itself. Communications in this dimension often refer to company founders or moments of origination (supporting claims of leadership or authenticity) or to the continuity and survival of the company (supporting claims of expertise or reliability). At Disneyland, innate heritage is exemplified by the banners celebrating the 60th Anniversary celebration. Innate heritage can be activated through the use of artifacts (such as the Disney memorabilia displayed at the Disneyland Hotel) or media archives (such as the video interview of Walt Disney that appears in the World of Color show). Authenticity is validated by historical documents or objects that could otherwise be presented as exhibits in a legal proceeding (also called 'indexical' authenticity). This all seems fairly straightforward.
The 'projected heritage' dimension is more nuanced and complex. In psychology, the term 'projection' refers to the idea that we perceive beliefs or feelings in other people, which they do not have, because we subconsciously cannot admit to having such beliefs or feelings ourselves. In a branding context, consumers perceive attributes in the company or product, which may or may not be present, because they subconsciously perceive or want to perceive similar attributes in themselves.
Mead proposed that people develop a sense of personal identity through a process of 'symbolic interaction' in which they are constantly comparing and contrasting themselves against other people or objects. He also suggested that the process is inherently historical, because people compare themselves (and others) in the present to themselves (and others) in the past, to define and understand their own growth over time.
Hudson and Balmer took this one step further to suggest that corporate brands are symbols that consumers employ for the same type of interaction. In the 'projected heritage' dimension, the brand becomes an instrument of existential definition upon which consumers project their own historical associations. Consumers engage with the historical elements of the brand not only to define the identity of the company, but also to define their own identities. We also suggested that historical references of any type could be used as symbols to activate associations in the mind, whether or not they have any legitimate connection to a brand, provided that consumers consider such associations to be meaningful.
Our typology suggests two subsidiary dimensions for projected heritage. In the 'reconstructed heritage' sub-dimension, consumers project associations onto the brand from their own lived histories. In other words, they acquire branded products or experiences for the purpose of activating memories about their own pasts. These memories must somehow relate to the brand, and may involve memories about its products, but the real purpose is to reminisce about past events or feelings in the surrounding milieu. Reconstructed heritage can be activated by images or narratives that are familiar.
At Disneyland, reconstructed heritage is exemplified by a special button that is given to anyone who visited (or claims to have visited) Disneyland as a child during its inaugural year 1955. The button becomes an instrument for self-activation and perpetuation of feelings about a formative event in the real childhood of the person who wears it. This is personal nostalgia. The memories are real.
This brings us to the other subsidiary dimension of projected heritage. In the 'mythical heritage' sub-dimension, consumers project associations about imagined histories onto the brand. Such associations may refer to real historical events in which the consumer did not participate, or to narratives inspired by history that are entirely fictional. The former can be considered historical or vicarious nostalgia, while the latter has been called 'utopian nostalgia.' Either way, these past moments did not actually occur in the lived experiences of the consumers involved. The memories are unreal.
Mythical heritage cannot be activated by images or narratives that are familiar, because the consumer has no personal familiarity. The operative characteristic in a mythical symbol must be its archetypal or quintessential nature (also called 'iconical' authenticity). In other words, the symbol must capture the essence of an idea so perfectly that it demands our intellectual or aesthetic respect. It may not be real, but it is true.
At Disneyland, mythical heritage is exemplified by the historical elements throughout the Fantasyland neighborhood. This is why Walt Disney chose the castle of Sleeping Beauty as the focal point of Disneyland, why a fairytale castle is prominently featured in every Disney location globally, and why the image of a castle is one of the most commonly used Disney corporate logos.
By the way, many of the historical elements at Disney can be categorized as either reconstructed heritage or mythical heritage, depending on the observer. At the California Adventure Park, this is illustrated by the antique Rambler station wagon displayed at Grizzly Peak. A parent or grandparent may experience personal nostalgia, a teenager may experience historical nostalgia, and a child may experience utopian nostalgia when looking at the same automobile.
Faux Heritage
Although the historical references at Disney may have genuine antecedents, they constitute faux (or false) heritage because they are either presented out of historical context (such as a medieval European castle located in modern California) or within a larger historical narrative that is entirely fictional (such as the story of Sleeping Beauty). The purpose is not to illustrate historical events or phenomena in an academic sense, but rather to entertain and amuse. This is something quite different from a historical attraction such as Colonial Williamsburg in Virginia, which uses reproductions or interpretations to create experiences that aspire to scientific validity.
Arbiters of high culture are often dismissive of Disney theme parks. Critics have suggested that Disney disintegrates historical reality into tidbits, mixes them with simplistic and sentimental fabrications from commercial culture, and re-assembles them into a vulgar and counterfeit pastiche, which is promoted to idiotic and undiscerning masses, by American executives who are unsophisticated and avaricious. This was especially notable in media coverage about the opening of EuroDisney (now Disneyland Paris) and the planning for the Disney America theme park in Virginia (subsequently abandoned). In contrast, defenders of Disney consider these attitudes to be arrogant, elitist, ethnocentric and cynical.
Such criticism also misses the point of historical appropriation. The purpose is not to deceive or defraud. Walt Disney was a film director who envisioned Disneyland as a three-dimensional environment that would allow guests to step inside his movies. He was re-purposing historical tidbits as visual and intellectual cues in elaborate sets akin to the decoration of Hollywood sound stages. Today the company assumes that every visitor will realize they are interacting with an explicitly contrived world. Indeed most Disney visitors are knowing and enthusiastic collaborators in this process. The goal is not to reproduce or critique reality, but rather to escape from it.
The Essence of the Disney Brand
Much has been written about the meaning of Disney. Perhaps the most common idea, voiced both by independent observers and the company itself, is that Disney offers a celebration of childhood and the child in each of us. Another idea often discussed is that Disney is able to create and capture 'magic' through imagination and illusion. These sentiments undoubtedly have validity, and they are consistent with the ideas discussed above. Let me suggest, however, that such appraisals are incomplete.
Disney is also inherently and profoundly historical. The most successful Disney movies have always included historical elements and the parks are enabled by an omnipresent sense of the past. Indeed many of the thematic elements refer to a specific moment in history. When, you may ask? Once upon a time.
Even its most futuristic themes incorporate historical symbols, as evidenced by design elements in the Star Wars attractions, which Disney is relying upon to capture the imagination of the next generation. Nothing illustrates this more powerfully than the Jedi lightsaber, which is essentially a sword and represents a type of weapon that has not been used on real battlefields for over a century. The action may unfold in space, but as stated in the opening frame of the original film, the fictional narrative occurs 'a long time ago in a galaxy far, far away.' It is quite apparent why the heirs of Walt Disney chose to acquire the Star Wars movie franchise from George Lucas. These two brands fit together perfectly.
Walt Disney knew instinctively that to lure people into worlds of fantasy, he needed to have them momentarily disconnect themselves from the real world. And yet he also understood that his audiences would be disoriented and confused unless his narratives contained recognizable touchpoints. The key was to suspend disbelief, rather than destroy belief and thereby cast his viewers adrift perceptually and intellectually. The technique of leading people backward into the vague reality of another time was an effective way to balance novelty and familiarity.
When our theoretical model for brand heritage is placed against the conceptual backdrop of historical imagery, it becomes clear that the core of the Disney brand is mythical heritage. The value proposition for consumers is an intellectual and emotional escape from the monotony or anxiety of their normal existence into a utopian fantasy world set in a mythical 'golden age' of yesteryear.
About the Research
This article is based on field research conducted by the author at Disneyland and Disney California Adventure in Anaheim, California during two site visits in 2016. It is also informed by several prior visits to Walt Disney World in Orlando, Florida. A variety of primary and secondary sources were consulted to develop the historical background of the company including the books Disney A to Z (Disney, 2006) and Walt Disney Imagineering (Disney, 2010). Analysis of the concept of brand heritage is based on prior scholarship by the author and his colleagues including Bradford Hudson and John Balmer, 'Corporate Heritage Brands: Mead's Theory of the Past,' Corporate Communications (2013). It should be noted that major construction is now underway at Disneyland, with multiple changes either confirmed or speculated, which could affect historical theme elements. This includes the creation of a distinct neighborhood for Star Wars attractions, subsequent to the recent acquisition of Lucasfilm. As some Star Wars thematic elements have already been added to Tomorrowland, its retrospective science fiction theme is uncertain going forward. It was also recently announced that the Tower of Terror attraction would be rebuilt, with the existing technology being adapted for a new theme derived from the Guardians of the Galaxy movie.
---

Bradford Hudson is Associate Professor of the Practice of Marketing in the Carroll School of Management at Boston College. He holds a master's degree in services marketing from the Cornell Hotel School, a certificate in strategy from Harvard Business School, and a Ph.D. in business history from Boston University. He is a former Fulbright Scholar to Canada, where he conducted research on brand heritage at the historic Canadian château hotels now operated by Fairmont. Email bradford.hudson@bc.edu
All photographs and diagrams were provided by the author and reproduced with his permission.
By Christopher Muller
What is a restaurant?
In today's omni-channel foodservice system what exactly does it mean to say something is a restaurant meal?  Does it mean a full formal dining experience with a chef-prepared customized meal, presented by a waiter to a guest at a table with a white tablecloth or can it be a hand-made burrito delivered by a kid on a bicycle working for a third party service directly to your front door?
Ultimately the question comes down to determining the two main components of a restaurant, food and service. For the food the questions are: how fresh is it; what form is it in; and how close to immediately edible is the preparation of each meal? For the service the main question is: how much supplier labor intensity is required versus how much consumer labor intensity is necessary?
The Evolution of Form and Function
Just a few decades ago the restaurant experience was divided into only two categories, Full Service (or "white table cloth") and Limited Service (or "counter service') restaurants.  Both were built on the requirement that food was personally served by someone to the consumer, typically in a very structured menu format, inside a simple square meter of physical space.  The diner was expected to have a working knowledge of this system: being informed of the hand crafted preparation in the kitchen by the trained chef or a skilled short-order cook; the nature of the logical flow of the courses as they were presented; and how to order and pay (including how to properly leave a tip).  For the vast majority of customers this was something done only on special occasions or when dining away from home, and could be too intimidating to master.
Then in the mid-1950's came a new upstart, the Fast-Food or Quick Service Restaurant, which by being systems based and not chef driven created a new approach to how consumers viewed the dining experience.  In a disruption of tradition, both the composition and order of the meal ("…if I want to eat my fries before my burger, who cares?") and the concept of self service ("…no waiter, no tipping, I'll gladly clear my own table") were controlled by the consumer, not the supplier.  Much of the food was prepared in an off-site facility and assembled to order or batch cooked by semi-skilled kitchen workers. Once the drive-thru window came into play, the need to even get out of the car for a meal disappeared ("…is my front seat a restaurant?").  Anyone could use this system at any time during the day. While the QSRs were not originally considered "real" restaurants, dining out became an easy and every day option.
During the 1990's the market saw the explosion of the Casual Theme restaurant which took all of the formality out of Fine Dining, including the white table cloth, and significantly sped up the dining process. Table service was still an integral part of the experience but with less personal connection to the waiter as food was often delivered by a runner directly from the kitchen. Standardized meal choices were assembled on-site by slightly more skilled journeymen led by a kitchen manager instead of a chef, who used a mass customization process to match the individual desires of the consumer.
In the last decade the Fast Casual restaurant came to the attention of the consumer public. This new hybrid is a mix of the self-service from fast food with the consumer selection options presented by a traditional cafeteria system.  Table service is replaced by a modified multi-phase counter service with customers being given more customizable options, whether by a barista or a burrito-maker.  This customization is made possible with the return of an on-site short-order cook who assembles to order food which has the appearance of being hand-crafted, but is prepared in a batch style and often brought in from an off-site commissary.
This brings us up to date where we are witnessing an explosion of segments and dining choice. Today we see a marketplace of narrow segments (Casual Elegance, Food Trucks, Grab & Go, Build Your Own, GastroPub, Convenience Store, Market Hall, Delivery) and other fine grained niches that defy simple categorization.  For example, Panera Bread is a leader in the fast casual segment while filling the role of the top retail bakery/café offer. But it also leads in the technology of smartphone based customized take-out.  The top of the food chain for fine dining is at one and the same time a celebrity chef-driven stratospheric offering such as Keller's French Laundry or a standardized, national prime aged steakhouse chain like Del Frisco.  For the dining public, what exactly does Casual Elegance mean except that there are no tablecloths, there is a wine list and expensive cocktails, no chef and the wait staff wear logos on their shirts? What really is the difference if I buy a packaged turkey sandwich at a Pret a Manger, at a 7 Eleven, or at a Whole Foods?
Where Are We Heading?
So, the answer to the question "what is a restaurant?" can really only be answered with "it depends."  What does it depend on- mainly how the dining public continues to redefine how, when, why, where and what a meal actually is?  Is a smart phone a modern day vending machine? Is a communal table in a market hall a dining room? Is a "sous vide" pouch heated by a chef in a two-star restaurant a freshly prepared dinner? Is Chef Chang's Ando really a restaurant or just a conceptual kitchen? Are Just Eat, Grub Hub, Deliveroo, Uber Eats and Amazon Prime just waiters expanding the last square meter of personal restaurant service? The answers are probably all yes.
When someone wants to eat, it might be better to ask "what isn't a restaurant?"
---
Christopher C. Muller is Professor of the Practice of Hospitality Administration and former Dean of the School of Hospitality Administration at Boston University. Each year, he moderates the European Food Service Summit, a major conference for restaurant and supply executives. He holds a bachelor's degree in political science from Hobart College and two graduate degrees from Cornell University, including a Ph.D. in hospitality administration. Email cmuller@bu.edu
By Joseph Khairallah and Andrea Foster
To investors, hotels are real estate.  At the end of the day, why do investors put their money in hotels vs. other types of real estate?  For the prospect of superior investment returns – the current operating cash flow and the reversionary value upon exit (sale) in excess of acquisition price. Among other factors, the underwriting of hotel investment considers a reasonable – or at times, aggressive – net operating income (or EBITDA), an appropriate capitalization (cap) rate applied to that net operating income to determine an asset's valuation, and various equity and debt alternatives to determine an equity multiple and rate of return satisfactory to the investor.
It is like a real-life game of Monopoly.  Do you want to build a hotel on Connecticut Avenue, or buy one on Park Place?
But what is sometimes overlooked is the game of "Operation" that supports the game of "Monopoly" in hotels, e.g. the  physical appearance and condition of the property (the "bones"), the operational systems, the people, the expertise, the round-the-clock attention to details, and the personal service.  After all, it is this combination that generates the NOI that factors so heavily into a hotel real estate investment.
Perhaps one might call it the "softer side" of the hard numbers, but operations are by no means "soft".  Unlike other commercial real estate, hotels are 24-hours-a-day, 365-days-a-year living, breathing operations that require an exceptionally experienced, highly skilled, and effective management team to be successful in the games of both Operation and Monopoly.
When it comes to hotel operations, the approach can often be categorized in two ways:  one that drives long-term value, and one that drives short-term – and as a result, unsustainable – value. Using an analogy from the game of Operation, this short-term approach could be like removing organs in an effort to lose weight and as a result, dropping dead, compared to living an active, healthy lifestyle daily to achieve optimal wellbeing (long-term). There are certainly operators that take a short-term approach to try to build investment value and, for example, could drive a short-term profit result by eliminating staff and services, but also compromising a quality guest experience as a result. Our focus herein is on driving long-term value in hotel investment.
The widely-discussed "3 Ps" of business success are:  People, Product, and Profit.  Use your People and Product to increase revenues and decrease expenses and to create an increase in Profits. Correct?  Well, true. But it is not so simple.
One of our best-practice approaches to effective hotel operations is to make significant investments to drive quality, engagement, satisfaction, and loyalty – of our guests, of our associates, of our investment partners.  Here are a few specific examples of the types of investments that pay off in the game of Operation, and also, ultimately, in the game of Monopoly.
Invest in attracting People with high personal standards. As part of focusing on quality throughout an organization, bringing together a team of passionate hospitality professionals with high personal standards is a recipe for ultimate success. High standards among individuals results in high standards within a team, and is demonstrated with exceptional service, positive guest reviews, achievement of awards, which all translate to higher revenues.
In the hotel business (operations), the differentiation is service and the product is people. The business of hotels (investment) cannot exist without this combination as a foundation.
Invest in your People. As former Apple CEO Steve Jobs famously said, "It doesn't make sense to hire smart people and tell them what to do; we hire smart people so they can tell us what to do". After smart, high-caliber professionals and associates have been hired, the investment remains a continuous process.  For example, it is of critical importance to take great care of associates, who will then take great care of our guests, as their overall high job satisfaction leads to improved performance.  An industry colleague once said, "You sweep with your heart".  Hospitality comes from the inside-out.  It is not about the task you do, it is how you do that task.  By being personally invested, one reaps intrinsic value in addition to economic value from their work.
Frequent and consistent training is another critical aspect of investing in associates.  People cannot be expected to do a job well if they do not have the proper tools and training to complete their job to a standard that has been clearly outlined. Training from the corporate and property levels, especially to staff who interact most frequently with guests, is an important factor in ensuring the operational success of a hotel.
There is also the investment in associates' wellbeing. For example, turning associate dining rooms into "Family Rooms" to create a warm, welcoming and beautiful space offering healthy food and helpful resources for associates where they can refuel, rest, reconnect, reenergize, and ready themselves to continue to create the best possible experiences for guests.
Invest time to ensure understanding.  Long-term relationships and resulting loyalty require a clear understanding of what is expected of and by each party.  From our People to our guests in our hotels each and every day to our investment partners, taking the time to understand the unique goals and desired experience of each is critical to meeting – and exceeding – expectations.
Invest in team collaboration.  A hotel management company and its on-property leadership is comprised of a team of subject matter experts and their internal (and sometimes, external) resources – from sales to revenue management to food and beverage to recreation to accounting to information technology to engineering to strategic operational oversight to project management.  By harnessing these valuable resources and working in teams – where egos are checked at the door and the result of the whole is greater than the sum of its parts – communication is enhanced, more creative solutions are reached, implementation is more expertly executed, and desired results are achieved in a smoother process.
Invest in quality, with a focus on value. It is not about seeking the least expensive solution to value-engineer expenses – the cheapest lightbulb, the lowest-price food ingredients, the lowest-cost service provider – it is about value.  In company-wide procurement from FF&E, to operating supplies, to amenities, to ingredients, we find that investing in quality for effectiveness and lasting performance generates the greatest return on investment.
Invest in the physical Product.  As investors in addition to operators, we think like owners. From a meticulously planned and executed renovation to the care taken in everyday maintenance and cleanliness, taking pride in showcasing a quality property is the foundation of operational excellence. Exceptional service can overcome some physical shortcomings in a property for an unsustainable period of time, but then excellence is always an uphill battle. Investing and reinvesting to ensure the physical product is in sync with the service experience, and vice versa, is another driver of long-term success and value.
Invest time in the details.  The difference between ordinary and extraordinary lies in that something extra:  the details. Whether it is the extra personal hospitality extended to a guest based on truly understanding their needs and delivering the service accordingly, or paying careful attention to the details in a contract for supplies to service the hotel and its guests, or any number of other examples, attending to the details is a set up for success.
Invest in measurement, as you can only manage what you can measure. Investing in systems and processes that measure the effectiveness of your actions results in a "win". Whatever the result of a measurement , it either reports that the system or process is producing the desired result, or provides feedback for improvement.
As labor is the greatest expense in a hotel, our investment in evaluating and adjusting human processes, systems and associate behaviors to establish the greatest efficiencies has been highly valuable, resulting in sustainable improvements in profitability within our hotels and departments. Coupling these measurable efficiencies with a teamwork approach to evaluating suggested process improvements leads to even better performance and operating results.
Investing in attracting and developing people, understanding, teamwork, quality, value, details, measurement, and the hotel's physical asset pays off in associate satisfaction scores, guest satisfaction scores, property reviews, and perception, which together drive occupancy, revenues, and ultimately, profitability and asset value.
"When the tide goes out, you see who is swimming naked". Thank you to Warren Buffett for this great quote. By focusing on sustainable long-term success by way of exceptional operations, hotels are best able to ride the wave of the industry's cycle – economic fluctuations, supply and demand balances and imbalances, growth and retrenchment, and changing consumer expectations – and drive asset value in the process.
By winning at the game of Operation, owners and investors can also win at the game of Monopoly.
---
Joseph S. Khairallah is the Chief Operating Officer and divisional leader of Marcus Hotels & Resorts. He oversees all business operations for the hotel division. Khairallah joined the company in 2013 following a 30-year career with Hyatt Hotels and Resorts where he gained extensive experience managing business operations across six continents and 44 countries. Prior to his current position, he served as Vice President of Rooms, Spa and Security for the Hyatt Americas Group where he supported 383 hotels, oversaw 155 properties and 30 spas. Khairallah's approach to hospitality operations focuses on engaging employees, improving profitability and providing exceptional customer experiences. Since taking the leadership role of Marcus Hotels, he has successfully aligned the company's efforts on customer-impacting initiatives and has garnered support for large investments in infrastructure and new technology deployments. Khairallah grew up in Lebanon where he acquired a hotel management degree from the prestigious Institut Haulot in Brussels He speaks five languages and believes that languages can be instrumental in bridging cultural barriers in the workplace and society as a whole. He is passionate about education and frequently takes time to share his industry knowledge and experience with students across several universities that specialize in hospitality studies. He is a board member of Visit Milwaukee and Oklahoma State University.
Andrea Foster is the Senior Vice President, Development for Marcus Hotels & Resorts. Foster, a 20-year hospitality veteran and lodging industry expert, is responsible for marketing the company's hotel management capabilities and identifying and securing potential acquisition, joint venture and third-party management opportunities for the company. Foster began working with PKF Consulting|CBRE Hotels in Los Angeles in 2002 where she was responsible for hospitality real estate valuations and feasibility analysis. She returned to PKF|CBRE in 2011 running the New England Practice, based in Boston, as Managing Director. During her tenure, Foster has worked on a variety of assignments involving market positioning and repositioning, feasibility analysis, appraisals, operational analysis, sales and marketing analysis, spa studies, impact studies and tourism studies. From 2006 to 2011, she served as Vice President, Marketing and Business Development for Miraval Holdings, a top-rated destination spa resort and healthy lifestyle brand. Her career also includes operations management positions with boutique-size branded and independent hotel properties on the East and West coasts. Foster has become a key voice at hotel investment conferences and was the publisher of PKF's Trends® in the Hotel Spa Industry report. She is president emeritus of the Cornell Hotel Society New England Chapter, industry advisor to Cornell University Spa Association, scholarship chair for ISPA (International Spa Association), an immediate past active member of the NEREJ (New England Real Estate Journal) Hotel Advisory Board and CREW (Commercial Real Estate Women) Boston, and is a regular guest lecturer at the hospitality schools at Cornell and Boston University. Foster, originally from Maine, is a graduate of Cornell University's School of Hotel Administration with a concentration in real estate finance and operations.