Discussions of Challenges and Balance Open Students Eyes and Minds to the Realities of Post-Grad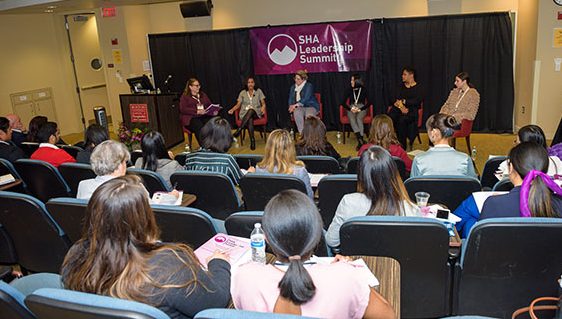 A view of the panelists speaking to the topic of "How to Handle Challenges in the Workplace". Panelists include Anne Lloyd-Jones, Megan Chacon-Diaz, Tzurit Or, Airi Shibayama, Crystal Williams, and Hannah Olson.

By Joel Brown
Taken together, two panels at the SHA Leadership Summit formed a survival guide for students entering the busy and often stressful hospitality industry.
"How to Handle Challenges in the Workplace" offered advice on succeeding at work from half a dozen successful women in the field, while "Understanding the Work/Life Balance" helped put the job in perspective.  And while the Summit specifically aimed to boost the help for women to succeed in an  often male-dominated industry, the students and alums on the panels had other questions on their minds.
"I thought it was going to be all about gender," said Challenges panel moderator Anne Lloyd-Jones, MAI, CRE, managing director of the hospitality consulting giant HVS, and a member of the SHA Dean's Advisory Board. "I was pleasantly surprised when I talked to — particularly the more recent grads on our panel  — to hear that gender was neither the first, second, third, fourth nor fifth thing they mentioned. To me that's a sign of progress."

Anne Lloyd-Jones, Managing Director at HVS and member of SHA Dean's Advisory Board, addresses questions on the panel with Megan Chacon-Diaz (SHA '17), Account Executive, HEBS Digital.

The panelists were: SHA alum Megan Chacon-Diaz, an account executive at HEBS Digital, a hospitality-focused digital marketing agency; SHA alum Hannah Olson, founder of the company  Chronically Capable; Tzurit Or, founder of Boston's popular Tatte Bakery and Café; SHA alum Airi Shibayama, a catering associate at Murray's Cheese in New York City; and Crystal Williams, BU's associate provost for diversity and inclusion. And with three members of the Class of '17 on board, much of the discussion was about the specific challenges and different perspectives of recent grads entering the work place – a show of hands proved that many students in the audience will soon reach that point of their lives.
"One initial challenge for me,  excited to start a new career, was finding and maintaining the confidence to continue to break the mold," said Chacon-Diaz. "Once you start you see there's some veteran employees who've been at the company for a while, and you get set back a bit. You think to yourself, 'Wait, am I still qualified for this job? Do I know what I'm talking about?'"
Younger, tech-savvy employees have to have the courage to continue to speak out, she said, to ask questions about why things are done the way they are, and to be confident in their knowledge of their generation as a market.
Shibayama said her workplace was challenging because almost everyone else was focused on a career in the specialty foods and cheese business, while she is not sure of her plans five or ten years down the road. "I love the people I work with, but I am very young compared to them. A lot of people are in their thirties and are married and have kids," and are likely to remain there, while she may have different goals.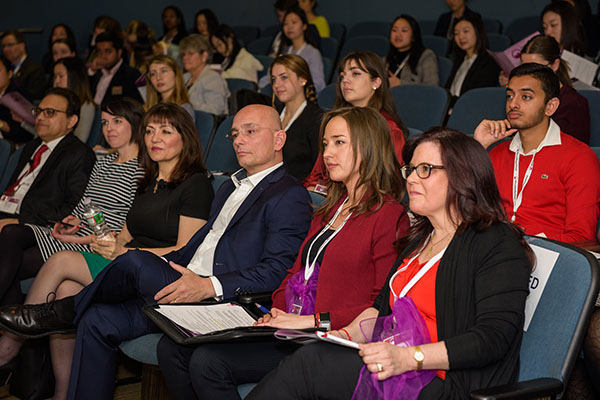 The audience listens intently during one of the panel discussions.

Olson, who has battled Lyme Disease for years, has a different challenge. She left a career in the design industry because of the complications of working and treatment, and started Chronically Capable, which advocates for employment for people with chronic illnesses. "To be 23 and sitting as CEO, the responsibility has been significant, as well as just managing working in an office where everyone else is relatively young," she said. "We're approaching HR professionals and Fortune 500 companies and government officials who are a lot older than I am. It's hard to go in (as) a sassy 23-year-old woman when everyone else is a man in a button-down and suit. It's been a challenge for me, just being able to prove myself to these people." She faces that challenge by continuing to educate herself, and keeping a host of Google alerts so she's on top of all the news in her field.
Williams said she understood the problems of perception, having faced others' perceptions of race and gender all her life. "We all know the stereotypes – the 'angry black woman,' too forceful, too aggressive, " she said. "I've learned to frame who I am for people, so I own the narrative. I'll say to my classes, my students, the people I work with – if I feel like it's necessary – that I'm from Detroit and the culture there is one in which we are really direct with one another. I'll be direct with you, you'll always know what I think. I don't get angry, I don't hold grudges, but if I don't like something you will know I don't like it.
Succeeding on your own terms means listening to your deepest inner voice, said Williams,  "and you can't get there if you let other people's perceptions (define) you. You have to be OK with who you are."
"And that takes time," Or said, getting a laugh from the audience when she added, "If you're 23 and you don't really know who you are, that's fine."
Or also talked about the importance of having a team of committed people, which she needed to build her business, now with a dozen locations. "Most of them come from companies where nobody wants to hear what they really think," she said. "I think they learn the only way to work with me and to move the company forward is that I want to hear their opinion. I want to hear their  thoughts. Once I peel from them the fear that they will be fired or not appreciated if they say what they really think, that's magic."
The Work/Life Balance panel included: moderator Rice Wales Husbands, founder of Rice Wales Marketing and a former Boston Magazine executive; Jenny Johnson, executive producer and co-host of "Dining Playbook" on NESN; Orly Kohn founder and floral designer at Orly Kohn Design; Edwina Kluender, marketing and communications consultant at Klünder Communications; and SHA alum Alexxa Robinson, an accounting specialist at Kettle Cuisine.
Another panel discussed the topic of "Understanding the Work/Life Balance" featuring Rice Husbands, Edwina Kluender, Orly Kohn, Jenny Johnson, and Alexxa Robinson.

The group talked much about the on-the-ground realities of that magazine-headline staple, "Having It All." Husbands spoke about millennials and their really strong relationship between work and home life, "so they're almost in the same box."
"Maybe it's turning your passion into your work, as some people here have done," Husbands  said. "And it's also that your workplace has to provide amenities to make it more enjoyable." This can range from candy in the cafeteria to benefits like flexible hours and unlimited vacation.
One of the major shifts in joining the workforce was  "friendships and relationships, because you have your friends here (in college), they're ten minutes away, you can get a bite to eat or do work together. It's immediate access," said Robinson, another '17 graduate. "But once you graduate, you get a job, maybe you move, and that's just completely gone. That was a big transition for me. Some of my friends moved to California for work, some just had different work schedules. So it was learning to balance that and try to make time to have and foster those relationships," including with regular Skype sessions.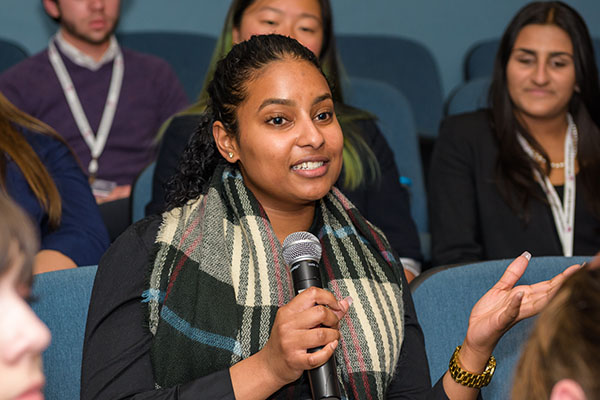 The students were very engaged and asking many questions during the panels.
Kohn talked about the challenge of starting her business with a marriage and a child, living in a small apartment in Allston. "My baby is born and there was no more space for flowers, and it was kind of weird – there are flowers in the bathroom! Flowers in the kitchen! It was a big transition." She reacted by renting her first outside studio, another transition that helped her grow her business.
"Sometimes what happens during life milestones and transitions is that everything feels very close to your face, and it's difficult to see around it,"  Johnson said, holding up her hand inches in front of her face. "That can be lonely and scary."
"One of things I've found helpful … was to recognize that during points of change, while things feel very close and anxiety-provoking, remember to give yourself a little distance," she added. "When you give yourself that distance, the anxiety settles and you're able to see options."
"It's surrounding yourself with the right people," Johnson said, so you can delegate work. And sometimes, too, distance can also be the best strategy for navigating a job, especially when it's your business. "My first instinct was always to say yes, but we're here to talk about balance, and the balance means the ability to also sometimes say 'no.'"
---

Joel Brown is a staff writer at BU Today and Bostonia magazine. He's had 794 bylines in the Boston Globe, writing about everything from the hiring of Boston's new arts czar to what it's like to climb on top of a wind turbine (surprisingly peaceful). He previously worked for the Boston Herald and the Greenfield Recorder, among others. He graduated from the University of New Hampshire, where he majored in pinball and the student newspaper. He is a Massachusetts native, a lifelong Red Sox fan and a North Shore resident.