Lab Alumni
Leah Casner was the Project Coordinator on the Infant Sibling Project, from 2007-2010.  Her primary responsibilities included implementing experiments involving eye-tracking and event related potentials, administering standardized cognitive assessments and coordinating the ISP team at Boston University.
Her undergraduate work centered on developmental psychology, which included work at the Boston University Twin Project studying cognitive and behavioral differences in twins, an internship at the Harvard University Laboratory for Developmental Studies investigating infants understanding of cohesion, and a directed study with Dr. Tager-Flusberg examining infants at high-risk for autism spectrum disorders. Leah recently left us to pursue graduate school in the fall at the Boston University School of Public Health, in the Maternal and Child Health Program where she hopes to study women's health and its effect on family and community health.
Laura Kasparian was a research assistant on the Infant Sibling Project, from 2008-2010.  As a research assistant for ISP, her main responsibilities included administering and scoring a variety of behavioral and cognitive assessments during the lab visits, organizing and coding the home diary portion, and working with the Visual Paired Comparison data.
As an undergraduate at Yale, she majored in Cognitive Science, with a focus on developmental disorders. She first became interested in autism during a seminar course for which she interned at the Yale Child Study Center in a social skills workshop for boys on the autism spectrum. Eventually, Laura went on to write her senior paper on autism and fear processing.  After graduation, she taught English for a year in southwestern France and then served as an AmeriCorps*VISTA member in Portland, OR, before deciding to pursue research. Laura recently left us to pursue her Master's in Speech-Language Pathology at Boston University where she hopes to continue to work with infants and children with communication and language delays.
Marie-Christine André worked as a research assistant on the Social Perception Research Project.  Primarily, she was interested in investigating the social and emotional abilities of individuals with Williams Syndrome and with Autism Spectrum Disorders. Her main responsibilities involved corresponding with families and recruiting participants with Williams Syndrome and Autism Spectrum Disorders, as well as typically developping children and adolescents. Additionally, Christine was largely involved in administering standardized cognitive assessments as well as experiments with eye-tracking and psychophysiological measures.
Her undergraduate studies at Williams College focused on cognitive and clinical neuroscience and her honors thesis dealt with cognitive abilities of patients with Alzheimer's disease. Having worked closely with different clinical populations, Christine has recently left us to pursue graduate studies in Clinical Psychology where she hopes to further investigate the relationship between emotion regulation and psychopathology.
Allison Meyer was a research assistant for the language project, where she worked on designing andimplementing eye-tracking experiments and conducted standardized cognitive and language assessments.
She became interested in developmental disabilities as an undergraduate at the University of Rochester where she worked in the Developmental Neuropsychology Lab on projects related to autism. She completed an honors thesis that focused on the repetitive style of play behavior in children with autism. Allison has recently left us to pursue graduate school to study the relationship between autism, play behavior, and language development.
Dr. Lisa Edelson recently received her Ph.D. in Psychology at Boston University, under the supervision of Dr. Helen Tager-Flusberg.   As her background was in linguistics, she was involved with several of the language-related projects in the lab.  Lisa supervised a study using natural language samples to explore pragmatic language development in toddlers with autism spectrum disorders.  She was also involved with projects exploring prosody and expressiveness in narratives by individuals with autism and Williams syndrome.
Her doctoral dissertation focused on using eye-tracking technology to assess language processing in school-age children with and without ASD.  More specifically,  the cues that children use to interpret ambiguous pronouns.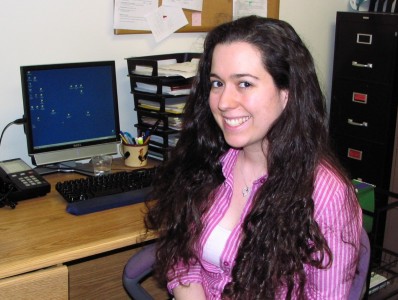 Emily Ammerman worked as a Research Assistant for the Williams syndrome projects at the BU School of Medicine. For the Social Perception project, her responsibilities included implementing and analyzing experiments involving eye tracking, psychophysiology, and reaction time to study how people with and without Williams syndrome respond to social and nonsocial stimuli. For the Social Communication project she helped act out an interactive play scenario with children, which she then analyzed to determine how participants take into account different types of social information.
Before joining the lab Emily spent a year working as a Research Assistant at Brown University. There she worked in the Auditory Perception Lab studying the effectiveness of new algorithms for reducing background noise to help hearing-impaired adults understand speech. She also worked in Michael Tarr's lab researching face perception in typical populations using button-box tasks and fMRI.
Emily has recently left to pursue a graduate degree in  speech-language pathology.
Carly Charalambou worked as ROADD's Lab Manager (2009-2012) managing day to day operations and supporting daily research function in the lab.  In addition to assisting with grant proposals, budgetary organization and providing necessary administration support, she was also involved in language oriented research projects which provided her with the opportunity to work with typical children and children on the autism spectrum. Throughout her undergraduate degree, her interest in typical and atypical development grew stronger and for her undergraduate thesis, she explored the relationships between personality traits associated with Autism Spectrum Disorders and anti-social behavior in a non-clinical adolescent population.  Following graduation, she was lucky enough to be offered a Frank Knox Fellowship to complete her graduate studies at Harvard University, here in America.  Working at ROADD gave her the chance to gain further research experience in the developmental cognitive psychology domain.
Samantha Siegel was a research assistant for the Measuring Autism Potential (MAP) project, a study designed to explore new methods for measuring language comprehension and receptive vocabulary abilities in school-age children and adolescents with autism who have not developed functional productive language before the age of 5 years. Samantha brought to this project not only a solid background in experimental psychology, but also experience interacting with a population of minimally verbal and behaviorally challenging children and adolescents at the New England Center for Children, where she worked prior to joining our lab.
As a research assistant for MAP, Samantha worked on designing and implementing eye-tracking and touch screen experiments, conducted standardized cognitive and language assessments and contributed to testing participants in the EEG lab. She was also involved in data processing and data analyses of the experimental data for the MAP project.
Samantha has recently left to pursue a graduate degree in speech-language pathology at the MGH.
Anne Harris was the Project coordinator of the Brain Imaging Language Development (BILD) study, conducted in collaboration with MIT.  This collaborative research project was designed to investigate the brain bases of language deficits in children with language based learning deficits and those with autism spectrum disorder.  Besides coordinating the research activities for BILD at MIT and BU, Anne also conducted standardized cognitive and language assessments and assisted participants with the imaging portion of the research.  As a trained clinician, Anne conducted the majority of diagnostic assessments both for the BILD and for the Measuring Autism Potential project, a study which focused on minimally verbal children and adolescents with autism.  Her contribution to the MAP project extended to behavioral testing and assistance with testing in the EEG lab.