ASOR Has 1,702,000 Reasons to Celebrate!

by Susan Ackerman
ASOR President
A little over three years ago, on July 1, 2011, ASOR launched an ambitious

(some might say audacious) "Building a Foundation for ASOR Campaign." Our goal? To raise $1,000,000 for projects like program endowment, research and training support, and online digital media resources—and, at the same time, to continue to bring in $100,000 every year in annual fund donations. We gave ourselves three years—through June 30, 2014 – to raise the $1.3 million.   
Today, we are thrilled to report that—however ambitious the plan we set forward in 2011—we surpassed our goal by an extraordinary $402,000, to raise a total of $1,702,000!!! Moreover, in every year of the campaign, we raised more than the year before, and in every year, as the "Increase in ASOR Donors" chart (see below) makes clear, more donors gave. To us, it felt like the momentum of the campaign had become unstoppable, as you—our devoted members and friends—reached deep into your pocketbooks, over and over, to make it clear how much ASOR means to you both professionally and personally.
We have so, so many people to thank for their help in bringing about this remarkable accomplishment, but let me first say again how grateful I am to you, our incredible members: to the 282 of you who gave in the campaign's first year; to the 353 of you who gave in the year following, and to the whopping 417 of you who gave in the campaign's third and final year. This means that by the end of the campaign, over 25% of our membership was making a donation to ASOR. This is an exceptional percentage for an organization like ours, and, again, it's a real testimony to our members' dedication to ASOR and to ASOR's significance in our members' lives and work.
I'd also like to extend a special thanks to the leadership of our Campaign Cabinet, P. E. MacAllister, the Honorary Campaign Chair and Chair Emeritus of the ASOR Board of Trustees, and Robert A. Oden, Jr., the Campaign Chair and member of the ASOR Board. ASOR's Past President, Timothy P. Harrison, who led ASOR for thirty of the campaign's thirty-six months, also did an amazing job of shepherding our fund-raising efforts, as did the ASOR Executive Director, Andrew G. Vaughn. Finally, let me thank the rest of the campaign cabinet: Vivian Bull, Sheldon Fox, and Eric M. Meyers. All of us at ASOR are the beneficiaries of these individuals' hard and diligent work.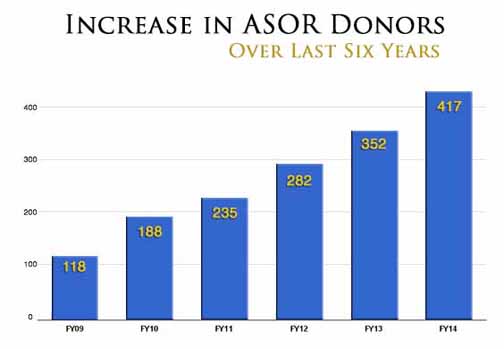 And what a plethora of benefits we've seen: the launch of our News@ASOR e-newsletter, as well as our other new online publication, The ANE Today. Our print publications have also thrived: BASOR is bigger, printed on better paper, and now published in full color; JCS published a stupendous sixty-fifth anniversary issue; and NEA has also been able to put out a series of special issues (most recently, its fabulous special issue on Herod the Great). We've dramatically increased the number of field excavation grants we award to students: from 42 in 2012, to 55 in 2013, to 59 this summer. We also have been able to increase the number of scholarships we award to help students and international colleagues attend our Annual Meeting—which, like our number of donors and like the amount of donations raised, has grown every year throughout the campaign. Our Archives collections—and especially their online access—have also been expanded and enhanced.
I could go on and on about these and other accomplishments, but I think the message is clear: our "Building a Foundation for ASOR Campaign" has been an extraordinary success! It's a honor to be able to report this to you, our members, and—at the risk of sounding like a broken record—my privilege to thank you yet again for all you have done to make our campaign achievements possible.