The Building a Foundation for ASOR Campaign - October 2013 Update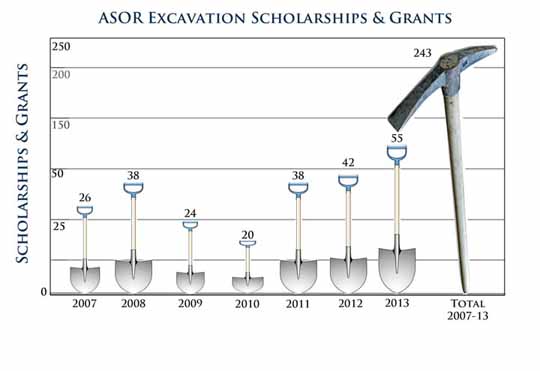 The Foundational Campaign was officially launched with a unanimous vote by the ASOR board at the 2011 Annual Meeting in San Francisco. The goal of the campaign was to raise $1.3 million over three years (ending June 30, 2014) so that 1) we could build the foundation for a stronger and more secure ASOR and 2) we could transform ASOR with new scholarships and a few crucial initiatives. Now that we are entering the final nine months of the campaign, we have set our sights on meeting the $1.3 million goal by June 30, 2014. As of October 1, 2013, we have received $900,000 in gifts and pledges, so we are well on the way to achieving our goal. Any gifts made to ASOR for the annual fund, scholarships, or any other program or area will count towards our comprehensive campaign goal. These gifts will also help us qualify for a $475,000 legacy challenge gift, so your support is more important than ever before.
A Vision for ASOR in the 21st Century
ASOR affirms its historic mission and the priorities that have guided it as an organization since its inception in 1900. Central to these priorities is ASOR's identity as a learned society with a constituency sharing an interest in and deep commitment to the study and public understanding of the cultures and history of the Near East. These core values continue to unite ASOR. As the preeminent professional association dedicated to the study of the cultures and history of the Near and Middle East, ASOR seeks to build on this legacy. We need to secure a financial foundation that will ensure the achievement of out long-term vision. Today ASOR has 1,550 individual members, 90 institutional members, and 71 affiliated archaeological projects. We are a widely-respected advocate for the protection and preservation of the region's unique cultural heritage. This campaign—brief in extent but vital in mission—will fundamentally transform ASOR's ability to serve students, teachers, scholars, and the public at large in the 21st century. At the same time, and of lasting importance, our campaign will ensure the advancement of ASOR's mission in perpetuity.
This campaign will also render ASOR a model for change and renewal within other fields of academic study in the humanities and social sciences. In the Academy, the need for revitalizing education in the humanities is clear, and of critical concern today. A new generation of scholars is rising within ASOR with interests that reach beyond the traditional fields of Biblical Studies, Languages and History into a broad interdisciplinary range that includes Anthropology, Ethnography, Geography, Museum Studies, and Environmental, Life and Physical Sciences. With its core commitment to creating and expanding research and educational opportunities within this dynamic intellectual environment, ASOR is well-positioned to play a role in higher education that is both timely and of real consequence. We must ensure the preservation of ASOR's global role far into the future. We ask that you help make this a successful campaign.
Building a Foundation for ASOR
Funding is needed to support ASOR's vital vision. As a charitable organization, ASOR's membership and subscription revenues account for only 38% of the annual budget. ASOR depends on the financial generosity of its membership. We have a critical need not only to sustain and grow our current programs, but also to endow them in perpetuity. The campaign will seek to address three interconnected resource challenges:
Program Endowment (Goal $550,000).

We seek to grow the ASOR endowment ($450,000 at the beginning of the campaign) to $1 million, which will enable ASOR to better underwrite its operations and thereby ensure more robust and vibrant support for its programs into the future.
Research and Training (Goal $200,000). We seek to secure endowment support for field research in order to underwrite the expenses for researchers in ASOR-related field projects, and to provide subventions to research projects for their infrastructure needs. ASOR seeks $100,000 for affiliated project field support, and $100,000 for student field research and travel fellowships.
Online Digital Media Resources (Goal $250,000). We seek to secure the funding required to complete the construction of an online Near Eastern Digital portal, and to establish the ASOR Archives as a research destination with the capacity to provide broad, sustainable public access.
The campaign goal is to raise $1 million in new funds over three years (completed by June 30, 2014) targeting specific resource needs in each of these critical areas, while continuing to meet our $100,000 annual fund budget commitment. Our total goal is thus $1.3 million. A concurrent campaign goal will be to increase membership in the Legacy Circle (those have made a planned gift to ASOR) from 10 to 50. Meeting our total campaign goal of $1.3 million will secure a foundation for future growth and accomplishment as ASOR continues its strong legacy into the 21st Century. The dramatic increase in planned gifts will transform how ASOR can carry out its mission in perpetuity.