"An Afternoon at the Museum – The Dead Sea Scrolls"
Good Shepherd Lutheran Church, Westborough, MA
and
American Schools of Oriental Research (ASOR)
Invite you to attend a presentation by
Dr. Eric M. Meyers
Bernice and Morton Lerner Professor of Judaic Studies at Duke University

Dr. Meyers is one of the leading authorities on Old Testament Writings, Jewish History and Archaeology. He has helped produce, narrated or consulted on several documentaries for the National Geographic, BBC/Discovery and PBS Networks.
Presentation will be followed by a round trip bus ride to the Museum Of Science in Boston to view the Dead Sea Scrolls exhibit.

Date: September 21, 2013 (Saturday)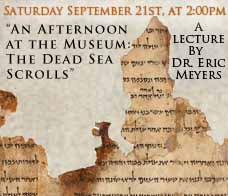 Time: 2:00 PM
Where: Presentation will take place at
Good Shepherd Lutheran Church
183 W. Main Street
Westborough, MA
Cost: $50.00 per person – includes 2- hour presentation, roundtrip bus (school bus) ride and admission to Museum of Science. Time will be allowed to purchase food at the Museum.
Proceeds help fund ASOR scholarship programs and arts programs at Good Shepherd Lutheran Church.

Seating will be limited to 150 people.
To order tickets: Please make check payable to "ASOR" and mail to Good Shepherd Lutheran Church at the address above, or order online. Orders must be received no Later than Wednesday, September 18.