ASOR Honors P. E. MacAllister With Gala Dinner
and Announces Establishment of MacAllister Endowment
On April 20, 2013, the ASOR family gathered in Indianapolis
to honor one of its most loyal and generous members, P. E. MacAllister, with a gala dinner and with the announcement of an endowed scholarship fund bearing the MacAllister name (see below for a tabula honorarium of donors). No one has equaled his support of ASOR in the last century, and his leadership as board chair has been unparalled as well. Mr. MacAllister served as ASOR's Board Chairman for 19 years and has been on the ASOR Board for more than 37 years. He has steered ASOR through financially difficult times, and he transitions to Chairman Emeritus with ASOR in solid financial shape and carrying out our mission like never before. (See Mr. MacAllister's "An ASOR Valediction" from his last board meeting as Board Chairman.)
Past ASOR President Eric Meyers summarized well the significance of these four decades during his remarks to everyone gathered at the gala dinner (click here for Meyers' complete remarks): "When we think of what has happened in the Middle East these past 40 years or so when P.E. was either on the Board of ASOR or chairman of it, we marvel at the fact that both P.E. and ASOR have survived the cataclysmic events that have rocked that region time and time again and affected ASOR and its overseas institutes, the Albright in Jerusalem, ACOR in Amman, Jordan, and CAARI in Nicosia, Cyprus: The Yom Kippur War in 1973, The Turkish invasion of Cyprus in July of 1974, two Iraq wars in 1991 and 2003, two intifadas and continuing unrest in the Palestinian Authority and Israel, the Gaza War, the current chaos in Syria that has spilled over to neighboring regions, and the aftermath of the so-called Arab Spring. And this is by no means an exhaustive list of what has happened during these years. All of this has been happening while ASOR continued to flourish and put before the public and the scholarly world of Near Eastern Studies and archaeology amazing discoveries from each of the countries where ASOR has worked including Iraq, Tunisia, Syria, and Turkey where we do not have local research institutes."
It was with a sincere feeling of gratitude that the boards of ASOR, AIAR, and CAARI met in Indianapolis over April 19-21, 2013 so that all of our organizations could be on hand for this festive event. On Saturday evening (April 20), almost 100 friends and family (including Indiana Gov. Mike Pence) gathered at the Skyline Club for a gala dinner where we thanked Mr. MacAllister for his service and leadership to ASOR. The event began with a welcome reception where ASOR friends, the MacAllister family, and friends from Indianapolis were able to share stories and get to know each other. The remarks and toasts (and roasts) by past ASOR Presidents Eric Meyers and Joe Seger gave Indianapolis friends a sense of how much P.E. has meant to ASOR. Current ASOR President Tim Harrison, President Elect Susan Ackerman, and Board Chair Elect B. W. Ruffner shared how P.E.'s leadership has been unparalled in ASOR and how much we have appreciated him. There were also special comments from Bob Massie (a close friend of P.E.'s from Indianapolis who is also an ASOR Trustee). While he was unable to attend in person, a statement was read from former ASOR Trustee Edward F. Campbell—the person who invited P.E. to join the ASOR community in 1968 and the ASOR Board in 1976. The night would not have been complete without a stirring address filled with historical references from the honoree himself, Mr. P.E. MacAllister. Last, but certainly not least, Gov. Mike Pence surprised P.E. and the rest of the audience by arriving just in time to make the concluding comments and a toast. Gov. Pence identified Mr. MacAllister as the person who had been most influencial in his political career, and said that he would not have become governor without him! It was truly an elegant and special evening, and Gov. Pence's address was the perfect summation and ending.
The event also marked the public announcement of the establishment
of the P.E. MacAllister Endowed Scholarship Fund for Archaeological Volunteers (see below for a tabula honorarium of Donors). Past ASOR Treasurer Sheldon Fox made the official announcement; he reported that P.E.'s friends and family had given over $100,000 to establish a fund that will allow students to go on excavations in perpetuity. P.E. has been passionate in supporting students in their archaeological fieldwork, and he has been instrumental in raising support for ASOR to award 243 excavation scholarships and grants from 2007 to 2013. It is truly fitting that the ASOR family, the MacAllister family, and P. E.'s Indianapolis friends chose to honor and recognize him with an endowment fund that supports student who volunteers on excavations.
In addition to the images found on this webpage, see also the webpage with a gallery of images from the evening (all images, with the exception of the photo of P.E. sitting, are courtesy of Dimensions Photography who volunteered their services for the gala event).
MacAllister Gala Dinner Coordinating Committee
Co-chairs: Bob Massie and Joe Seger
Honorary Co-chairs: Governor Mike Pence and Governor Mitch Daniels
ASOR Members: Jennie Ebeling, Rachel Hallote, Eric Meyers, B. W. Ruffner
Honorary Members: Phil Borst, Lesa Detrick, Dave Frizzell, Bob Grand, Charlie Hiltunen,
Lacy Johnson, Fred Klipsch, Luke Messer, Pat Miller, Dorris Anne Sadler, Robert Vane
Honorary Gala Co-Chair Governor Mike Pence Addresses the ASOR family
A Brief ASOR Biography of P. E. MacAllister:
P.E. MacAllister became engaged in ASOR in 1968
and has been a member of the ASOR Board of Trustees since 1976. He has served as Chairman of the Board since 1994. This occasion celebrates more than 40 years of MacAllister leadership in ASOR and parallels the 40 years that David served as king of United Monarchy is Israel (1010-970 BCE). The Bible remarks that the youthful David was a handsome man of ruddy complexion; and our beloved P.E. as a nonagenarian exudes a similar beauty and enthusiasm, to say nothing of great wisdom. He has helped ASOR survive periods of great challenge, including when ASOR was supporting the overseas institutes. And we won't even mention the number of Middle East wars that occurred during his tenure. During these four decades and more, thanks to P.E., ASOR has maintained its position as the preeminent organization that places the history and culture of the ancient Near East before the public in publications and in its archeological field projects. The MacAllister Endowment for Archaeological Volunteers now ensures that his name will forever be associated with ASOR (see below for the tabula honorarium).
P.E.'s advice during both good times and tough ones was always filtered through the lens of history and studded with parallels from the business world or sports community. He might turn to ancient Greece or to the Bible or even to Napoleon to inspire ASOR Board members to rise to a challenge. And at times he would turn to Hoosier history or the Indianapolis Colts for lessons that might help ASOR explore more effectively the world of the ancient Near East, a world that produced the Bible and three of the great world religions. It was always through the voices of the past that P.E. allowed his own voice to be heard.
In honoring P.E. with the gala event and with this endowment, ASOR and its friends, here and abroad, reaffirm the belief that recovering the past through archaeology and the study of ancient literary sources can make a huge difference in our understanding of who we are today, and that, friends, can and will continue to make a difference to our community and culture.
Eric M. Meyers, ASOR Past President
A Plaudit to P. E MacAllister
On His Elevation to Status as ASOR Board Chairman Emeritus
A plaudit here to tonight's honoree
A remarkable friend and colleague is he
Its Indy we know that he's considered a saint in
More durable it seems than even Peyton
He puts lie to the lingo that Billie Joel sung
In hyping that "only the good die young".
As management mogul of major proportion
He's effectively guided his business's fortunes
Not only is he a plus octogenarian
He's also a dedicated humanitarian
A student of history, of its stories old,
Embracing those lessons that need to be told
And though he can't sing like Domingo or Carreras
He's nourished our souls by support of O-per-as
A man of faith, and of grace and of dignity
What more, dare we ask, could we want him to be?
So we've come here today and are making a fuss
Not only because he's a generous cuss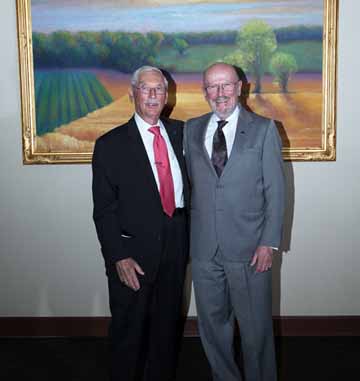 But of course he is that! and we'll never forget it
For all that he's done he deserves lots of credit.
He has well honored ASOR from the depths of our digs
As a genial compadre in support of our gigs
And so we most proudly now, as exemplar in veritas
Declare him henceforth ASOR Board Chair Emeritus
In similar mean we too want to make clear
And ensure that his memory will always be near
And honor his spirit of kind generosity
By establishing the means to continue his legacy
So thus we this day do declare, set forth, and declaim
A Fellowship Fund Endowment bearing his name
MacAllister Fellowships thus will henceforth in our nation
Provide dig opportunities for a new generation
In truth no constraints could have made us do other
To honor our long cherished, well beloved brother
Joe D. Seger, ASOR Past President
Tabula Honorarium of Donors
Golden Sponsorship ($25,000 – $50,000)
Table Sponsorships ($5,000 – $24,999)
Anonymous
Sheldon and Debbie Fox
Allan B. Hubbard
Miller LLP
B. W. Ruffner
Joe D. Seger
James F. and Carolyn Strange
Table Patrons ($1,000 – $4,999)
Sheila Bishop
Dorris Anne Sadler
Robert T. Grand
Timothy Harrison
James Kittle
Fred and Judy Klipsch
W. Mark Lanier
Senator Richard G. Lugar
Bob Massie
Carol and Eric Meyers
Orlyn and Deanna Nelson
Andy and Amy Vaughn
Patrons ($250 – $999)
Susan Ackerman
William Andreas
Gary Arbino
Oded Borowski
Philip C. Borst
Christian Theological Seminary
Stevan Dana
Lisa F. Dietrick
Lynn Swartz Dodd
Richard A. Dunbar
Rudolph and Meredith Dornemann
Ray Ewing
Patty Gerstenblith
James W. Hardin
Eric Holcomb
Morag Kersel and Yorke Rowan
Ann-Marie Knoblauch
William and Susan Koriath
Oystein Labianca
Robert A. Mullins
Barbara Porter
Andrew Oliver, Jr.
Margaret Louise Sabens
Joan Scheuer
Hershel Shanks
Stuart Swiny
Friends ($100 – $249)
William Blomquist
Annmarie Carr
Sidnie White Crawford
J. P. Dessel
Catherine Duff
Ernest Frerichs
Larry Geraty
Sy Gitin
Rachel Hallote and Alex Joffe
Michael Homan
Gary Knoppers
Peter Machinist
Beth Alpert Nakhai
John Spencer
Dan Wolk
Contributors (up to $100)
Eric Cline
Selma Omerefendic
Austin and Norma Ritterspach
Audrey Shaffer
Remarks by Eric M. Meyers Given at the MacAllister Gala Dinner
P. E. MacAllister's "An ASOR Valediction" Address to the ASOR Board of Trustees
Photo Gallery of Images from MacAllister Gala Dinner
Tabula Honorarium of Donors to the MacAllister Endowment