Fiscal Year 2013 Development Update (July 1, 2012 – June 30, 2013)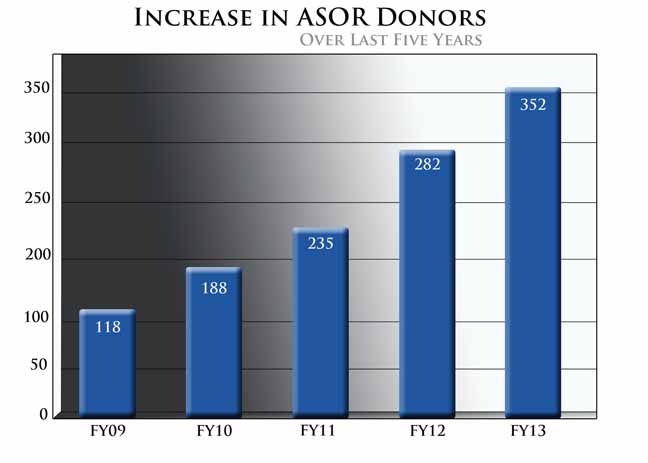 We did it (once again)! This past fiscal year (ended June 30) ASOR surpassed our ambitious goal of 350 individual contributors. This is a very significant step as we make progress on our Foundational Campaign. Thanks to 352 separate donors (see the FY13 Honor Roll of Donors), ASOR had a banner year in which more than one in five ASOR members made a charitable contribution over and above the membership dues that already support our important work. We were also successful in terms of total dollars raised ($350,000 in cash gifts in FY13 compared to $196,000 in FY12 and $160,000 in FY11). ASOR also received over $80,000 in-kind contributions during FY13. The success is even more dramatic when we compare ourselves to other learned societies. Many other societies consider themselves successful if they reach a 1-in-50 ratio for gifts by members. As Development Committee Chair Rob Oden articulates so well in his article on why every gift matters, ASOR's high participation rate is extremely indicative of the support and engagement of our membership. The small and medium gifts literally multiply when combined with other gifts. These gifts also demonstrate to donors contemplating making large gifts that ASOR is an organization worthy of their consideration.
We are particularly grateful to Stevan Dana, the Lanier Theological Library, and P. E. MacAllister, who all made transformative gifts of more $20,000. Google, Inc. and Boston University each made in-kind contributions of more than $20,000. Eight additional people and foundations made leadership gifts of $10,000 or more, and a total of 63 donors gave $1,000 or more. As you can see, ASOR benefits from a pyramid of supporters; each gift (no matter the size) is meaningful and a part of the reason for our success.
Every year ASOR members ask us why we need an annual fund. The answer is simple: we would not be able to accomplish our mission without both memberships and charitable gifts. Memberships and subscriptions are extremely important and account for about 37% of our annual budget. Donations enable ASOR to give more scholarships, do public outreach, enhance our journals and other publications, and improve our online presence.
The following is a partial list of what your membership and donation dollars have enabled us to accomplish together:
Expanded the annual page count of BASOR by 25%
Moved BASOR to full color and the journal was completely redesigned
Launched an outreach e-newsletter, titled

The Ancient Near East Today

and the Friends of ASOR program through the assistance of trustee Stevan Dana and the Lanier Theological Library
Launched a new member-oriented e-newsletter (News@ASOR) with the assistance of the Kershaw Family Trust
Awarded 41 travel scholarships to students to participate in fieldwork
Awarded 14 small grants to excavation teams to help them with their summer projects
Awarded 3 complete scholarships to enable one scholar from Iran and two scholars from Jordan to attend the Annual Meeting
Awarded 15 travel scholarships to help students attend the Annual Meeting
Our individual membership grew to almost 1,600 (dramatically up from 1,050 seven years ago)
Established a new endowed scholarship fund in honor of Board Chair Emeritus P. E. MacAllister
Qualified for $20,000 in challenge gifts by reaching 250 separate donors by December 31, 2012
Qualified for a $5,000 challenge gift from the Kershaw Family Trust by reaching 350 separate donors for the fiscal year
Our endowment accounts (for operations and scholarships) have grown from $750,000 in 2007 to over $1,100,000 today in spite of some turbulent years in the stock market
Through the partnership of the Dorot Foundation, awarded the prestigious Aviram Prize ($2,500) to help advance the career of a junior scholar
Awarded the prestigious Mesopotamian Fellowship as well as scholarships for Mesopotamian scholars to attend the Annual Meeting
Expanded and enhanced our Archives collections to enable better online access (with the generous assistance of the David Berg Foundation and the Lanier Theological Library)
Rescued hundreds of glass negatives containing images of early Christian manuscripts with the assistance of The Foundation on Judaism and Christian Origins
Began a new digital archives project with the assistance of the David Berg Foundation to make ASOR's Nelson Glueck collection more accessible online
Published four books and site reports in the last year
Continued to publish NEA, JCS, and BASOR on time, and continued to maintain and increase their quality
All of our journals are now available online through the JSTOR Current Scholarship Program
Held our largest Annual Meeting ever in Chicago (over 921 participants and more than 420 papers)
Experienced growth in the ASOR Facebook page—grew to more than 6,000 "Likes"
Experienced dramatic growth in the readership of the ASOR Blog—more than 12,500 unique visitors per month and more than 1.5 million hits in the last year
Partnered with 67 affiliated excavation projects (34 field and 33 publication)
Supported the work of our three affiliated research centers in Jerusalem, Amman, and Nicosia.
All of these accomplishments would not have been possible without the support of you, our members. We are especially grateful to the contributors listed in our Fiscal Year 2013 Honor Roll of Donors. Thank you! ASOR will once again be conservative with expenses and spending, but we need your continued participation and partnership. We are poised to move to even greater levels in 2014. While we celebrate all we have accomplished in the last few years, your ongoing partnership and support will help us accomplish our goals in FY14—ASOR's 114th year.