You Like Us, You Really Like Us!
ASOR's Facebook Page Exceeds 4,500 Likes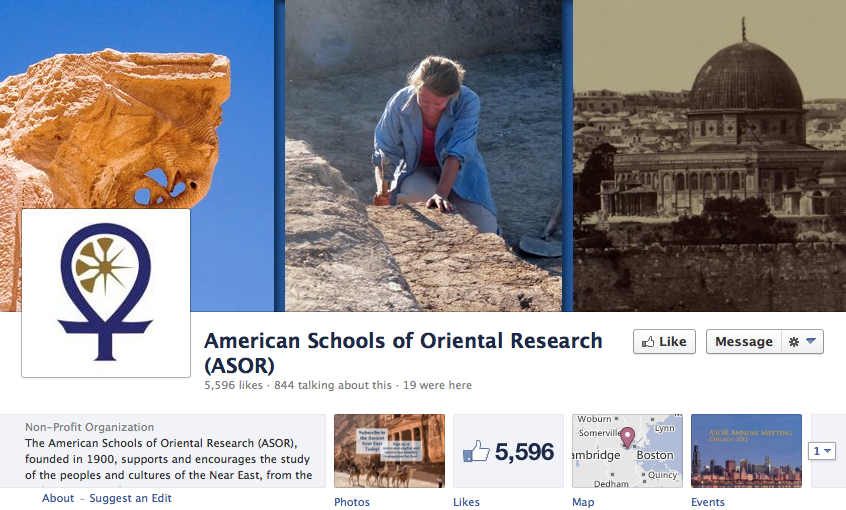 On February 25th,ASOR's Facebook page surpassed 5,593 likes, meaning our page has nearly three times as many fans as ASOR has traditional members! The past year has been an exciting period of growth for ASOR's social media, and in little more than a year, over 4,000 fans have followed our page. Our weekly reach (the total number of people who see content from our page, including those who have not yet begun following it) is about 9,000 viewers, and we continue to add about 25 to 50 new fans every week. The ASOR Blog, which is frequently cross-linked with our Facebook page, receives 13,000 visitors per month. Thank you for making our page so popular! If you are on Facebook and have not yet liked us, please do so! We update it regularly with a wide variety of news and announcements.
Popular news items that have been recently posted include everything from cyber-archaeology at Petra and an update on the state of Syria's cultural heritage to a story on a hoard of over two hundred 16th and 17th century toys found in an English church.
Make sure to check in on Facebook for archaeology news, job and conference announcements, ASOR Blog posts, and occasionally fun pictures from the ASOR archives. One of the most popular features is the weekly link to Archaeology Weekly Roundup. If you have any news or other items that you would like to share, please feel free to let us know through Facebook or via email. We plan to expand our outreach in 2013, and we invite you to participate.
Don't have time for Facebook? You can follow us on Twitter instead @ AmerSchOrietRes.