ASOR 2012 Annual Meeting Recap
By Elise A. Friedland and Andrew M. Smith II, Annual Meeting Program Committee Co-Chairs
Diverse! Engaging! Comprehensive! Exciting! Fantastic! Attendees have been
overwhelmingly positive about ASOR's 2012 Annual Meeting. A record 925 registrants came together from November 14-17 in Chicago at the Marriott Magnificent Mile Downtown, and once again, we enjoyed the largest program to date, with 463 papers in 90 sessions, 18 posters, 44 business meetings and special events, and 22 exhibitors. With newly-redesigned Program Books to guide them, attendees zoomed from session to session, paper to paper, and meeting to meeting! And, nestled in the heart of downtown Chicago, conference goers also enjoyed world-famous cultural attractions, restaurants, and shopping.
Once again, our program covered chronological periods from Prehistoric to Islamic, regions throughout the ancient Near East from Anatolia to Iran, and a wide range of academic disciplines and technological approaches. ASOR-Sponsored Sessions covering the range of geographical, chronological, and disciplinary interests of our members included multiple sessions on the Archaeology of Anatolia, Archaeology of Israel, Art Historical
Approaches to the Near East, Theoretical and Anthropological Approaches to the Near East, Archaeology of Southern Arabia and Her Neighbors, and Archaeology of the Natural Environment: Archaeobotany and Zooarchaeology in the Near East.
ASOR's members continue to diversify our program by chairing a wide range of Member-Organized Sessions and Workshop Sessions focused on specific themes, archaeological techniques, or sites. This year's new sessions included City of Gold: Archaeological
Excavations at Polis Chrysochous, Cyprus, Parthia and the West, Islamic Frontiers and Borders in the Near East and Mediterranean, Archaeological Processes and Phenomena in Natural (Karstic) Caves in Israel, and Mesopotamian Civilization: New Directions in Iraqi Archaeology, while new workshops focused on such topics as Archaeological Conservation Strategies in the Near East, Women in Near Eastern Archaeology: An Open Forum.
This year's meeting was jam-packed with special events. Over 300 attended the plenary address that launched the Annual Meeting and featured Professor Manfred Bietak from The University ofVienna. Prof. Bietak's lecture was titled "The Discourse Between Historical and Radiocarbon Chronology of the Bronze Age in the Levant." The first full day of the meeting included yet another extremely informative Junior Scholar Panel Discussion held during the lunch break. At "Stop the Presses!: Everything You Ever Wanted to Know about Publishing but Were Afraid to Ask," James M. Weinstein, Editor BASOR, Thomas Schneider, Editor NEA, Charles Jones, Chair of the ASOR Publication Committee, and James Eisenbraun, Publisher, delivered invaluable advice and insights. Later that evening, a sold-out reception at the University of Chicago's Oriental Institute
delighted all who attended.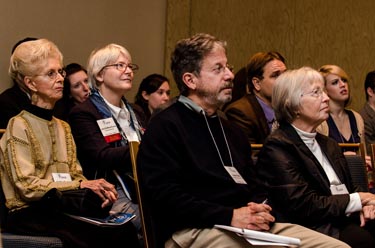 Maintaining this diverse and exciting program depends on ASOR's members! We encourage you all to continue to develop Member-Organized Sessions and Workshops, to contribute to our ASOR-Sponsored Sessions by submitting papers on your current work, and to contact the Program Committee with any input and ideas you may have for improving the Academic Program of the Annual Meeting. The deadline for abstract submission is February 15, 2013 (or as late as March 1, 2013 with a $25 fee). Visit the 2013 Call for Papers!

On behalf of the Program Committee, we would like to thank all who helped to organize the 2012 Annual Meeting. For their constant support on the Annual Meeting, we are especially grateful to Kelley Herlihy, ASOR's Director of Meetings and Events, Andy Vaughn, Executive Director of ASOR, and the entire ASOR staff. We are especially grateful to our session chairs, who work long andhard to assemble and shape the
intellectually-engaging fora that we all gather to attend. We would also like
to thank Sheila Bishop and The Foundation for Biblical Archaeology (TFBA) for financially supporting the seven TFBA scholars who helped with registration and in the session rooms. For creating such a lively foyer area, we are extremely grateful to all of the exhibitors. And, finally, we owe much thanks to the Oriental Institute, the Alexandria Archive Initiative/Open Context, and the Institute for the Study of the Ancient World for co-sponsoring the wi-fi access throughout the meeting rooms.
We hope you will join us to present your new research at our 2013 Annual Meeting to be held from November 20-23, in Baltimore at the Sheraton Baltimore City Center Hotel!