History in Images, History in Words: In Search of Facts in Documentary Filmmaking

History in Images, History in Words: 
In Search of Facts 
in Documentary Filmmaking
A lecture by Carma Hinton
Robinson Professor of Visual Culture and Chinese Studies at George Mason University
Monday April 10, 2017 from 4-7 pm
at the Photonics Center (9th fl.), 8 St. Mary's Street, Boston University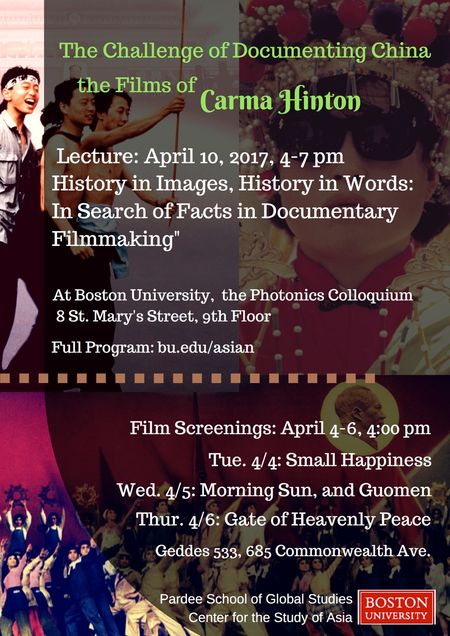 My presentation will focus on the process of documentary filmmaking, especially the many challenges my team and I faced in trying to create engaging filmic narratives that are both factually accurate and encompass multiple perspectives. I will use excerpts from my films as well as out-takes to illustrate the difficulties in determining what information to include and exclude, assess the compromises involved in the choices, and explore the consequences of taking various possible paths. I will also address the different problems that a historian encounters when presenting history in images as opposed to in words: the potential and limitation of each medium and what information each might privilege or obscure.  I believe that in this age of "alternative facts" and "parallel universes," reflections on the challenges in obtaining authenticity and truth and the importance of relentlessly striving to reach this goal, take on particularly urgent meaning.
About the speaker:
Carma Hinton is an art historian and a filmmaker. She received her Ph.D. in Art History from Harvard University and is now Robinson Professor of Visual Culture and Chinese Studies at George Mason University. Together with Richard Gordon, Hinton has directed many documentary films, including Small Happiness, All Under Heaven, To Taste a Hundred Herbs, Abode of Illusion: The Life and Art of Chang Dai-chien, The Gate of Heavenly Peace, and Morning Sun. She has won two Peabody Awards, the American Historical Association's John E. O'Connor Film Award, the International Critics Prize and the Best Social and Political Documentary at the Banff Television Festival, and a National News & Documentary Emmy, among others. Hinton is currently working on a book about Chinese scrolls depicting the theme of demon quelling. Carma Hinton was born in Beijing. Chinese is her first language and culture.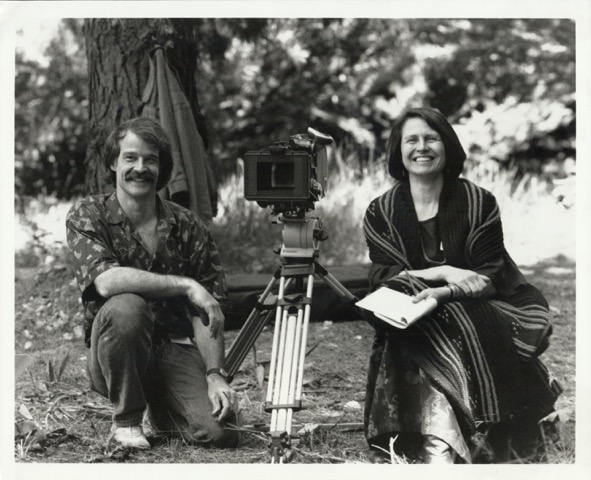 Understanding North Korea and Possibilities from Diplomacy to Nuclear War
6:30 pm – 9:30 pm
Wednesday, October 11 2017


The forum will be held at: 
Howard Thurman Center, Great Room
775 Commonwealth Ave, Basement 

What do you know about North Korea other than that it poses one of the biggest dangers for nuclear war in the world, and that its leader, Kim Jung-un, and President Trump keep raising the temperature between the two countries?
Shouldn't you know more? Come to the BU Student-Faculty Forum: Understanding North Korea and Possibilities from Diplomacy to Nuclear War on Wednesday, October 11, 6:30-8:00 p.m., in the Howard Thurman Center for Common Ground (GSU lower level).
Context:
The Korean War between the North and South broke out in 1950, with the United States deeply involved. Although the Korean Armistice Treaty was signed in 1953, no peace treaty has ever been signed, so the war is not over, and from time to time tensions flare to threaten it heating up again. The UN has sanctioned North Korea for its nuclear weapons development and tests, and not only has it recently tested even more powerful bombs, it has been testing missile systems over Japanese territory, and using missiles perhaps capable of reaching American targets. Kim Jung-un, the leader of North Korea, and Donald Trump have been increasing tensions through their words with Trump calling Kim "Rocket Man," and Kim calling Trump a "dotard." At the UN, Trump threatened to "totally destroy North Korea."
During the Student-Faculty Forum 4 BU experts will offer brief remarks to help us all become more informed about North Korea and the possibilities of peace and war. They are Professors Thomas Berger, an expert on Asian politics and international relations; Neta Crawford, an expert on international relations theory, war, and peace-building; Robert Loftis, a career member of the U.S. Foreign Service, retired Ambassador, and leader of political-military negotiations with the Republic of Korea in 2004-07; and Jayita Sarkar, a historian with expertise in U.S. foreign policy and nuclear proliferation. We will leave plenty of time for questions and discussion.
Appetizers will be served.