BUCSA Newsletter Summer 2010
Outgoing Director | Incoming Director | Congratulations to Graduating Seniors | Faculty Achievements | New Faculty | Events Across Campus | Highlight: Prisoner of the State | Graduate Certificate in Asian Studies | Working with Student Groups | Title VI Application | …And More
Message from the Outgoing Director
Dear Alumni and Friends,
With the academic year now over, the BU campus has quieted down considerably. Most students have gone off for the summer or to start careers and many faculty are on the move, heading off to locales both exotic and mundane for research, writing, and (perhaps) rest.
We at BUCSA are beginning to plan for our third year in existence. Academic year 2010-11 should be an exciting time for Asian Studies at BU.  We will be joined by several new faculty members and will be offering a variety of new courses and programs. And, of course, BUCSA will be working to ensure that there are a variety of academic and cultural events to enrich the experiences of students, faculty, and the community at large.
There are also some important transitions at BUCSA. I will be stepping down from the directorship in order to chair the Department of International Relations. This was a difficult decision for me, as I have truly enjoyed the opportunity to work with an extraordinary and dedicated group of colleagues in helping to establish the center.  I also feel that there are many things I will have to leave undone at BUCSA.
Fortunately, Professor Joseph Fewsmith, one of the world's foremost scholars of Chinese politics, has agreed to take over as BUCSA director. Joe, who has been at BU for nearly two decades, is the author or editor of six books and has written numerous scholarly and policy articles on contemporary China. He has directed the East Asian Studies major since his arrival in 1991 and taught thousands of BU students. Joe was also the chair of the search committee that hired me as a newly-minted PhD fifteen years ago, for which I am eternally grateful.
I will leave it to Joe to talk about where BUCSA is headed in his message below. Some of the highlights of the last year are also detailed in the remainder of this newsletter. But before I close, I would like to express my gratitude to everyone involved in Asian Studies at BU, including faculty, administrators, students, and alumni. Having seen their dedication and enthusiasm to advancing the study of Asia, I feel great confidence about where we are headed.
With best wishes,
William W. Grimes
BUCSA Director, 2008-10
---
Message from the Incoming Director
The major task of BUCSA in the coming year is to build on the foundation that Professor Bill Grimes laid over the past two years. As you all know, we have organized numerous events at BU that have brought together faculty, students, alumni, and the broader community. We will continue to host such events and urge are students and alumni to participate as much as possible.
What BUCSA does in the coming year depends much on whether we receive the Title VI grant as a National Resource Center in Asian Studies. This application took an enormous amount of time to prepare, but it also provided us with a good opportunity to take stock of the resources we have at BU and evaluate areas in which we need to build. The BU administration has been tremendously supportive in this regard, and we will go into the 2010-11 academic year with several new faculty members (see below for details). These new hires will not only allow BU to expand its offerings in Asian Studies but also to develop cross-regional and interdisciplinary studies.
BU has a number of centers and institutes with interests that overlap with those of BUCSA, including the Pardee Center for the Study of the Longer-Range Future (whose director, Adil Najam, sits on BUCSA's board of directors), the International Center for East Asian Archaeology & Cultural History (whose director, Professor Robert Murowchick, also sits on our board), the Institute on Culture, Religion & World Affairs (whose director, Robert Hefner, is past president of the Association for Asian Studies), the Institute for the Study of Muslim Societies & Civilizations, the American Institute for Afghanistan Studies, the Center for Global Health and Development, and the African Studies Center. Over the coming year, BUCSA will work to expand cooperation with these centers and institutes to foster creative research and provide exciting programming for our students, faculty, and alumni.
In short, we intend to build vigorously on what we have been doing the past two years and organize activities of interest to the widest possible community.
With Best Wishes for the Coming Academic Year
Joseph Fewsmith
Incoming BUCSA Director
---
Congratulations to Our Graduating Seniors!
This year, 60 students graduated with majors in East Asian Studies, Japanese Language and Literature, Chinese Language and Literature, or in the East Asia track of International Relations.  This number includes BU's first-ever graduate in the newly-approved Chinese Language and Literature major!
The first graduate of the brand-new major in Chinese was Timothy Clifford, who graduated summa cum laude and Phi Beta Kappa, and received both the CAS Writing Award and the MLCL College Prize. He will spend the next year at Beijing University.  Kenryo Mizutani, an East Asia-track International Relations major, graduated summa cum laude and received an IR Department award for academic excellence. Many of our other new alumni received Latin Honors and other recognition. We salute them all.
---
Faculty Achievements
Five Asia faculty members received tenure this year:  Julian Go (comparative sociology, colonial Philippines) Eugenio Menegon (Chinese history), Sunil Sharma (Persian literature), Alice Tseng (Japanese art history), and Denis Wu (Communications Research).  All will be associate professors as of September 1. In addition, several other faculty members received promotions: William Grimes (international relations, specializing in East Asian political economy) to full professor, Mariko Ito Henstock (Japanese language) to senior lecturer, and Xiaoyang Zhao (Chinese language) to senior lecturer.
Asia faculty have also received a variety of honors for their achievements this year.  Here are a few: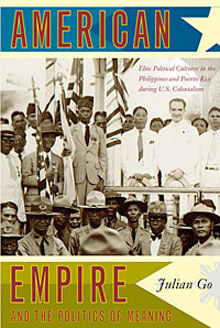 Dr. Kazue Campbell, former head of the Japanese language program, recently published her English translation William Wheeler: A Young American Professor in Meiji Japan with Hokkaido University Press.
Professor Houchang Chehabi spent the spring semester as a Visiting Leverhulme Professor of History at the University of St. Andrews (Scotland).
Professor Sarah Frederick received a Bunka Fashion Research Institute grant for a collaborative research project on "The Internationalization of Kimono in the 20th Century."
Professor Julian Go's book American Empire and the Politics of Meaning: Elite Political Cultures in the Philippines and Puerto Rico during U.S. Colonialism received the Mary Douglas Prize for Best Book in Cultural Sociology from the American Sociological Association and was a finalist for the Philippine National Book Awards, Social Sciences.
Professor William Grimes's book Currency and Contest in East Asia received the Masayoshi Ohira Memorial Award and Honorable Mention in the Asia Society Bernard Schwartz Book Award competition.  He was also appointed as an inaugural fellow of the National Asia Research Project, sponsored by the National Bureau of Asian Research and the Woodrow Wilson International Center for Scholars.
Dr. Roberta Micallef, Master Lecturer in Turkish, has received a U.S. government STARTALK grant to create and direct an annual Turkish Teacher Training Program at BU beginning in Summer 2010.
Professor Nancy Smith-Hefner has just completed a year at the Harvard Radcliffe Institute as the Sarah Blaffer Hardy social science fellow
Professor Susan O'Brien received a Japan Foundation fellowship for summer research in Tokyo for her project "Smoke and Mirrors: Reconstituting Masculinities through Cigarette Consumption and Advertising in Early Postwar Japan."
Professor Alice Tseng received the Art History Department Faculty Award.
Professor Min Ye has just completed a year at Harvard University's Fairbank Center as an An Wang Fellow.
---
New Faculty
Despite the economic downturn facing many U.S. universities, BU has continued to hire outstanding faculty in Asian studies.  Next year, we will be joined by three new tenure-track assistant professors:
Dr. Edward Cunningham (PhD, MIT) will be joining the Department of Geography and Environment.  Dr. Cunningham, who is currently a post-doctoral fellow at Harvard's Kennedy School of Government, studies the politics and economics of China's energy markets and environmental policy.
Dr. Wiebke Denecke (PhD, Harvard) will be joining the Department of Modern Languages and Comparative Literature.  Dr. Denecke, who is currently an assistant professor of Chinese literature at Barnard College, does comparative work in Chinese, Japanese, Latin, and Classical Greek literature.
Dr. Manjari Chatterjee Miller (PhD, Harvard) will be joining the Department of International Relations.  Dr. Miller, who is currently a post-doctoral fellow in Harvard's Department of Government, specializes in the international relations of South Asia and on India-China relations.
In addition, the Department of Modern Languages and Comparative Literature will begin offering language classes in Hindi/Urdu this fall, for the first time in several years.  The department has hired Mr. Richard DeLacy, a PhD candidate at the University of Chicago and currently an instructor in Hindi/Urdu at Harvard, to lead the program.  Mr. DeLacy is a highly experienced language teacher who has also written several Hindi, Urdu, and Bengali textbooks. Over the next few years, we expect to offer Hindi/Urdu through the advanced level.
The Department of Modern Languages and Comparative Literature has also added a fourth full-time instructor in Japanese language:  Ms. Hiromi Miyagi-Lusthaus, who has been teaching Japanese at BU on a part-time basis for several years.
---
Events Across Campus
As part of our mission to support Asian Studies throughout the university, we sponsored or co-sponsored more than 40 events and more than 30 film screenings, with a combined attendance of over 1,500. Guests included diplomats, policy makers, scholars, businesspeople, activists, musicians, and culinary experts who shared their knowledge with the BU community on a diverse set of topics and places, including business in China, human rights in Burma, Vietnamese poetry, tiger charmers in Bengal, Chinese gardens, Japanese politics, and ethnic strife in Thailand. We also offered three film series—South Asian Film, Japanese Film, and Childhoods in Asia—in addition to various stand-alone film events.  For a full list, please visit our web page: http://www.bu.edu/asian/news/archives/pastevents.html.
---
Highlight: Prisoner of the State
On November 30, BUCSA hosted Bao Pu and Adi Ignatius, the translators and editors of Prisoner of the State: The Secret Journal of Premier Zhao Ziyang for their first joint appearance in the United States since the publication of this important book. In 1989, general secretary Premier Zhao Ziyang publicly defied Deng Xiaoping by sympathizing with the student protests in Tiananmen Square, a decision that resulted in his house arrest until his death in 2005. In this lecture, co-editors Bao and Ignatius told the extraordinary story of the release and importance of Zhao's memoirs. Created in secret and smuggled out of China, they provide an unrivaled inside look at the Chinese leadership and new insights into the history of the Tiananmen struggle. The lecture was featured in BU Today. Video of the lecture has also been posted on BUniverse.
---
Introducing the Graduate Certificate in Asian Studies
In May, the Board of Trustees gave final approval to BUCSA's proposal for a Graduate Certificate in Asian Studies. Graduate students enrolled in any of BU's schools or colleges are eligible to earn the graduate certificate, which will provide a high-quality credential to demonstrate their knowledge of Asia. It requires reading proficiency in an Asian language, four Asia-related courses at the graduate level, and an Asia-related capstone project (dissertation, master's thesis, or equivalent) and will be one of the more rigorous graduate certificate in Asian Studies offered in U.S. universities. We expect it to be an attractive credential for graduate students who concentrate their studies on Asia and hope that it will attract help to attract excellent students to our programs.
---
Working with Student Groups
We have continued to reach out to student groups, both to offer financial and logistical support for their activities and to better involve them in our activities. We look forward to deepening our connections with student groups over the coming years. This year, we worked with the Asian Studies Initiative at BU, the Japanese Student Association, the BU China Care Fund, Asian Student Union, Vietnamese Student Association, and other groups.
---
Title VI Application
This year, for the first time, we submitted an application to have BU designated as a National Resource Center in Asian Studies under the U.S. Department of Education's International Education Programs (Title VI). If we are successful in this highly competitive contest, it will bring not only recognition but also important financial support to Asian Studies at BU. This is a major initiative by BUCSA on behalf of the university as a whole.
The application entailed major data-gathering and planning efforts. While the process was very time-consuming, it was also exciting to learn just how strong BU has become in Asian Studies. Some highlights:
BU has over 100 full-time or part-time faculty members with a major research or teaching focus on Asia, spanning 9 schools and colleges and over 25 departments.
Across the university, BU offers 130 classes on Asia, including 39 language classes, and the numbers are growing yearly. Total enrollment in Asia classes in 2009-10 exceeded 3,200!
Asian languages are increasingly popular among students. Chinese (with 538 enrollments in 2009-10) and Japanese (532 enrollments) are the fourth and fifth most studied foreign languages on campus. Korean (127 enrollments) has shown by far the steepest growth curve of any language at BU in recent years, with enrollments having risen 67% since 2006-07.
In the five-year period 2005-9, BU graduated a combined total of 259 majors and 108 minors in Chinese, Japanese, East Asian Studies, and IR-East Asia track at the baccalaureate level. These numbers represent an increase of nearly 25% for majors and nearly 50% for minors over the period 2000-5.
In the five-year period 2005-9, 53 students across the university completed PhD dissertations focused on Asia and at least 48 MA students in IR programs focused their studies on Asian topics; many other graduate and professional students took one or more of the nearly 50 graduate-level Asia classes that BU offers on a regular basis.
---
… And More
There is much more to say about the year that has passed and the year that is to come, but we realize that your time is precious. If you want to learn more, please check out our web site (http://www.bu.edu/asian) or contact Professor Joseph Fewsmith (fewsmith@bu.edu) or Michael Carroll (mcarroll@bu.edu).
Also, if you want to get more involved, please let us know. Most of our events are open to the public and we are always open to suggestions. If you are interested in supporting our activities financially, there are several ways to contribute, including online. (http://www.bu.edu/asian/giving.html; please make sure to specify "Center for the Study of Asia" in the online Comments/Questions space or in the memo line of your check.) If you would prefer to support specific activities, infrastructure, or faculty or staff positions, please contact Professor Fewsmith to discuss opportunities and priorities.
We look forward to hearing from you!

Boston University Center for the Study of Asia
232 Bay State Road, 4th Floor
Boston, MA 02215
buasia@bu.edu – 617-358-4648