Yoon Sun Yang wins the James B. Palais Book Prize (Korea) from the AAS
Associate Professor of Korean & Comparative Literature and Women's, Gender & Sexuality Studies Yoon Sun Yang's monograph, From Domestic Women to Sensitive Men: Translating the Individual in Colonial Korea, won the 2020 James B. Palais Prize of the Association for Asian Studies (AAS). The Palais Prize is "given annually to an outstanding scholar of Korean studies from any discipline or country specialization to recognize distinguished scholarly work on Korea." It's the only book prize the AAS gives in Korean, and she will receive it at the upcoming national conference in March, which is being held here in Boston.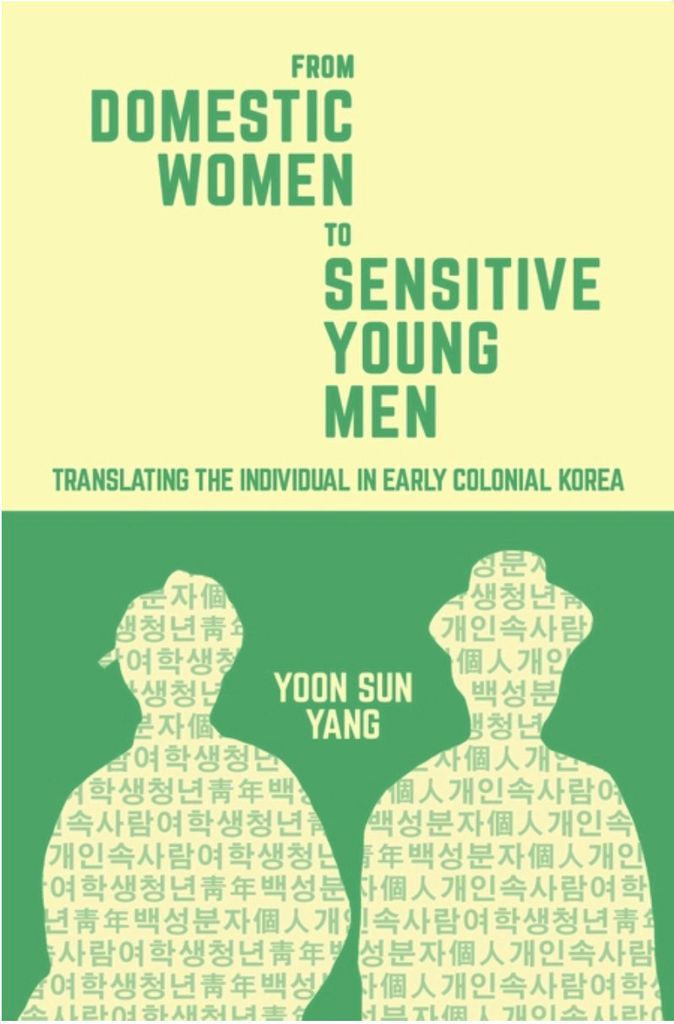 In From Domestic Women to Sensitive Young Men: Translating the Individual in Early Colonial Korea (Harvard University Asia Center 2017), Yoon Sun Yang explores how to read and study modern Korean literature without presuming European superiority. The canonical narrative of twentieth-century Korean literature has been framed by Eurocentric questions: does it live up to the aesthetic standard derived from nineteenth-century European literature? Or how "accurately" did Korean writers portray the quintessential novelistic character in Western literature—the individual? Instead of making an equally problematic Orientalist quest for "essentially Korean" aesthetics, this book looks into how Korean writers innovatively appropriated the European notion of the individual to portray their own modern literary figures between 1906 and 1918 in the process of making sense of the world that was rapidly modernizing under colonial rule. Yang's reading offers an alternative account about the beginning of modern Korean fiction. She argues the first Korean literary iterations of the modern individual were prototypically female figures appearing in the early colonial domestic novel―a genre developed by reform-minded male writers―as schoolgirls, housewives, female ghosts, the femme fatale, and female same-sex partners. Such female figures have long been viewed as lacking in modernity because, unlike numerous male characters in Korean literature after the late 1910s, they did not assert their own modernity, or that of the nation, by exploring their interiority. Yang, however, shows that no reading of Korean literary modernity can ignore these figures, because the early colonial domestic novel cast them as individuals in terms of their usefulness or relevance to the nation, whether as model citizens or iconoclasts. By including these earlier narratives within modern Korean literary history and positing that they too were engaged in the translation of individuality into Korean, Yang's study not only disrupts the canonical account of a non-gendered, linear progress toward modern Korean selfhood but also expands our understanding of the role played by translation in Korea's construction of modern gender roles.
Her sole-edited volume, Routledge Handbook of Modern Korean Literature, will be published in April 2020.  She is currently translating early colonial Korean short stories and essays published between 1907 and 1918 (for the MLA Texts and Translations series) while working on a book-length study tentatively titled "Under the Medical Gaze: Illness, Gender, and Colonialism in Korean Literature."
Some sample reviews from https://www.hup.harvard.edu/catalog.php?isbn=9780674976979&content=reviews
"From Domestic Women to Sensitive Young Men is a brilliant account of the uneven emergence of the modern subject in Korean literary fiction, immersing us in the historical circumstances of colonialism, censorship, and the transition to modernity that shaped authors and readers alike in early colonial Korea. Taking a neglected but crucial corpus of novels known as New Fiction that flourished after the Protectorate Treaty in 1905, the book argues that the same circumstances that made the political novel impossible created a genre of domestic fiction where the traumas of transition to a modern society were thrashed out. By returning us to these complex and ambivalent literary figures who served as the unacknowledged earliest iterations of the modern individual, Yoon Sun Yang's book makes a compelling case for the importance of this genre in understanding early colonial Korea. Written in beautiful, measured prose, this book apprises us of the costs of longing for individuality, modernity, and civilization. A work of comparative literature at its finest."—Ruth Barraclough, Australian National University
"Yang's important study challenges hegemonic, male-centered historical narratives of intellectual and literary modernity that are both Korean and universal. The book vouches strongly for the embodied nature of the individual subject, which is never transcendent but is always marked by gender, ethnicity, class, and sexual orientation. Emerging from Yang's clear, precise, and always insightful prose are thus many of the suppressed Others of Enlightenment rationality—insane women, queer couples, sensitive men, female ghosts, and more. An admirable example of feminist literary scholarship, this book will become a must read for scholars and students of Korean and East Asian literature, comparative literature, gender studies, and postcolonial studies."—Sunyoung Park, University of Southern California
"Yoon Sun Yang's From Domestic Women to Sensitive Young Men is revisionary scholarship of the best and highest order that will also reach beyond the growing field of Korean literary studies to attract scholars of other national literatures."—Janet Poole, University of Toronto