Counting Women in Buddhist Studies: What We Can (and Can't) Learn from a Quantitative Approach, by Prof. Natasha Heller (Jan. 27, 2020)
The BU Center for the Study of Asia and the CAS Department of Religion
are very pleased to present a lecture by
Prof. Natasha Heller 
(Dept. of Religious Studies, University of Virginia)
Counting Women in Buddhist Studies:
What We Can (and Can't) Learn
from a Quantitative Approach
Monday, Jan. 27, 2020 from 2:30-4:00 pm
JSC Room 201, 147 Bay State Road, Boston University
(Note: entrance is on Silber Way, not Bay State Road)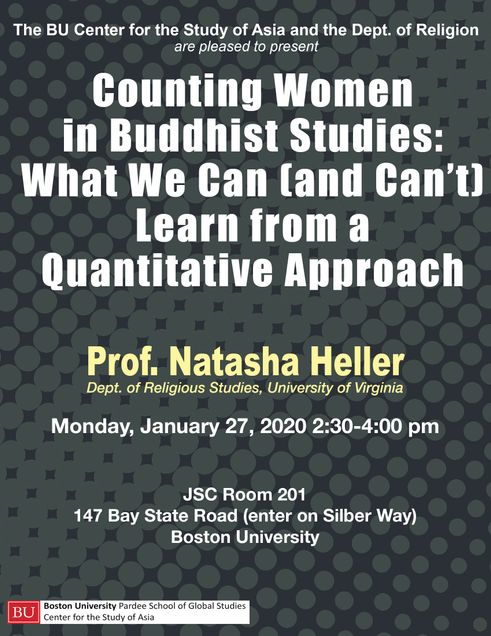 About the speaker:
Natasha Heller is Associate Professor of Religious Studies at the University of Virginia. She studies Chinese Buddhism in the context of cultural and intellectual history. Her research includes both the pre-modern period (10th through 14th c.) and the contemporary era. Heller's study of an eminent monk of the Yuan dynasty, Illusory Abiding: The Cultural Construction of the Chan Monk Zhongfeng Mingben, was published by Harvard University Asia Center in 2014.  This monograph examines Mingben's use of poetry, calligraphy, and gong'an 公案 commentary in the context of his distinctive Chan (Zen) teachings. Heller's current book project concerns picture books published by Buddhist organizations in Taiwan, and how such children's fiction not only teaches young people about the Buddhist tradition, but also addresses how to relate to clergy, family members, and society. She has published in journals such as History of Religions, the Harvard Journal of Asiatic Studies, and Material Religion.
For three years she was book review editor for the Journal of Chinese Religions.  Currently, she serves on the editorial board of the Journal of Chinese Buddhist Studies, the board of the Society for the Study of Chinese Religions and the editorial board of the Kuroda Institute.
Heller received her MA in Buddhist Studies from the University of Michigan, and her PhD in East Asian Languages and Civilizations from Harvard University. Before coming to the University of Virginia, she was an associate professor in the department of Asian Languages and Cultures at UCLA.