Corky White and Debra Samuels co-curate "Objects of Use and Beauty: Design and Craft in Japanese Culinary Tools"
Now on exhibit at the Fuller Craft Museum, 455 Oak Street, Brockton, MA
Objects of Use and Beauty: Design and Craft in Japanese Culinary Tools
June 2, 2018 – October 28, 2018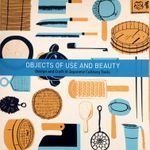 Objects of Use and Beauty: Design and Craft in Japanese Culinary Tools demonstrates the beauty of design and use in Japanese cooking and reveal the artistry of craftsmanship in such tools as knives, whisks, ceramic kama, and other important items. The use of materials such as bamboo, clay, cedar wood, metals and other natural substances is accompanied by contemporary materials in contemporary designs. Videos of craftspeople at work in their studios and forges are included, as well as the tools themselves and narratives concerning their use. In addition, the exhibition provides a glimpse at a Japanese home kitchen and videos demonstrating the making of Japanese foods.
Co-Curators: Debra Samuels and Merry White
Sponsored by the Caroline R. Graboys Fund, the Japan World Exposition 1970 Commemorative Fund, and The Japan Foundation, New York.
The exhibition catalogue is available here.