Contested Heritage: Monuments, Politics, and Memory in Asia

The Boston University Center for the Study of Asia presents

The New England Asia Seminar and East Asian Archaeology Forum
Contested Heritage: Monuments, Politics, and Memory in Asia
Friday, March 16, 2018 from 2:00 – 5:00 pm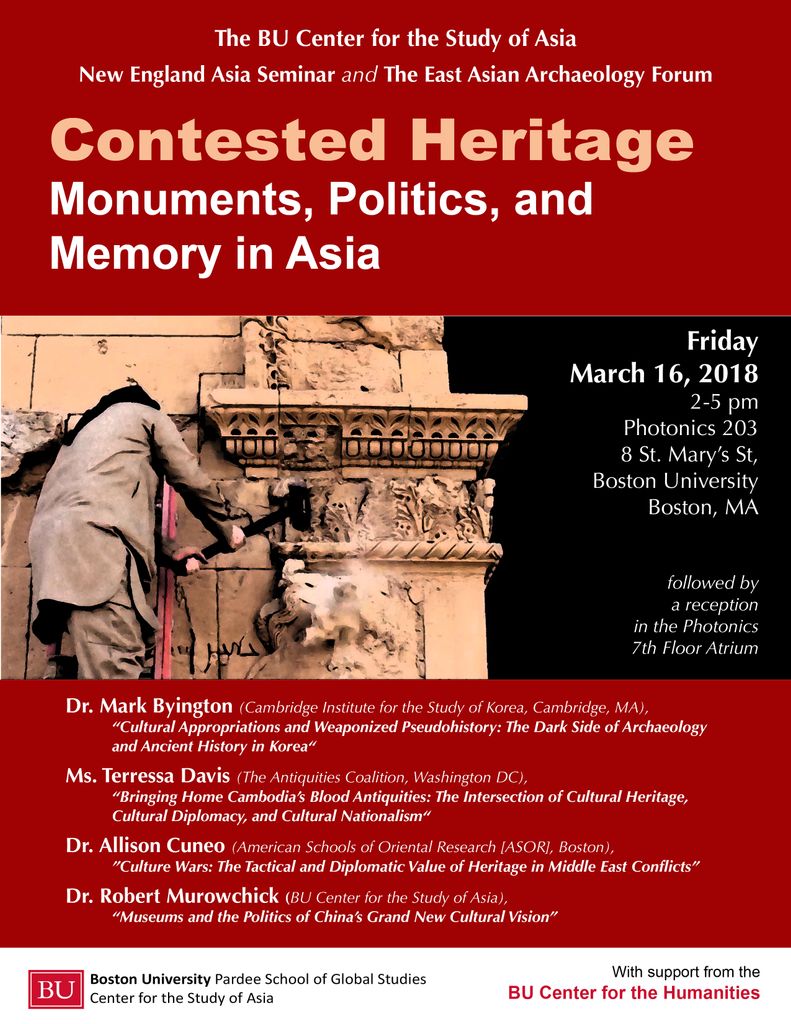 The Seminar and Forum will take place at:
Photonics Building, Room 203
8 St. Mary's Street, Boston University
followed by a reception in the Photonics 7th Floor Atrium
In August 2017, the US was rocked by a tragic weekend of protests and violence in Charlottesville, Virginia, that followed a series of white nationalist rallies against the planned removal of a statue of Confederate general Robert E. Lee from a public park. This has been followed by extensive discussions and debates about the meaning and relevance of historical monuments, buildings, sites, and other material aspects of cultural heritage in a changing world.
Of course, the complex interplay among politics, nationalism, museums, monuments, archaeological and historical sites, and related issues has a long and rich history in all of the world's cultures and regions. Asia provides some of the most interesting and engaging examples of this intertwining of past and present, of "cultural" and "political," and of the many forces that are constantly forcing us to reconsider ideas of cultural identity, the symbolism of monuments and sites, and the politics of heritage.
This seminar will explore the political and nationalistic pressures behind the creation, preservation, and destruction of historical monuments, architecture, and other types of heritage sites in Asia. Invited scholars will present selected Asian case studies to explore a range of themes including the political symbolism of antiquities and sites; the intentional or unintentional preservation or destruction of particular sites/themes as local, national, and regional politics change; and the changing use of heritage symbolism for economic or political goals. We hope that these will stimulate a wide-ranging discussion with the audience about how intertwined these various issues are in Asia, and how cultural heritage choices about what gets funded, preserved, displayed, or removed are often much more complicated than they seem, and of great relevance to Asia in the modern world.
Cultural Appropriations and Weaponized Pseudohistory: The Dark Side of Archaeology and Ancient History in Korea
Dr. Mark Byington, President and Program Director, Cambridge Institute for the Study of Korea, Cambridge, MA
Bringing Home Cambodia's Blood Antiquities: The Intersection of Cultural Heritage, Cultural Diplomacy, and Cultural Nationalism
Ms. Terressa Davis, Executive Director, The Antiquities Coalition, Washington DC
Culture Wars: The Tactical and Diplomatic Value of Heritage in Current Middle East Conflicts
Dr. Allison Cuneo, Project Manager for Cultural Heritage Initiatives, American Schools of Oriental Research (ASOR), Boston, MA
Museums and the Politics of China's Grand New Cultural Vision
Dr. Robert Murowchick, Associate Director, Boston University Center for the Study of Asia, Frederick S. Pardee School of Global Studies
This event is supported by the Boston University Center for the Humanities