You are invited to: 
Wen-hao Tien: Weed Out
Exhibition Opening Reception


September 22, 6-8 PM
Holzwasser Gallery | New Art Center
61 Washington Park, Newtonville, MA

Wen-hao Tien: Weed Out


On View in the Holzwasser Gallery: September 22 – October 19, 2017
Opening Reception: September 22, 6-8PM

ABOUT THE EXHIBITION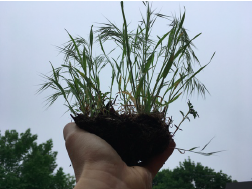 Wen-hao Tien's installation, Weed Out, is the result of her hunt for traces of wilderness in the city, namely, plants that normally go unnoticed — or, if noticed, are usually pulled out or mowed over. These plants are weeds, considered by many to be unsightly nuisances.
For this installation, Tien transplanted weeds from across New England into a living sculpture, which will continue to grow and change throughout the exhibition. An audio recording of words from various languages sheds light on linguistic habits that align with the treatment of weeds. These "weed words" have jumped from one dialect to another, just as many plants flourish in unexpected places, and are valued quite differently depending on both the location and the viewer.
What are "pure" words and plant species, versus "invasive"? How do powerful forces such as migration, rejection, and assimilation affect cultural norms as well as the natural world? Tien's installation invites viewers to dwell on these questions by interacting with the growing sculpture. Tien will regularly supply more "weeds" to an interactive installation, which visitors can weed-in or weed-out, as they wish.
ABOUT THE ARTIST 
Wen-hao Tien is a visual artist, educator, and Assistant Director of Boston University Pardee School of Global Studies.
Initially growing up in Taiwan, Tien later moved to the United States to pursue graduate studies. Her studio artwork focuses on language and translation, and explores culture and identity through a unique cross-cultural lens. She is also known for her contemporary Chinese calligraphy and painting.
A long-time Cambridge resident, her professional background includes 15 years working in the Center for Government and International Studies (CGIS) community. Tien holds a Master of Public Health from Columbia University and is currently a candidate for a Master of Fine Arts at Lesley University's College of Art and Design.
For more information, download New Art Center's Weed Out press release here, or visit New Art Center's exhibition page here.