EVENT IN REVIEW: BU Asian Studies Spring Reception (04/28/2014)
The Boston University Asian Studies Spring Reception took place on Monday, April 28, 2014 in the beautiful BU Castle on Bay State Road. The reception warmly welcomed friends of the BU Center for the Study of Asia (BUCSA) at the conclusion of the semester, including Asian Studies faculty across BU, visiting scholars, board members of the student organization ASIABU, representatives of the Taipei Economic and Cultural Office, and students in the Asian Studies programs with outstanding achievements. The reception, as is tradition, was generously hosted by BUCSA supporter and BU alum Al Petras, Senior Vice President at Bank of America and Senior Service Delivery Manager Technology Consultant for China Construction Bank.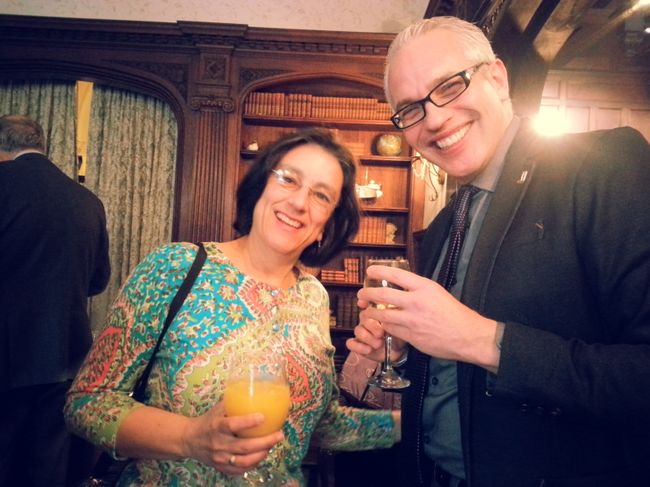 BUCSA Director Eugenio Menegon highlighted the achievements BUCSA made over the past academic year, and proudly announced the publication of several books by BU faculty, including Wiebke Denecke's Classical World Literatures: Sino-Japanese and Greco-Roman Comparisons, and Gina Cogan's The Princess Nun: Bunchi, Buddhist Reform, and Gender in Early Edo Japan (see details about the publication of these books in this news piece.) Two BUCSA visiting researchers also published their work in the series BUCSA Occasional Papers on Asia: U.S. – China Engagement: Creating a Massachusetts Model for Study in China byGrant F. Rhode, and On the Anniversary of Deng Xiaoping's "Three Fors." Thirty Years of School Reform in China by Charlotte Sanford Mason.
The academic year 2013-2014 was also a very fruitful year for students in the Asian studies programs at BU. The student organization ASIABU continued to do excellent work in promoting Asian culture among peer students, and two undergraduates in the Japanese language program (MLCL) won first and third place in the Japanese speech contest in Boston.
At the conclusion of this academic year, BUCSA looks forward to another fun-filled and productive year in Asian studies at Boston University, with the theme "Asia in Love" as a thread for events and activities in 2014-15. One of the highlights of the year will be the Spring 2015 BU Asia Film Week "Asia: Love and Other Obsessions." BUCSA was awarded a grant from the BU Center for the Humanities (Project Director Prof. Cathy Yeh) for this festival, which will bring outstanding Asian films to the BU community. New synergies will also come from the affiliation of BUCSA with the new Pardee School of Global Studies, within its Division of Regional Studies. Please stay tuned and sign up for our weekly newsletter!