EVENT: Writing Between Languages and Cultures with Yoko Tawada (04/15/14)
Join us for a reading and conversation with the internationally renowned writer Yoko Tawada. Tawada was born in Tokyo in 1960 and moved to Hamburg when she was twenty-two, where she received a PhD in German literature, and then to Berlin in 2006. She writes in both Japanese and German and has published several books—stories, novels, poems, plays, essays—in both languages. She has received numerous awards for her writing including the Akutagawa Prize, the Adelbert von Chamisso Prize (a German award recognizing foreign writers for their contributions to German culture), the Tanizaki Prize, the Goethe Medal (an official decoration of the Federal Republic of Germany), and the prestigious Yomiurui Prize for Literature. New Directions has published her story collections Where Europe Begins (with a Preface by Wim Wenders) and Facing the Bridge, and her novel of Catherine Deneuve obsession, The Naked Eye, and a stand alone edition of her famous story, The Bridegroom Was a Dog.
This event will be moderated by Anna Zielinska-Elliott and Peter Schwartz. Elliott is Senior Lecturer in Japanese at Boston University and a translator of modern Japanese literature into Polish. She has published numerous translations of novels, stories, and plays by Murakami Haruki, Mishima Yukio, Yoshimoto Banana, and others. Schwartz is Associate Professor of German & Comparative Literature at Boston University. His interests include the Enlightenment (as historical event and unfinished process), European neoclassicism and modernism, American, French, Dutch and Japanese literature, early film and photography, the history of New York City, the critical work of the Frankfurt School, and the "science of culture" (Kulturwissenschaft) of the art historian Aby Warburg and his circle.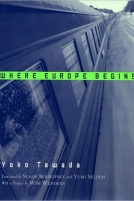 This event is jointly sponsored by the Center for the Study of Europe and the Center for the Study of Asia at Boston University and the Japan Society Boston in cooperation with the Goethe Institut Boston and the literary journal AGNI.
Yoko Tawada and free jazz percussionist Paul Lovens come together for a rare performance of interacting verse and music with onomatopoeic elements at the Goethe Institute Boston on Wednesday, April 16. Texts will be read in German with projected English translations. No knowledge of German is necessary. [More info]