EVENT: "Asia and the City" Forum: The Changing Meanings of Beijing (02/27/2014)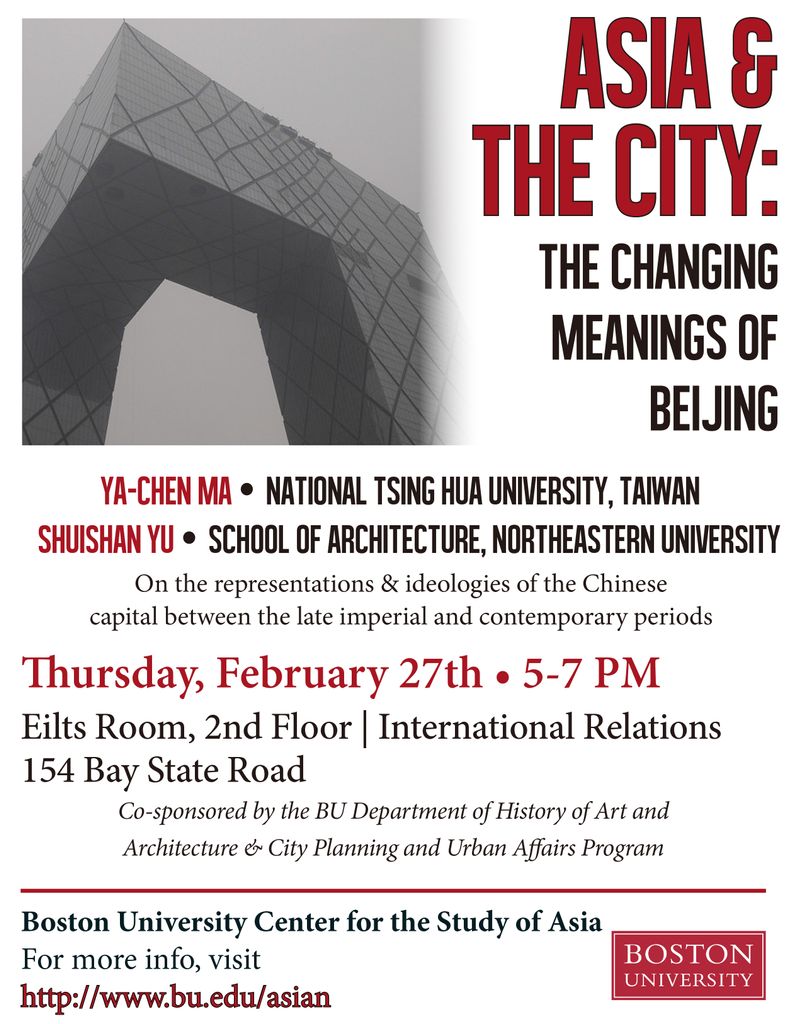 Co-sponsored by the BU Department of History of Art and Architecture & City Planning and Urban Affairs Program, BU Metropolitan College
In this forum, part of the "Asia and the City" BUCSA yearly series, two short presentations will highlight the changing nature of the Chinese capital between the late imperial and contemporary periods, followed by a conversation with Boston University faculty.
BU Hosts: Professors Alice Tseng, Paolo Scrivano, Eugenio Menegon, Cathy Yeh, Enrique Silva
Speakers:
Professor Ya-chen Ma
Institute of History, National Tsing Hua University, Taiwan
Visiting Scholar, Fairbank Center for Chinese Studies, Harvard University
"Capital Reimagined: Beijing as the Center of Time and Space and Its Imagined Other"
 Embedded in the intensive visual interactions between the court and local societies in the eighteenth century, Beijing could not be projected as a political center without marginalizing the provinces. Measuring more than 8 feet in width and almost 8 feet in height, Xu Yang's (c. 1712-a. 1779) the painting "Springtime in the Capital" was commissioned by the Qianlong emperor to redefine the capital as the center of time and space in the Qing empire. This presentation examines how Beijing was constructed pictorially as a magnificent imperial capital through reference to its imagined Other, the southern city of Suzhou, and the provinces.
Professor Shuishan Yu
School of Architecture – College of Arts, Media and Design
Northeastern University
Author of Chang'an Avenue and the Modernization of Chinese Architecture, University of Washington Press, 2013.
"Cutting the Dragon Vein: Modern Transformation of Imperial Beijing"
Dominated by a north-south axis,  Ming-Qing Beijing featured a concentric plan with layer after layer of walls and gates, screening the invisible center of power away from public view. Lining up all symbolic structures legitimizing the Mandate of Heaven, this axis was known as the "Dragon Vein." The modern transformation of Beijing had been posed as an antithesis to such an imperial urban model, tearing down the walls and gates and cutting the dragon vein with big avenues. Yet like the imperial model, the modern urban space strengthened the centralization of power rather than weakening it. Analyzing the metamorphosis of Beijing in the mid-twentieth century focusing on its old and new axes, this presentation demonstrates how the imperial framework affected the modern transformations of Beijing and its political implications in the current development.
Location: Eilts room, Department of International Relations, Boston University, 154 Bay State Road (2nd floor)
Time:  Thursday, February 27, 5-7 PM