The Japanese Story at Boston University
If you walk through the back court of the George Sherman Union on any given Friday, you are likely to encounter a sizable group of Japanese and American students laughing and talking in Japanese and English. The weekly language exchanges between CAS (College of Arts and Sciences) and CELOP (Center for English Language and Orientations Program) students allow participants to practice their languages with native speakers outside the classroom. They afford American students a more direct experience of Japanese culture than they are likely to encounter through more traditional means of language study in a classroom setting.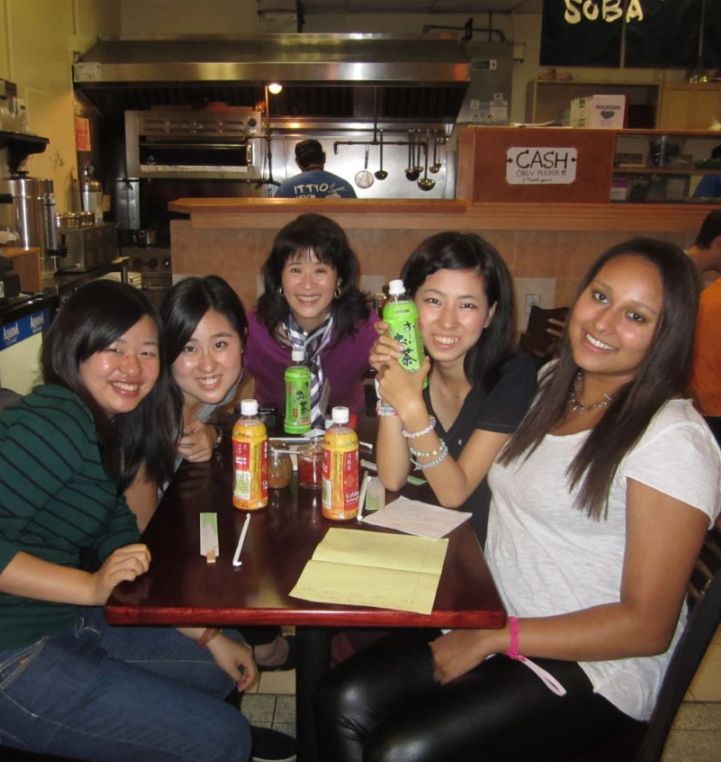 The Japanese and English Language Exchange Lunches were started by Mariko Itoh Henstock, Senior Lecturer in Japanese at Boston University, to bring together students taking Japanese language at BU and visiting students from prestigious Japanese universities such as Waseda, Ritsumeikan, and Hosei, in collaboration with Felix Poon, Academic Program Coordinator at CELOP. The lunches offer space for enthusiastic discussions in an informal way, and provide a great way for both groups to make new friends.
Mariko Henstock has been teaching at BU since 2002, after having taught Japanese language and culture at other universities.  Henstock also coordinates the Japanese program's outreach and co-curricular activities, connecting BU to other universities and communities in the Greater Boston Area and organizing a bi-weekly Japanese film series every semester. While the language exchanges are geared to students studying Japanese, the films are subtitled and open to students with broader interests in Japan or who just want to see a good film. Henstock is also the advisor to the BU Japanese Student Association (JSA), supporting job-related business events and cultural programs and facilitating exchanges with Japanese language students. Each year, she prepares students for the Boston area Japanese speech contests, which motivate students to hone their skills in speaking Japanese.
To put it in Mariko's own words, "we can potentially change people's lives, and I think we have succeeded in that regard for a number of students. There are so many problems internationally; if we can make a difference, one person at a time, and help form friendships, then that's just a wonderful gift."
Indeed, interest in Japan has been growing since Japanese was established as a major in 2004 at Boston University. More and more students are interested in Japanese culture and language, with many intending to study abroad in Japan or work there after graduation for the JET program where students can be English teaching assistants in Japanese public schools. At BU, there are now about 30 students majoring in Japanese and another 30 students minoring in Japanese, and many signing up for the new joint major in Japanese and Linguistics. This fall 2013, 341 students enrolled in Japanese courses, with a usual number of 500 to 600 students enrolled in Japanese language and literature courses each academic year.
Aside from the globalization and growing awareness of Asian cultures around the world, the fast growth of student interest and involvement in the Japanese Program at BU is sustained by the efforts of the BU Japanese program faculty. Many serve not only as teachers of Japanese, but also mentors for students, organizers of student activities, and affiliated faculty at Boston University Center for the Study of Asia (BUCSA).
Sarah Frederick, Associate Chair of the Department of Modern Languages and Comparative Literature and Associate Professor of Japanese at BU, specializes in 20th century Japanese literature, and the relationship among mass media, modern literature, gender and culture. Aside from teaching a Japanese culture and film class this semester and directing an independent study in Japanese literature, Sarah is also on the Board of the BU Center for the Study of Asia (BUCSA), and on the Executive Board of the Kyoto Consortium for Japanese Studies, of which Boston University is a member.
Frederick describes the thriving Japanese Program at BU over the past decade:
"While many expected that the study of Japanese would decline as Chinese became more popular, we have found this not to be the case. In fact, more and more students at BU are studying more than one East Asian language during their time here. As high school programs in the US in Mandarin and Japanese become more established students start to have leeway to reach a higher level of proficiency in college, and take another language, major in Comparative Literature, or do advanced work beyond the basic language program. We have developed greater variety at the advanced language level, and students are learning classical Japanese, taking literature courses in Japanese, studying translation and interpretation, and learning about Japanese culture in the language. Compared to many programs in the US where the literature and language programs are quite separate, we coordinate closely and a major in Japanese language and literature combines a high level of language proficiency with in-depth training in literary analysis. Often I find that students who think they are only interested in the language really love the literature classes, including the general requirement in Comparative Literature where they might study Middle Eastern, South Asian, or European literatures for a semester."
At BU, there are also a number of important translators on the faculty of the Japanese program, which makes a strong aspect of the BU Japanese program. Anna Zielinksa Elliott, Senior Lecturer and Head of Japanese is Murakami Haruki's translator into Polish, and she teaches the translation and interpretation course at BU. This fall she taught a class on Murakami, and over the years she has taught all levels of Japanese language. Associate Professor Keith Vincent, along with prolific literary critical work, translates fiction (including Okamoto Kanoko) and cultural criticism (including Natsume Soseki and Saito Tamaki), and has worked to facilitate dialogue on literary translation, queer theory, and feminist studies between the US and Japan. He recently won the Donald Keene translation prize. Another faculty member who bridges cultures and languages in her work is Associate Professor Wiebke Denecke. A Chinese and Japanese literature specialist also proficient in a number of other languages, Denecke has worked on Sino-Japanese poetry, written by Japanese poets in Chinese. Her comparative work on the parallels between Greek and Latin literature, and Chinese and Japanese literature, is groundbreaking. Her passion for pre-modern East Asian literatures is also inspiring to students, who take classical Chinese and Japanese with her in growing numbers.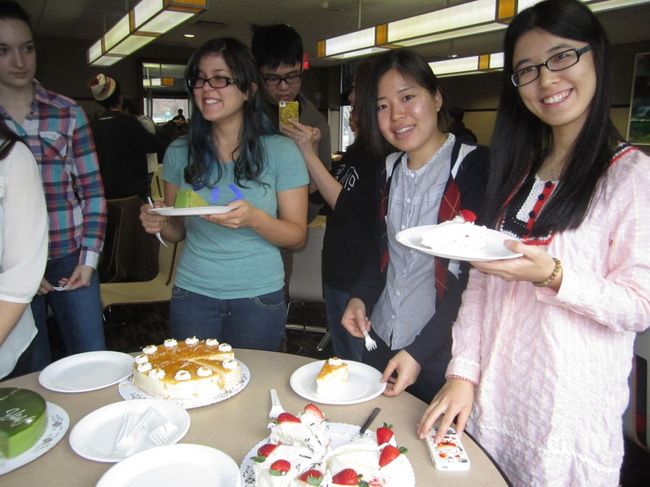 While this essay touches upon many aspects of the Japanese program at BU, the information provided here is by no means exhaustive. There are many other faculty members in the Japanese program and Japanese studies faculty in other departments working to build and support the program, together with BU Center for the Study of Asia (BUCSA). With efforts from around the BU campus, the Japanese Program at BU sees a future with more students learning Japanese, and benefiting from acquiring a second language in an internationalizing world.
For a more detailed description of the requirements for the Japanese major and minor, please visit here.
For more information on the courses in Japanese language and culture BU has to offer, please visit here.