EVENT REVIEW: 100,000 Strong Discussions at Boston University
The Center for the Study of Asia hosted discussions about expanding the number of American students studying in China on February 27, 2013, at the Boston University Castle. BUCSA Director Eugenio Menegon welcomed those attending to participate in two discussion sessions. The first focused on pre-college study in China programs, and the second on university study in China programs.
The 100,000 Strong Idea
President of the 100,000 Strong Foundation, came from Washington DC, to participate in the conversations. Before Secretary of State Hilary Clinton launched the 100,000 Strong Foundation in a ceremony at the U.S. Department of State on January 28, 2013, Ms. McGiffert directed the 100,000 Strong Initiative within the U.S. Department of State. Recognizing U.S. lack of preparedness to engage China, America's chief strategic partner and rival, President Obama and Secretary Clinton established the 100,000 Strong Initiative to raise the number of American students studying in China to 100,000 over the four year period between 2010 and 2014. By founding an independent non-profit foundation to support the goals of the initiative through public/private partnerships, Ms. McGiffert and her team have established an on-going institutional base outside of government for pursuing the 100,000 Strong agenda.
Massachusetts
The key idea that emerged from the discussions at the Castle was to work toward a partnership between the state's educators and the national 100,000 Strong effort. Four cities currently have partner relations with the national 100,000 Strong effort: Seattle, Los Angeles, Chicago, and Washington, DC. San Francisco is about to become the fifth partner, and Boston would be the sixth. Massachusetts is the first state to seek a state-wide partnership with 100,000 Strong to increase opportunities for students throughout the Commonwealth to study in China. The idea for such a partnership developed at a conference at Boston University in January, 2012, as an expression of interest from then Massachusetts Secretary of Education Paul Reville. The conference brought together representatives from many of the state's twenty or so exchange programs in Massachusetts, as well as representatives from a number of other states and Deputy Director of the 100,000 Strong Initiative Kimberly McClure. The conference studied the incipient strength of Massachusetts in developing and implementing exchange programs in China at the pre-college level.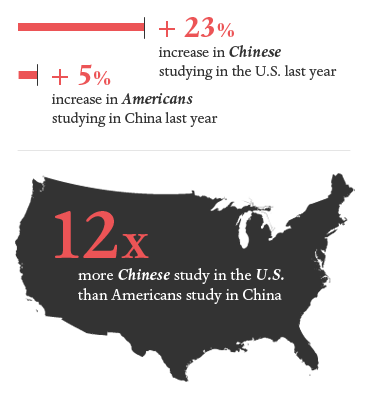 The discussions with Ms. McGiffert at Boston University were aimed at expanding and strengthening opportunities for a variety of Massachusetts students to study in China. The Boston component was one of three discussed during Ms. McGiffert's visit. The other two components, discussed the following day at B.U., were the Gateway/Pathways to China concept for Massachusetts students in smaller cities outside of Boston, and enhancement of Boston University programs for study in China.


Boston in China
Prior to the Boston University conference in 2012, education officials in Boston Mayor Menino's office met with 100,000 Strong deputy director Kimberley McClure to discuss study in China options for Boston public school students. Subsequently, Ms. McGiffert met with teachers and administrators in the Boston Public Schools on February 26, 2013, to provide the foundation for a Boston city partnership with the 100,000 Strong Foundation. Three key program ideas emerged from that discussion. First, an expansion of the already successful six week summer program for eight Boston high school students in Beijing was proposed. Funding for this program currently comes from U.S. business persons working in Beijing, known as Americans Promoting Study Abroad (APSA). Second, Boston expressed the desire to begin a semester long opportunity for Boston students coming from a range of the city's high schools. Third, expanding the programs of the Snowden International School in the Back Bay was also discussed.
Gateway/Pathways to China
Governor Deval Patrick of Massachusetts has identified two dozen "Gateway Cities" in Massachusetts with smaller populations than Boston, but with below state median income levels and with diverse populations reflecting their heavily immigrant compositions. The Massachusetts Governor and Secretary of Education have targeted the Gateway Cities as places to narrow the achievement gap between socioeconomic groups. Mitchell Chester, Massachusetts Commissioner of Elementary and Secondary Education, attended the February 27th meeting at Boston University and recently was part of people to people exchange consultations in China. Commissioner Chester expressed firm agreement with Ms. McGiffert's view that opportunities for Gateway students for study in China would provide for both "diversification and growing the pipeline" with high school students studying Chinese before their college years.
Todd Whitten, Chair of Social Studies at Burlington High School, discussed his successful model of sending high school students to China for 2-4 weeks through the Pathways to China program that he has developed and run successfully. The Pathways model includes detailed preparations before and follow up afterward with instructional modules completed by all students involved in the experience. A Pathways China summer study program beginning in the summer of 2014 for 50 well-selected and well-prepared students and 10 teachers from five of the twenty-four Gateway Cities was proposed. In a preliminary way, five Gateway Cities were discussed that have already expressed an interest in China: Brockton, Springfield, and Quincy have established Chinese language programs; Lowell and Malden sent representatives to the January 2012 China Exchange Conference. A follow up meeting was held in late March to pursue further planning for the Gateway/Pathways to China (GPC) collaboration.
Boston University in China
During the second session at Boston University, Ms. McGiffert discussed the importance of study in China programs at the university level, and gave examples of 100,000 Strong cooperative programs involving Morehouse and Eureka Colleges and Northwestern, Gallaudet, Virginia State, and Western Illinois Universities. Boston University currently has an active and successful program of language study and internships for undergraduates at its Shanghai Center based at Fudan University, as well as research relationships at Renmin University in Beijing and at the Chinese Academy of Social Sciences.
In the discussion about how to enhance and upgrade Boston University study programs in China, three specific ideas were discussed. These included enhancing teacher training programs with study in China opportunities, increasing summer study options in China with funding support, and sponsoring short term research opportunities in China for undergraduates during term time.
A range of Boston University teachers and administrators took part in these discussions, including Arts and Sciences professors Joseph Fewsmith and Eugenio Menegon, Global Programs strategic director Jill Costello, director of Language Instruction Gisela Hoecherl-Alden, Study Abroad academic director Debra Terzian, ASIABU student officers Lisa Kelley and Lee Veitch, and BUCSA visiting researchers Charlotte Mason and Grant Rhode. Dean Coleman and Professor Ellenwood of the School of Education were unable to attend but are involved in follow up discussions.
The Way Forward
The meetings on February 27th at Boston University point the way forward to developing programs that may make it possible for Massachusetts to lead the country with a state-wide effort to increase Chinese language training and study in China at both the pre-college and at the university levels. The three components discussed here, enhancing Boston public school programs, establishing new Gateway City public school programs, and enhancing Boston University programs, would build on already significant existing pre-college and university programs in Massachusetts. These efforts would push the state's capability toward preparing students for understanding Chinese language and culture, and participating effectively and successfully throughout their careers in the strategic U.S.-China relationship.
Submitted by:
Grant F. Rhode, PhD
Visiting Researcher
Center for the Study of Asia