Humanistic Buddhist Monastic Life Program in Taiwan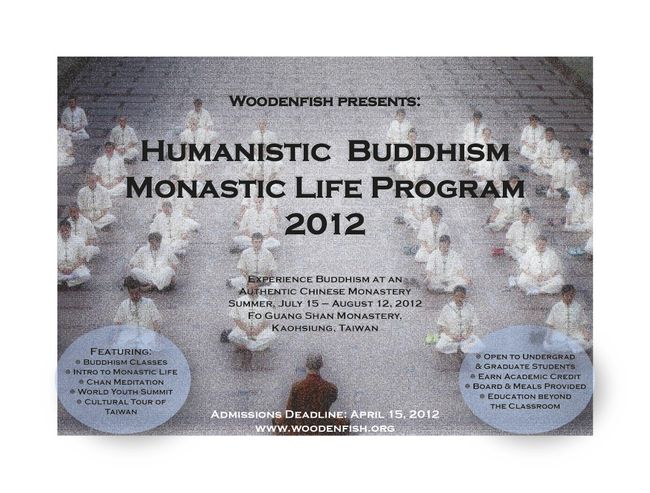 The Woodenfish Project's tenth year of the "Humanistic Buddhist Monastic Life Program" (HBMLP) in Taiwan will run from July 15th to August 12th, 2012.
Over the past nine years, the Woodenfish Project has offered undergraduate and graduate students the rare opportunity to extend their learning beyond the classroom, by experiencing authentic monastic life at Fo Guang Shan monastery in Taiwan. Dozens of Woodenfish alumni have continued on to pursue graduate studies in related fields.
For the past three summers, Woodenfish has also been offering another program, "Buddhism in China", to bring scholars, graduates and upper-level undergraduates to the historical sacred mountains and famous temples of China. This program provides a great opportunity for scholars and students in Chinese studies to experience firsthand the development of religious culture in China.
Students with an emphasis on the fields of Buddhism and Chinese culture or language are strongly encouraged to apply. There will be a rolling admissions process for both programs, with the same final application deadline of April 15th, 2012.
If you have questions, please contact the program coordinators at woodenfishproject@gmail.com or write to Dr. Yifa, Director of the Woodenfish Project, at yifa@uwest.edu.