Annie Houston ('11)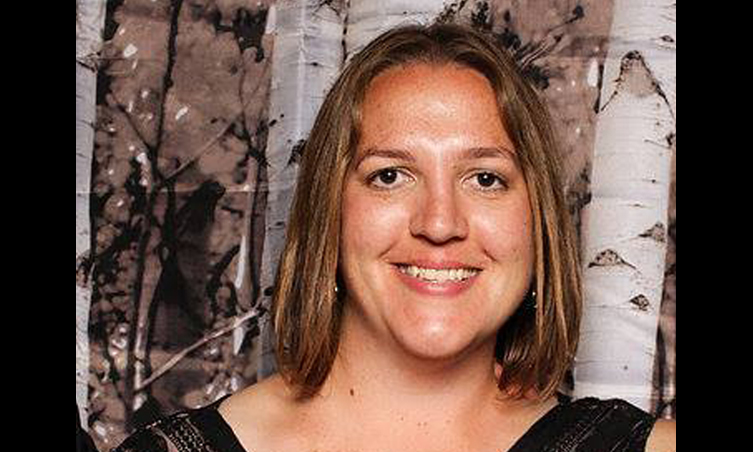 Annie Houston ('11), talks about her work at the Massachusetts Cultural Council, Jenga, and how to make people smile while working for THE STATE.
Annie Houston graduated from B.U.'s Masters in Arts Administration program in 2011, and received the program's Excellence in Graduate Studies Award.  She is currently a Program Officer for the Adams Arts Program and Cultural Districts Initiative at the Massachusetts Cultural Council, and has also worked on the Cultural Facilities Fund and Local Cultural Council Program.  Prior to joining the MCC, Houston was the General Manager of the Boston Camerata.  She teaches English as a second language at Chelsea Community Schools, and holds a B.A from the University of Vermont, having majored in Italian Studies and French.
Annie answered a few questions via email from Arts Administration graduate student, Alexis Grabowski:
Alexis Grabowski (AG): Could you begin by describing a typical workday at the Mass Cultural Council?
Annie Houston (AH): I can't really say that there's ever a typical workday.  I'm the Program Officer for two programs (Adams Arts Program & Cultural Districts Initiative), so my To Do list has a lot of variety during any given time of the year.  Some days the items on that list are extremely engaging and stimulating (for example, developing and carrying out a one-on-one workshop for newly designated cultural districts).  Other days, the items make me wistful for anything even remotely more exciting (i.e. back-filling 500+ contacts on a spreadsheet to try and streamline the ways we capture Cultural District Partner data).  That's one of the key understandings in this field, is that there's no task "below my pay grade" — you need to be willing to do everything, from the exciting to the mundane, because they're mutually dependent.  I can say, without a doubt, that the most rewarding and enjoyable part of my job is when I'm in the field meeting with the individuals and organizations who make Massachusetts a bastion of creativity.
AG: You're a self-described policy wonk and arts advocate, which requires strong engagement with both government agencies and the public. Could you describe your approach to building and maintaining productive relationships in the field?
AH: For me, it's all about being curious and making connections.  I read a lot to try and stay current with what's going on in the field and elsewhere.  When making connections, I ask a lot of questions and figure out all the ways in which I or my work can relate and where it can't, to determine either future collaborations/conversations or identify areas where I should focus some of my curiosity to learn more.  Follow-up is important — it's good to reach out and say something along the lines of, "Pleasure meeting you.  Great to talk about [insert subject here].  Let's collaborate *or* let's stay in touch about our work" etc.  Try to avoid saying you'll follow up with someone and then never do it — we're human, it happens, but if the intent isn't there, then don't set the expectation to begin with.  It's easier to send an email that says, "You may not remember me, but…" than, "Hey, I know I said I'd follow up months ago, and didn't, but now here I am…".
AG: Did your studies at Boston University help you focus in on a particular skill-set, or open you up to new ideas about your career?
AH: As much as education helps open you up to new ideas, it also helps clarify direction — Lew Karabatsos' class on Individual Fundraising was phenomenal, and I'm glad I took it, but after that class it was clear for me that I did not want to go into Development.  I have tremendous respect for everyone who works as fundraisers — it's a difficult and essential job.  When I went into the program, I was certain that I'd work in an organization serving youth.  However, I started the program as the Great Recession got underway, and the true reality, still today, is that we need to be flexible with the job market and take advantage of opportunities that may be out of our initial scope of a perceived dream career.  I hadn't seriously considered working on the government side until I started at the MCC, and now it's completely shaped the direction of my career.  And, it goes without saying that I wouldn't have the job I have now were it not for my education.
AG: Do you have a career bucket list, and if so, would you mind sharing a few aspirations?
Pragmatically, my career bucket list is to stay employed, maintain health insurance and build a relatively stable retirement savings. Now that I've said the bit that will make my parents feel like I'm all grown up (though I do mean all of those things), if I were to shoot for the stars (and risk being quixotic), then I'd love to chair the NEA or work for UNESCO.  Overall, I want to stay challenged by, invested and engaged in, and passionate about what I do.  If I'm able to more or less maintain those elements over the next 40 years or so, then I'll consider my career bucket list fulfilled.
AG: Working with the MCC, especially in today's climate of erratic arts funding, must be challenging at times. How do you stay focused and motivated in moments of uncertainty?
Jenga.  A few years ago I brought a Jenga set into the office, and I highly recommend that everyone do the same.  In all seriousness though, the way I see it is we're not performing brain surgery here.  The arts in general are never going to die and go away, with all of us administrators wringing our hands saying, "Well, we tried our best." There will always be opportunity to create, and to support those who are creating.   That's what keeps me motivated — I may not always be at the MCC, but there will always be a way for me to work with creative individuals and organizations.
AG: What is your best, superhuman skill, and your kryptonite?
My best, superhuman skill is a quick sense of humor and ability to make people laugh.  This doesn't sound like much, but it's extremely important.  The MCC works hard to establish relationships with our grantees and applicants, and assure them that we're not "THE STATE".  Bringing a smile to someone's face goes a long way in that effort, and it keeps things light around the office, too.
My kryptonite is that I want to do everything, which leads to overscheduling myself and/or not giving myself adequate downtime to process.  I don't like declining invitations to events or projects, much less missing out on them, so it's a delicate balance that I'm still working on.
AG: For current students – what are the best resources in Boston to take advantage of? Be inspired by?
My advice for current students is to not become Boston-centric in your cultural consumption.  Explore: get a zipcar and a group together and road trip to Jacob's Pillow or MassMOCA for the day.  Check out the armory collection at Worcester Art Museum, and go to the Lowell Folk Festival.  I say all this because it's important to see how communities provide cultural experiences outside of the context of Boston — this state has an embarrassment of riches when it comes to the arts.  The more you explore and participate, the more you can connect your studies to your work and why the arts truly make a difference in every community.  If you need help finding things to do or see, check out our various funding lists, or visit ArtsBoston and the new festivals section of their site.
Interview conducted by Alexis Grabowski