Phase 2 of COVID Vaccines Is Here: What It Means for BU, and You
COVID-19 Vaccine
Phase 2 of COVID Vaccines Is Here: What It Means for BU, and You
When, or if, the University will receive more doses remains uncertain
After administering COVID-19 vaccines to some 500 healthcare workers and COVID-facing support staff in mid-January under the state's Phase 1 vaccination plan, BU is now awaiting more vaccines to administer the remainder of Phase 1. But less certain is when, or if, BU will receive additional doses for the state's much broader Phase 2, set to begin on February 1.
University officials say they remain hopeful the state will supply BU with doses for Phase 2, so it can immunize thousands of faculty, staff, and students, and that preparations for giving more on-campus vaccinations are continuing. But they also recognize that the state appears to be prioritizing providing vaccines to the growing number of mass vaccination centers it's opening across the state (including one just off campus at Fenway Park), amid rising concerns that Massachusetts has been slower than other states to administer its supply from the federal government.
Because of all the uncertainty, members of the BU community are urged to sign up for the vaccine wherever and however it is most convenient for them when they become eligible under the state's prioritization plan, rather than wait for a possible BU vaccination. (Note: BU is vaccinating only members of the BU community, not dependents.)
Under Phase 2 of the state's vaccination rollout, those 75 and older can begin receiving COVID-19 vaccines on February 1. Additionally, anyone 65 and older will move up in the priority order to be in the next phase, along with people of any age who have two or more comorbidities. After that, the state has a detailed list of which workers and groups will be prioritized for the vaccine in Phase 2. That link can be found here. All those under 65, with no comorbidities, and who are not in prescribed public-facing jobs, will be in Phase 3, which is expected to begin in April.
To find out if someone qualifies for the vaccine based on underlying health conditions—so-called comorbidities—BU emailed a short survey Monday to faculty, staff, and students who may qualify for a Phase 2 vaccine, asking them to identify if they have one or two or more of the comorbidities that appear on the Center for Disease Control and Prevention (CDC)'s list. It's also important for survey respondents to state if they have any high-risk health conditions or live in low-income or affordable senior housing. The survey will help BU get ready to give on-campus vaccinations. People should submit the survey by February 5 to allow the University to put everyone in their appropriate Phase 2 grouping and know how many total doses it must request from the state.
Find a detailed look at BU's own vaccination priority schedule on this chart.
In a wide-ranging conversation with University leaders, including Judy Platt, director of Student Health Services, Ann Zaia, director of the Occupational Health Center, and Ken Freeman, vice president for human resources, BU Today sought answers to these questions and many more.
One point that everyone stressed: it's imperative to monitor your BU email in the coming days and weeks more frequently than usual for alerts about your eligibility for a vaccine.
Q
&

A
With Judy Platt, Ann Zaia, and Ken Freeman
BU Today: Will the Phase 2 delay of vaccines affect BU's ability to continue with its current program of vaccinating members of the community who are eligible under Phase 1 of the state's plan?
Judy Platt: No. It will not affect our vaccination program as it relates to Phase 1. BU remains authorized to continue to request doses for unvaccinated individuals who are in Phase 1, and we have done so. Although the state has not yet been able to provide us with the total number of doses we need to cover everyone in Phase 1, as additional supplies arrive, we will make them available to as many remaining Phase 1 individuals as possible.
If and when BU receives more doses of a vaccine, how will it be decided who gets the vaccine when?
Platt: The state has a detailed vaccine distribution timeline (found here) that has three phases, and the state is now expanding into Phase 2. Within each phase it has provided a list of subgroups, or subphases, that are eligible to receive the vaccine in the order they appear on the state's list. Priorities are based on many factors, such as a person's occupation, age, and underlying health conditions, which are being called comorbidities now. People 75 and older are at the top of the list, and later in Phase 2, individuals with one or more comorbidities will also be eligible for vaccination, as will custodial staff and those who work in Dining, and convenience store workers, among others.

BU has to follow the state's timeline and determine eligibility on campus based on that. Once we have placed students, faculty, and staff into their appropriate group, that's when we will prioritize people within that group based on their COVID-19 testing category [Categories 1, 2, 3 or 4]. People will then be invited to go online and sign up for a vaccine appointment. That will be on a first-come, first-served basis, which is why it's so important that people monitor their email regularly.

Our ultimate goal here is to create a campus environment that is as safe as possible to come back to, while also prioritizing those who are on campus most often and who interact most frequently with others.
We hear a lot about comorbidities, or underlying health factors, that might put a person at greater risk of contracting coronavirus and suffering from it more severely. If I have a comorbidity—such as cancer or heart disease or pregnancy—do I have to disclose it to the University? Or can I prove my eligibility for the vaccine some other way?
Ann Zaia: BU is not requiring people to provide medical documentation of their comorbidities. It will be self-attestation, with no need for specifics. You will just have to indicate that you have one or two or more, and health officials will trust that input. There will be a list of comorbidities that people can see so they can be certain if they have at least two on the list. While BU knows how old people are and what their job function is, we do not keep records of the medical conditions the CDC identifies as putting people at increased risk of COVID-19.
Just to be clear, I don't have to worry about how the University protects any underlying health conditions I might have?
Zaia: Correct. BU is not asking for personal information. Self-attestation, that's all. Just say one or two or more comorbidities. But BU is not checking for more than that.
Are you worried at all about people being honest about their comorbidities, or attempting to jump the line?
Platt: We have to get the highest risk people vaccinated. They are the most vulnerable and the most likely to get the virus. And they may in fact protect people in other groups as we move toward herd immunity. At the end of the day, we all have to look at our own morals and ethics. This is not simply checking a box. This is certifying you read this and attest the information you provide to BU is accurate and honest. It means you were thoughtful and truthful about this.
What will people need to do to prove they are eligible and fall within the new priority categories?
Ken Freeman: For age and job function, BU has that information through Human Resources—75 and older is straightforward and so is 65 and older. Eligible people will be identified and sent an email through Healthway to indicate that they are being called for a vaccine.

We expect the brief survey being sent to faculty, staff, and students will give us the balance of the information we need to determine who is eligible based on comorbidities. Once we have compiled all the information, we'll know how many vaccine doses to request of the state.

The one important note is that Massachusetts requires that for anyone to get the vaccine, you must live, work, or study in Massachusetts.
What happens if I turn 75 or 65 after the start of Phase 2, but before Phase 3 starts? Do I need to meet the age requirements by the first day of Phase 2 (February 1), or will there be some kind of rolling process where I can sign up during Phase 2 when I reach that age?
Freeman: In order to be eligible based on age in Phase 2, you need to be 65 or older by April 1. If you are, BU will automatically include you in the correct subphase. You will not need to attest to that, or let BU know, since we have birthdays in the system.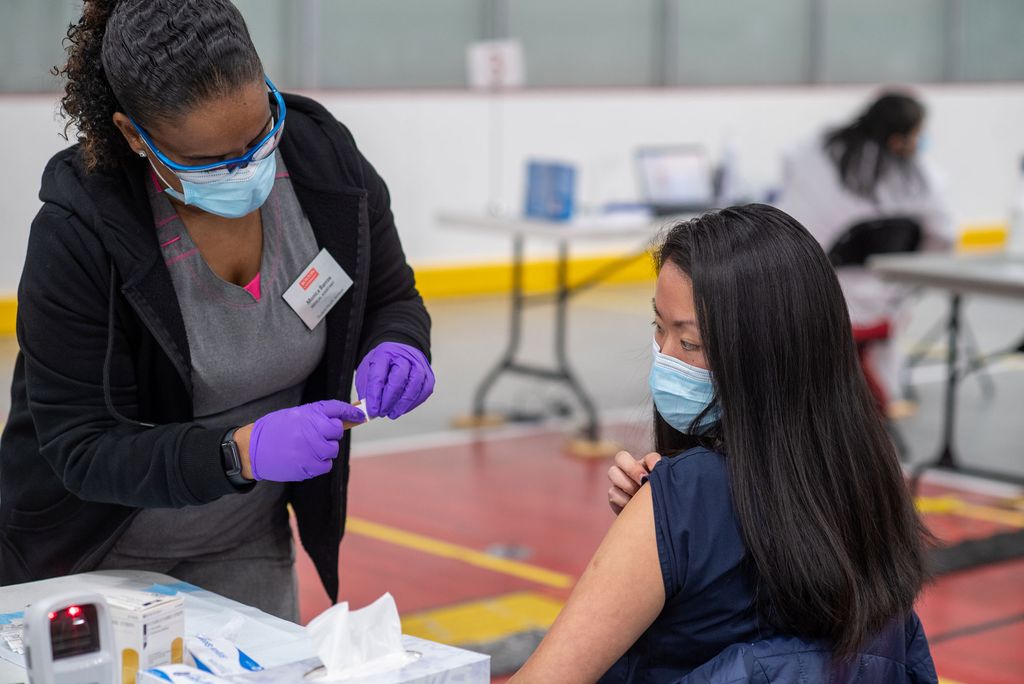 So people do not have to act first in order to be notified by BU? The University will take the first step?
Zaia: The only proactive piece is the self-attestation on comorbidities. That's all. And people can easily provide that through the Healthway survey. So everyone should look for that Healthway email and respond as soon as possible.
Are you confident BU will get enough vaccine doses for everyone in this next big phase, and do you know exactly how many doses the University needs?
Freeman: BU is working on its lists and getting the numbers together. Some categories, BU has very specific numbers for. But we just don't know how confident we can be as to whether the state will provide all the doses we need. All we can do is determine the number of people eligible under each phase, which we are doing, and work closely with the state to secure that number of doses. Of course we want to immunize the entire BU community, but we are dependent on the state and availability of vaccines.
And within one group like that, how will BU prioritize?
Platt: We will prioritize by following the phases and subphases laid out by the state and then placing people into their respective groups. But within the state's subphases, we will prioritize people based on their BU COVID-19 testing categories. Once we have done all that, people will be invited to sign up for appointments, which will be taken on a first-come, first-served basis.
And if the allotment does run out before a person signs up?
Platt: Their name will be moved into the next phase. But it's still first come, first served, so they will still have to watch their email for the notification and sign up to receive their dose.
Does BU have any flexibility at all to interpret the state guidelines as the priority list expands?
Platt: As a state-designated vaccine distribution site, BU will adhere to the state's guidelines as closely as possible. But there may be times when the state is moving slower than the University, so if the state is still in one subphase and BU is ready to move on to the next subphase and has available vaccine, the University will coordinate with the state moving forward, because we do not want to wait and potentially waste any doses.

Freeman: While we will identify those who are eligible due to age or job function, we also need you to identify yourself as someone with high-risk health conditions or someone who lives in low-income or affordable senior housing. These answers on our survey will help us assure the most equitable rollout possible.
Students provide a tricky question. Much of the BU student population may be on campus for their first dose, but then go home before their scheduled second dose. If I will not be present for the second dose, can I still get my first dose at BU?
Platt: A lot of schools are struggling with this question. In an ideal situation, you receive the first and second dose at the same site. But BU does not want someone to miss having the opportunity to have a vaccine just because they will not be there for the second dose. There is still a little time for more details on that, as Phase 3 is not scheduled to begin until perhaps April.
Say that I'm in BU's Category 4, meaning I am entirely remote, but I have underlying health problems that should qualify me for a vaccination. What arrangements do I have to make to come to campus to be vaccinated?
Zaia: This is where filling out the survey will be especially helpful for us, and identifying yourself as having one or two or more comorbidities. BU is recommending, but not requiring, that people in Category 4 have tested negative before coming to campus for a vaccine.
So far, BU has said the vaccine is not mandatory for the BU community. Is that still true?
Zaia: Yes.
And will the vaccines be administered at FitRec, just like Phase One? And what about the Medical Campus?
Platt: Yes, Boston University COVID-19 vaccine clinics will be held on the Charles River Campus at the 3-Court Gym at FitRec, and people from the Charles River Campus and Medical Campus can make appointments to be vaccinated there once they become eligible and BU has sufficient doses to administer.

Everyone should enter through the entrance across the street from 25 Buick Street. For disability access, use the Dance Theater entrance on Buick Street and for motorized chair access, the main entrance for FitRec is best.

For members of the community who work or live near the Medical Campus, our understanding is that Boston Medical Center (BMC) is seeking to be designated by the state as a mass vaccination site, such as Fenway Park and Gillette Stadium. It's not only convenient, but as a hospital, BMC may get additional vaccine doses before BU does, so people are encouraged to make appointments there.

Just being affiliated with BU, however, will not give you preferential placement for a vaccine from BMC. Everyone has to go through the hospital's application and documentation process, which is different from BU's. But given vaccine shortages and our own uncertainty regarding when the University will get more doses for the BU clinics, we strongly encourage people to consider BMC, or any mass vaccination or other authorized site.
Regardless of where I get my first shot, can I get my second dose at BU if you get supplies, or anywhere else for that matter?
Zaia: You should get your second dose at the same place you got your first dose.
If I am unclear which phase or tier my job description puts me in, should I email someone? Or just wait to be contacted by BU telling me that I am now eligible for a vaccine?
Zaia: Wait. In BUWorks (SAP) there will be a tile you can check to see which phase you are in.
Which vaccine will I get?
Platt: We received Moderna's from the state to vaccinate those BU community members in Phase 1. The state recently informed us that they are experiencing shortages of the Moderna vaccine, and we may receive Pfizer-BioNTech's vaccine in our next shipment. Once we place our Phase 2 request with the state, we'll know more about which vaccine we will receive and administer. Individuals will not get to choose, and your second dose will have to be the same type of vaccine as the first.
There have been sporadic news reports that some places are thinking about stopping use of the Moderna vaccine because of issues associated with severe allergic reactions. What have you heard and is BU planning to pull back from using that vaccine?
Platt: There has been a lot of media attention devoted to allergic reactions, but it does not appear there is a reason at this time to suspect a problem with the Moderna vaccine. BU's Medical Advisory Group is monitoring the safety of the vaccines based on the latest literature.
Can you help people understand why K-12 educators are vaccine-eligible in Phase 2 (February, March), but higher education workers, including administrators, teaching, and nonteaching staff, are in Phase 3 (April)?
Platt: Anyone can make the argument that kindergarten students and 12th graders are different. But the main point is to just maintain a physically distant environment, and that's harder in kindergarten or elementary school, where some schools are not even set up with six feet of space between students, but only three feet. The state seems to be prioritizing in-person learning for younger demographics.

It's important to remember that in the third grouping of Phase 2, faculty, staff, and students who teach or serve K-12 will become eligible for the vaccine.
If I work in BU food and beverage services, but my particular facility has been temporarily closed by the institution, limiting my contact, what does that mean for my eligibility?
Zaia: It shouldn't impact it as long as that venue is going to open.
There have been stories about vaccination centers having extra vaccines because many eligible people choose not to be vaccinated. If that happens at BU, how will the University decide who gets the extra vaccines in a batch to avoid it being wasted?
Platt: Extra vaccines are challenging. We are still determining the best way to put together a stand-by list, so that if BU is ready to go on to the next priority subphase ahead of the state's pace, we can be ready to use any extra vaccines and make sure they aren't wasted. Those vaccines should be in somebody's arm to move along in those categories.

Zaia: In our first round, we were recalculating the number of doses in the vials very frequently, which is how we were able to call names off the list. Reconciliation is being done very quickly and in real time. This is like liquid gold. I think about it as if every dose was going to one of my own family members.
If someone has an opportunity to get a vaccine someplace other than BU, should they do that?
Zaia: The sooner the better, and any member of the BU community who does get vaccinated elsewhere should be sure and notify us so we can track the percentage of the community that's received a vaccine. If an employee provides the documentation to BU, at OHC@bu.edu, we can input that into their medical records.

Platt: Students know the steps even better than I do, as far as uploading documents into their medical records. For the flu shot, we don't say you have to get it with us. If you are able to receive the vaccine elsewhere, then that's fantastic. Students should upload their vaccination documentation to Patient Connect.
Will the vaccines BU is using work against the new strains of the virus?
Zaia: We believe the answer is yes, although they may not be quite as effective.
Will the vaccines cost me any money?
Freeman: BU's health plans will cover the cost of administering the vaccine for participants and their dependents covered under the plans. If you receive a vaccine from your primary care physician or at a public vaccination site, you will likely be asked to provide your health insurance information.
Should someone who might be hesitant about taking the vaccine talk to Student Health Services or to Occupational Health?
Zaia: We can't give patients specific advice. We advise faculty and staff to talk to their primary care physician. Students, yes, they can talk to Student Health Services.
Were there any lessons learned from administering the Phase 1 vaccines over at FitRec that can be applied going forward?
Zaia: The clinics went unbelievably well. The only thing we identified were that seats in the observation area were not that comfortable. If that's the worst thing that happened, I would say we're doing pretty good.
Students who have nonmedical questions about the vaccination program may email healthwayhelp@bu.edu. Faculty and staff who have nonmedical questions about the vaccination program may email covidhelp@bu.edu or call 617-358-4990 weekdays from 9 am to 5 pm. Students, faculty, or staff who have medical questions related to the vaccine and postvaccination side effects should call Healthway at 617-353-0550 and press 2 to speak with a triage nurse, from 7 am to 11 pm, seven days a week.