Working to Change the Way corporations Hire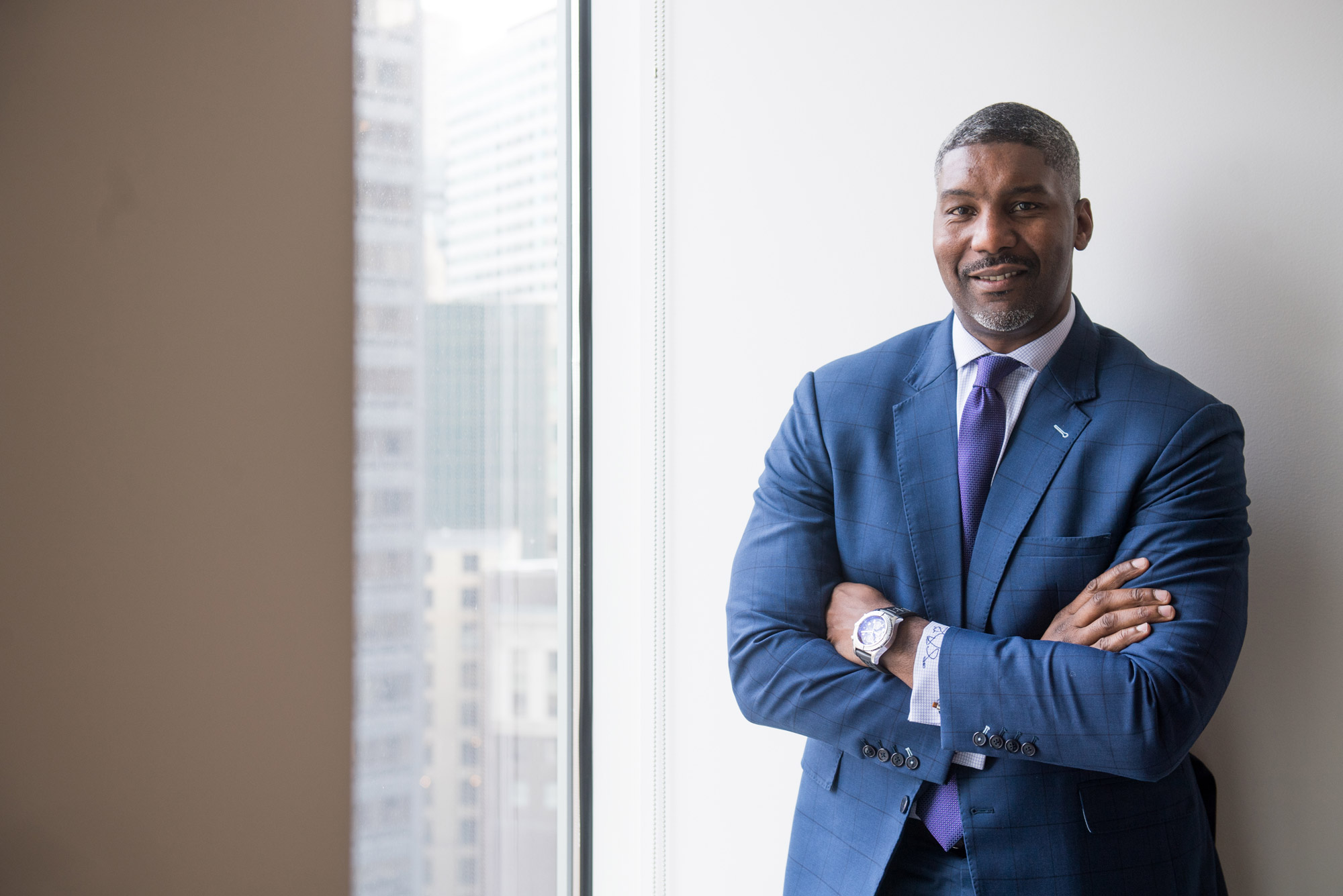 Paul Francisco
Chief Diversity Officer, State Street Corporation
They are determined to use their experience, influence, and positions to help make their business, organization, and world a more inclusive place. They are breaking barriers—and then reaching back to help those behind them overcome the same hurdles. They are mentoring students or younger colleagues, hiring diverse candidates, offering opportunities, and ensuring that employees succeed and are promoted so that their workplace and their communities reflect the richness and talents of the country's increasingly diverse population.
They are BU alumni, faculty, and staff—of every race, ethnicity, age, and gender—and they are "Opening Doors" for the next generation.
---
When Paul Francisco arrived in Boston in 1986 at the age of 17, the native of Honduras was unacquainted with the kind of prejudice that relegated minorities and immigrants to lower-paying jobs and poor neighborhoods. Francisco, who lived with his aunt in a one-bedroom apartment in Roxbury, became determined to find a way over the institutional barriers that kept the American dream at a distance for people like him. He did that with a football scholarship to BU, where he joined the Black Student Union and the Latinos Unidos student network.

Francisco's plans for law school and a career as a civil rights lawyer took a sharp turn when he signed as a free agent with the Miami Dolphins in spring 1994. He spent three years in the NFL, playing for the Dolphins, the New England Patriots, and the Cleveland Browns. When a neck injury ended his football career, Francisco (CGS'91, CAS'93) was encouraged by a former BU teammate to apply for a job as a claims adjuster for Amica Insurance. The relative absence of people of color there compelled him to bring the issue to Human Resources, where administrators asked him to help change things.

Since then, Francisco has worked to attract and retain diverse talent at Gillette, Bank of America, and the State Street Corporation, where he is now the global financial services company's first chief diversity officer. He was recently appointed by Massachusetts Governor Charlie Baker to serve on the commonwealth's Black Advisory Commission. Bostonia talked with Francisco about his career and his efforts to change the entrenched employment practices of corporate America.
Bostonia: Was there a particular incident that set you on path to increase diversity in the workforce?
Francisco: There wasn't one incident, but there was one revelation. When I came to Boston from Honduras, I wasn't aware of the limitations that I, as a person of color, would face. I wasn't aware of the racial divide and I wasn't aware of the institutional practices that keep people like me at bay and not engaged with the social and economic benefits of this great country. All of that became apparent after my arrival here.
What persuaded you to take on those problems in the corporate world?
I would say that my interest in inclusion and diversity was developed at BU, and that interest was heightened when I played in the NFL.
How did that work?
Playing professional sports gave me a blueprint for how people should get along. If you look at a sports team, you see a collection of people with different backgrounds and ethnicities and beliefs, yet they come together in such a beautiful way that it transcends all those identities to form one team. So for me it was like, why are we all talking about blacks and whites not getting along? Some of my best friends are white people who grew up in the South and many are Republicans. It seemed to me that we had a lot more in common than we had differences.
Why did you think that you could actually change things?
My experience in my first corporate job was very different from my experience in the NFL. When I got there I said, "Wait a minute, there aren't enough people who look like me here. Why is that, because I know there are a number of capable people who played with me and graduated with me. What happened to those people?" The problem was that there was no pipeline for those people, so I decided to do something about that.
What exactly did you do?
I brought it up with people in HR. I said, "How come there aren't more people who look like me," and they said, "We don't know how to find them." So I said, "Can I help, because I'll take that on as an extra part of my job. I can go to college campuses and talk to people who look like me about going to work in the insurance industry." Roughly a year later, I was transferred to HR and that became my full-time job.
So your efforts must have impressed higher-ups.
We were very successful. I'm proud to say that Amica started working with historically black colleges and universities [HBCUs] and Hispanic-serving institutions [HSIs] and we were able to build a pipeline of candidates. What we did opened their eyes to different schools and different people. One of them is now a senior executive.
Can you talk about your work with the Massachusetts Black Advisory Commission?
The Black Advisory Commission is tasked with looking at barriers that contribute to economic and social disparities. We worked for over a year on some recommendations, such as ways to expand targeted workforce development programs to black youth and young adults and to grow the competitiveness of black-owned businesses. As a result, there are a number of resources that have been made available. I am honored to serve on that commission. These are our communities that we are serving.
Do you think that you are also serving our corporations?
Absolutely. It's important to understand that this is not charity work. This work ultimately makes corporations more profitable, more innovative, and more sustainable. I can cite a number of studies that show that companies with more diverse workforces perform better—and that, of course, includes women and people with disabilities. If a company is diverse, it will have a lot more different kinds of minds to help solve problems.
OK. Big picture: Are things in this county getting better or worse?
I think things are not progressing as rapidly as they could be. And I think things are getting worse in the sense that we now see behaviors that are openly aggressive aimed at underrepresented groups. It seems that the values we hold as a society are being challenged, at least in terms of our being a welcoming society.
That sounds pretty grim.
We are living through some challenging times, but what gives me hope is that we have a lot more people who want to do the right thing. There are more people who believe in the idea that all men and women are created equal and believe that our freedoms should be preserved. We all need to advocate for the type of society that we want to see.
Do you have some advice about how we can best do that?
We can't be silent. We can't be bystanders. We have to understand that we are all in this together and when we come up with a solution, that solution will lift all of us. We need to get away from the notion that the pie is only so big and we can each get only a little piece of it. The pie is large enough that we can all benefit from it.
Do you know BU alumni, faculty, and staff who are opening doors or breaking barriers themselves? Email Cindy Buccini at cbuccini@bu.edu and recommend them for our series "Opening Doors."