Summer Class: Donald Trump, So Much Like Richard Nixon, Proves the Unchanging Truths of the American Presidency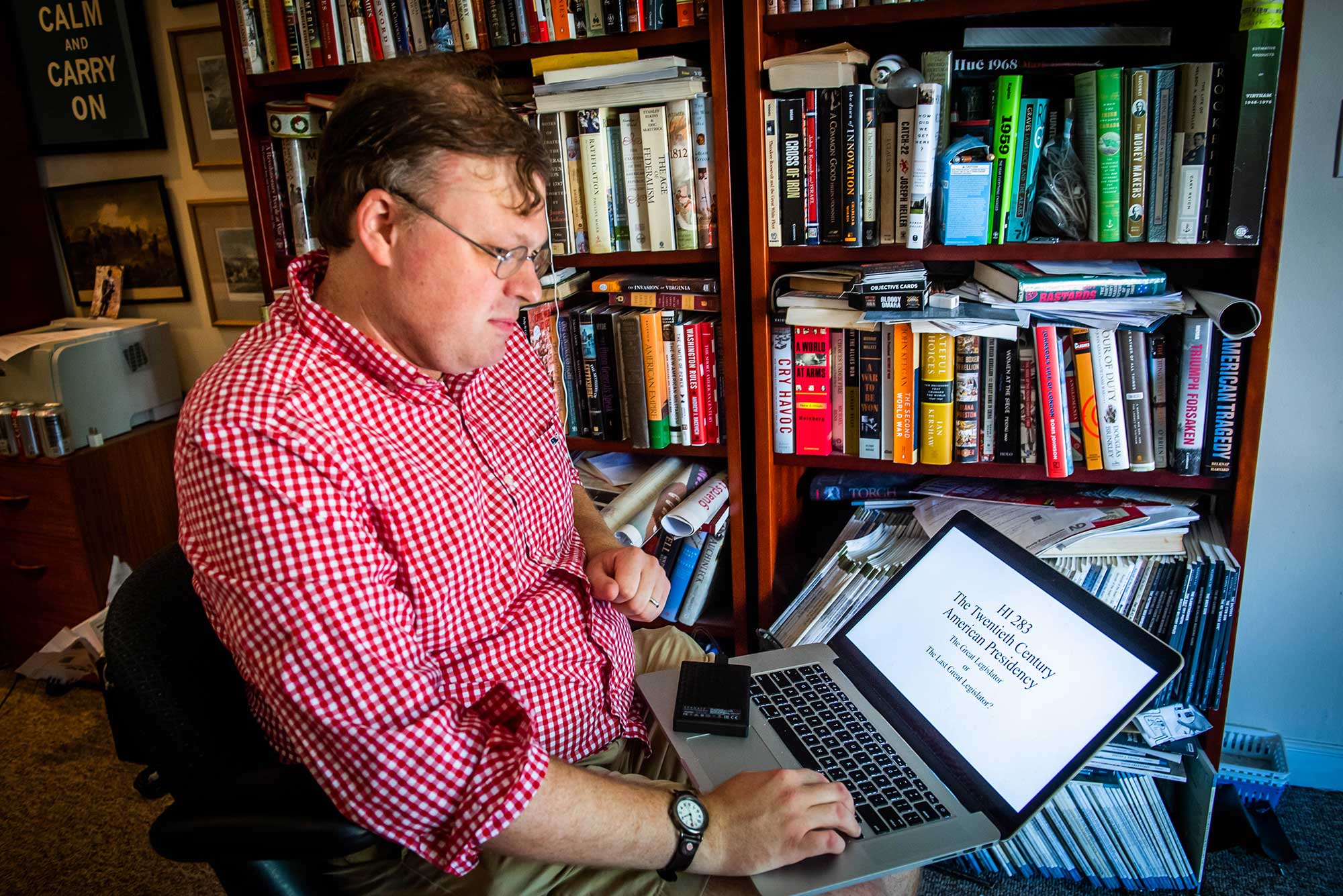 Academics
Trump and Nixon: Separated at Birth?
Class probes changes, and eternal verities, in The American Presidency course
The Republican president won office with nods towards racist voters, by encouraging foreign help for his campaign, and by claiming to speak for average people forgotten by elites. Once in office, he weaponized government agencies against political enemies and declared war on the press; critics wound up screaming for his removal from office.

If you're thinking Donald Trump, you're not wrong. If you're thinking Richard Nixon, you're also not wrong. That the 45th president both channels and transcends his predecessor is an example of the paradoxical takeaway in this summer's course The American Presidency in the 20th Century.

"To a certain extent, every president reinvents the office," based on his personality and the day's issues, says Andrew David (CAS'05, GRS'18), a College of Arts & Sciences lecturer in history. Nevertheless, when it comes to presidents, he says, "we are never as far from the past as we think we are." (The reference to the past century in the course name is a "legacy title," as the class does indeed bring students into the current century.)

"You take away the internet, you change the names slightly, and we look at situations that seem very close to what we encounter today," David says. "That is what I emphasize: things have not changed as much as you think they have."

Indeed, even Warren Harding, who died in office in 1923 during a presidential tenure historians deem among the worst, merited a passing mention in a recent class that devoted more time to comparing Trump's 2016 campaign to Nixon's 1968 victory.

The upshot: Trump is like Nixon. Except when he's like George Wallace, 1968's third-party segregationist candidate.

Nixon and Trump both campaigned with personal baggage. Trump's is familiar—the boasting about grabbing women, the history of birtherism, the incendiary rhetoric about immigrants. Nixon, meanwhile, was slippery "Tricky Dick" to critics and "a deeply weird guy," who strolled the beach in a suit, David tells the class.

But fate blessed both with unpopular opponents, says Evergreen student Alan Macdonald (Evergreen is a BU program for learners age 58 and older). Nixon defeated Hubert Humphrey, Lyndon Johnson's vice president in the administration that escalated the Vietnam War. And almost half a century later, Macdonald says, "Trump made no endeavors whatsoever to hide the fact that he was a sleazebag. But he had Hillary Clinton," who, along with her husband, was distrusted by a swath of the electorate.

"And also she was a woman, and there are a lot of people who, no matter what kind of woman you get, aren't going to vote for the woman," he says.

"Both Nixon's platform and Trump's platform focused on fear," says Hannah Lynn Schweitzer (COM'21), referring to Nixon's "law and order campaign" amid his era's civil rights protests, accompanied by deaths and property destruction, and Trump's warning against alleged Mexican rapists and murderers.

Indeed, David tells his class, Nixon's law-and-order campaign was "a dog whistle for suppressing African American protest." (In a BU Today interview, the CAS lecturer says that Trump "makes this explicit. These were dog whistle claims that previous presidents used that Trump has amplified and has taken that sort of protective layer off.")

---

We are never as far from the past as we think we are.

---
Nixon wound up resigning to avoid certain impeachment over the Watergate scandal. As for Trump—well, we've just lived through that story.

Yet while Nixon, like Trump, won the White House, some analysts—and students—compare Trump to a loser in the 1968 race: Wallace.

"I certainly felt connections between George Wallace and Trump," says Jake Novak (COM'22). "I was too scared to say it." (David assures him that the Zoom class is "open space" for opinions, although no one ventured to defend Trump.) Wallace encouraged his supporters to rough up protesters at his rallies, Novak says, and "Trump recently used the term 'dominate the streets' when talking to governors about getting protests and riots under control.

"Wallace said, 'Maintain your police'—that's pretty relevant right now. And he also said 'Keep America Free.' It doesn't really sound like Make America Great Again, but it feels like this type of phrase to repeat over and over, to remind his base about traditional values."

"When I first taught this class," David muses to his students, "I taught George Wallace as an historical oddity." (This is the course's third iteration; another professor will teach it again this fall.) So today, he continues: "Does George Wallace feel like an oddity, or does George Wallace feel like a harbinger?"

Macdonald's answer: "We have George Wallace in the White House now."