Sumner Redstone, Media Titan and Longtime Friend of BU, Has Died
University News
Sumner Redstone, Media Titan and Longtime Friend of BU, Has Died
Viacom head, founder of The Redstones, BU's annual film festival, had declared: "Content is king"
To the world at large, Sumner Redstone (Hon.'94) was a self-made, Type A corporate titan. He was chairman emeritus of both Viacom, the global mass media company whose networks include MTV, BET, Nickelodeon, Comedy Central, and Paramount Pictures, and of CBS. Redstone was once referred to by CNBC as "the boss of everyone's boss."
But to Boston University, the Boston native, who died Tuesday, August 11, at 97, was first and foremost the living legend who endowed the annual College of Communication Sumner M. Redstone Film Festival, The Redstones, and whose $18 million gift in 2012 for the School of Law's renovation and expansion resulted in the christening of the new law school addition with his name.
"On behalf of all my colleagues at Boston University, I want to express my deepest appreciation for you, Sumner, and for everything you've done for the School of Law," BU President Robert A. Brown said before a packed audience of LAW faculty and students in the Metcalf Trustee Ballroom in September 2012. With his trademark hubris, Redstone replied, "It's my hope that this beautiful building, and I must say it's got a pretty good name, will serve students for many years to come."
Redstone is credited with coining the phrase "Content is king," a philosophy that "infuses two of COM's signature programs," says Thomas E. Fiedler (COM'71), recently retired dean of COM. "For decades, COM's film students have competed for awards in the annual Sumner M. Redstone Film Festival. And BU students can hone their storytelling skills under the guidance of the Sumner M. Redstone Professor in Narrative Studies, an endowed position."
The inaugural Redstone Professor is best-selling author Mitchell Zuckoff, a former Boston Globe reporter, a finalist for a Pulitzer Prize for investigative reporting, and a COM professor since 2003. "Sumner M. Redstone was a titan who wisely recognized that storytelling was at the heart of his business empire," Zuckoff says. "By endowing the professorial chair I'm proud to occupy at BU, he ensured that his legacy would include nourishing and enriching generations of storytellers yet to come."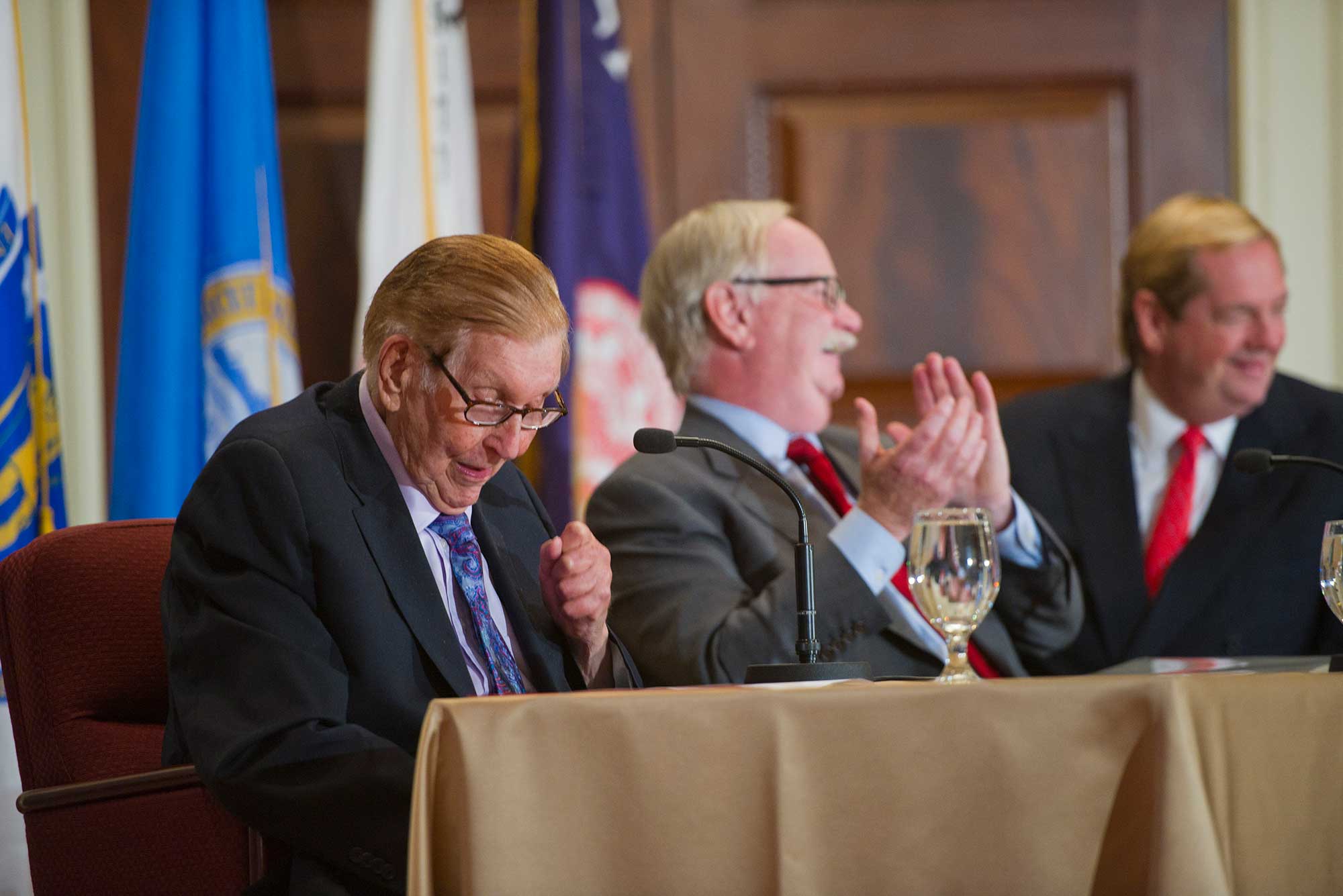 "I feel a very close relationship with Boston University," Redstone told BU Today in a 2012 interview. A 1947 graduate of Harvard Law School, he recalled with fondness his three years on the BU LAW faculty, beginning in 1982. He taught the school's first course in entertainment law. "It's a great law school," he said. Tad Jankowski (LAW'82), his teaching assistant at the time, went on to become general counsel of National Amusements, the privately owned theater chain company started by Redstone's father, Michael, in 1936. National Amusements is owned by Redstone and his daughter, double Terrier Shari Redstone (LAW'78,'81).
"There are many words one can use to describe Sumner Redstone: entrepreneur, leader, intellectual, and pioneer in so many ways, including teaching one of the first courses in entertainment law in the country right here at BU Law," says Maureen O'Rourke, LAW dean emerita, now associate provost for faculty affairs. "Certainly one way to describe him is as a savvy investor, and it speaks volumes that he chose to invest in BU Law, particularly at a time of great challenge for legal education. His support was a tremendous vote of confidence."
Paul Schneider, a COM professor of the practice and chair of the film and television department, says Redstone's "support was transformational for the department. By giving us the financial wherewithal to create the festival, it put us on the map. It gave a forum to all of the work done by the students, and it also really upped the game of the students. The quality has improved year by year, and there are just scores of students who were in the festival either as finalists or winners, who have gone on to careers in a variety of areas."
Redstone had vowed never to retire as head of his $39 billion entertainment empire. But, according to the New York Times, he resigned as executive chairman of CBS under pressure from shareholders. The company's board replaced him with CBS CEO Leslie Moonves (Hon.'06).
In addition to being executive chairman of both CBS Corporation and Viacom, Inc., roles Redstone assumed after the separation of Viacom into two publicly traded companies in 2006, he was the controlling shareholder of both companies. Before that, he'd served as chairman of the board of Viacom since June 1987 and CEO of Viacom since January 1996. He became Viacom board chairman when National Amusements, Inc., acquired a controlling interest in the New York–based company.
Redstone, famous for overseeing his holdings (his Lincoln Town Car was outfitted with a satellite dish so he could follow the market on CNBC), said his acquisition of Viacom was his greatest moment as a businessman. "Without Viacom there would have been no Paramount, and no CBS," he said in a 2012 CNBC interview, referring to the high-profile acquisition as "a very difficult battle."
Competence: the only thing that really counts
A native of Boston's West End, an enclave of Jewish and Italian immigrants that was largely leveled in the 1960s to make way for Government Center, Redstone was born in 1923 and was educated at Boston Latin School, where he graduated first in his class, with the highest GPA in the school's 300-year history. "At the Latin School, competition was fierce," Redstone said in the CNBC interview. "But what I learned was that the only thing that really counts is competence. What doesn't count is race, religion, gender, or where your family is."
As an undergraduate at Harvard College, Redstone was selected by Japanese history professor Edwin Reischauer (later ambassador to Japan) to join a special intelligence group whose mission was to break Japan's high-level military and diplomatic codes during World War II. In connection with these activities, Redstone received, among other honors, two commendations from the Military Intelligence Division in recognition of his service, contribution, and devotion to duty. He was also a recipient of the Army Commendation Award.
In 1944, after studying for two and a half years at Harvard, he was awarded a degree by Harvard University's Special Board of Overseers. In 1947, he received an LL.B. from Harvard Law School.
Redstone began his career as a law secretary with the US Court of Appeals, and during that time he also taught at the University of San Francisco. He served as a special assistant to the US Attorney General, and went on to become a partner with the law firm of Ford, Bergson, Adams, Borkland and Redstone in Washington, D.C. In 1954, he joined the family company, National Amusements, Inc.
When Redstone became a member of the LAW faculty in 1982, he created one of the nation's first courses in entertainment law and pioneered the school's curriculum covering the protection of intellectual property in the entertainment industry, which has become increasingly important and continues to be one of the school's great strengths. He also lectured at a variety of other universities, among them Harvard Law School and Brandeis University.
In addition to his rise to dominance in the media industry, through the Sumner Redstone Charitable Foundation and personal donations, Redstone devoted himself to a wide variety of civic and community affairs, contributing over $130 million to charities around the world over the past several years. He donated $2.1 million to the Global Poverty Project towards eradicating polio; funded the establishment of the Cambodian Children's Fund Sumner M. Redstone Center, which cares for children of all ages and has a food center, an education center, and a medical clinic; and contributed to research and patient care advancements in cancer, burn recovery, and mental health at several major nonprofit healthcare organizations.
A key supporter of a long list of organizations, Redstone served on the board of overseers of the Dana-Farber Cancer Institute, was a member of the Corporation of the Massachusetts General Hospital, the board of overseers of the Museum of Fine Arts, Boston, the Corporation of the New England Medical Center, and the executive board of the Combined Jewish Philanthropies (CJP) of Greater Boston. He was also a former chairman of the CJP Metropolitan Division and of the Jimmy Fund. During the Carter administration, he was appointed a member of the Presidential Advisory Committee of the Arts for the John F. Kennedy Center for the Performing Arts, and in 1984 was appointed a director of the John F. Kennedy Library Foundation.
Redstone's autobiography, A Passion to Win, was published by Simon & Schuster in 2001, prompting Kirkus Reviews to conclude: "outrageous as he is, for personality and readability, Redstone gets an A." How did he juggle all this, particularly in his ninth decade, when he continued to wake at 5 am every day and consume only foods high in antioxidants? He refused to slow down. Asked by CNBC in the 2012 interview what personal weaknesses he could not forgive in people, Redstone responded: patience. "If you're patient, you'll never go anywhere," he said. "It takes impatience to drive you to succeed."
Based in his waning years at his Los Angeles home, outfitted with what he described as the world's largest private saltwater aquarium, Redstone told BU Today in 2012 that he planned to follow up A Passion to Win with a book tentatively titled How to Live Forever. In his interview with CNBC he was asked, "What is your dream?"
"Keep living forever," said Redstone. "Keep working forever."