For One COM Student, Shelter-at-Home Means Learning Hands-on Broadcasting
Film & TV
For One COM Student, Shelter-at-Home Means Learning Hands-on Broadcasting
Nick Mason helps his father, CBS This Morning cohost Anthony Mason, get on the air from their dining room
Many film and TV students dream of getting drafted to work on a show like CBS This Morning. Nick Mason doesn't even have to leave home.

"Every morning I put on clothes and shuffle out to our dining room, where I help my dad turn everything on," says Nick (COM'22), whose father is CBS This Morning cohost and veteran newsman Anthony Mason. "After that, I sit in the room during the broadcast, usually doing homework, but I'm there if anything goes wrong."

With the coronavirus forcing many TV journalists to self-isolate, the Mason family dining room in their Manhattan apartment has become a studio for the two-hour national news and talk show. Anthony Mason cohosts with Gayle King and Tony Dokoupil, who are also broadcasting remotely from their homes.

"In the first few days of our quarantine broadcast, many things went wrong," Nick says. "The prompter stopped running multiple times, we had a light blow out just before air, relaxing stuff like that."

The Masons started broadcasting from their home on March 25 with a fairly basic setup. Nick's duties included turning on lights, setting up the camera ("framing my dad, checking white balance and audio"), and making sure the teleprompter was running smoothly, as was the LiveU—a device that uses cellular data to relay information back to the CBS control room. Recently, CBS technicians delivered an upgrade, including a new camera with a built-in teleprompter, five lights, four laptops working simultaneously, two monitors, and the LiveU.

One thing that hasn't changed? "A great anchor," Nick says.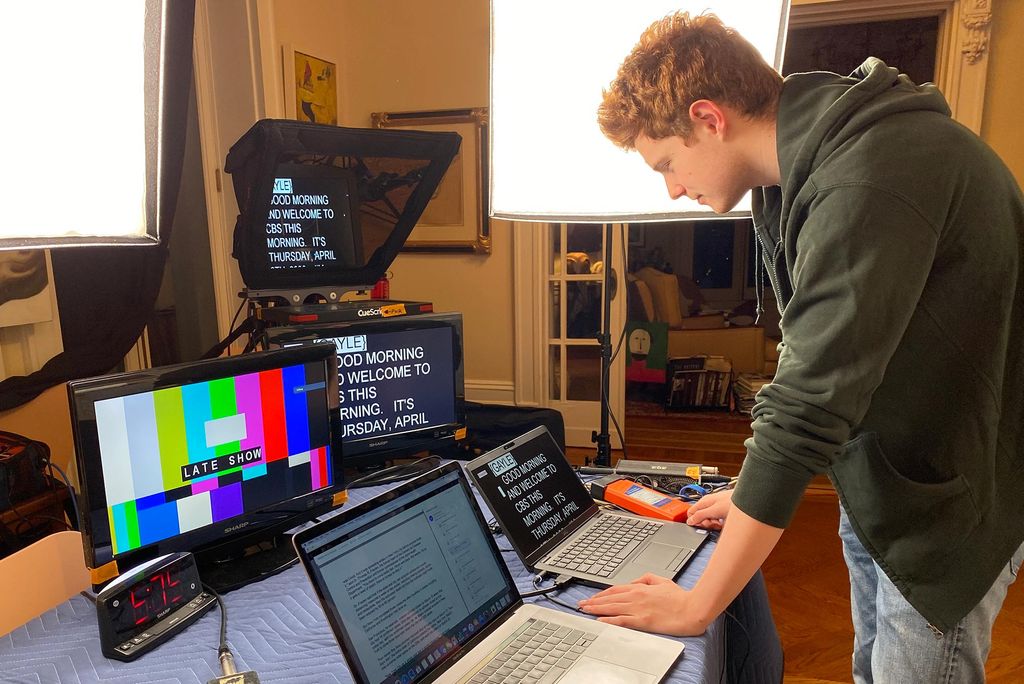 "I love it both ways: personally and professionally," Anthony Mason says. "I couldn't do it without him. When you're trying to get ready for a broadcast in the morning, you're trying to read research, understanding the flow of the show. If a technical problem comes up—and in these circumstances they come up a lot—it can be incredibly distracting. Having Nick there to help is an enormous relief. He's also far more technically skilled than I am."

The benefits go both ways. Since he's studying film and TV at BU, "there's definitely some overlap between my major and helping with the broadcast," Nick says. "Working with my dad in the mornings has helped me understand a bit more about production: I'm essentially a production assistant, so if he or the producers ask for anything, I help out as best as I can." Once the show goes off the air at 9 am, Nick returns to his online BU classes.
He has seen his father at work many times, both in the studio and on remote shoots, but had never been involved in the production of the stories. A seven-time Emmy Award winner, Anthony Mason joined CBS News in 1986 and has reported on stories ranging from the fall of the Iron Curtain and collapse of the Soviet Union to the US economic crisis of 2008. He has interviewed six presidents, as well as celebrities like Bruce Springsteen and Lady Gaga. When CBS made the call to have him broadcast from home, and in isolation, the newsman realized he'd need a hand.

"He's not particularly tech-savvy," Nick says of his father, "so at dinner before his first at-home broadcast, he said, 'I'm going to need help with this.' At first it was hard to get up at 5:30, but this opportunity is practically any COM kid's dream; I feel incredibly lucky to have fallen into it due to quarantine."

In New York City, the national gloom is palpable, he says, but aside from the sirens, the normal noise of the city has quieted. The birds are louder than the traffic. The family—Nick's mother, Christina Mason, is an elementary schoolteacher—has been out and about with makeshift masks and sometimes gloves. They could stand in the middle of Fifth Avenue without any cars to worry about, he says. 

---

At first it was hard to get up at 5:30, but this opportunity is practically any COM kid's dream.

---
"If anything, this experience has reminded me of the privilege I have," Nick says. "To self-isolate in a home with ample space, a job, and two loving and hardworking parents. Keeping up with classes is tough, and Zoom isn't the most conducive to a productive learning environment, but I'm making do."

Making do amid constant challenges is a big part of the job, notes Mary-Jane Doherty, a College of Communication associate professor of film, who teaches Nick in her Production 1 class.

"Nick understands this pandemic is kind of an exaggerated case of what confronts filmmakers all the time," says Doherty. "Strange things happen in our filmmaking world, now what are you going to do about it? He cheerfully hunkered down, prioritized tasks, managed his time."

Nick has already made a short film for class about his father prepping for broadcast, and Doherty notes approvingly that he honed in on the details: tangled cables, dead batteries, applying pancake makeup in a messy way. "Nick found tiny poignant moments that let his father emerge as a human being," she says.

Nick's career goals don't include broadcast journalism; he's more interested in screenwriting, but he's glad to learn as much about production as he can. And Nick and his father enjoy working together, despite the circumstances.

"From a family point of view, it means more that we're going through this together," Anthony Mason says. "Hopefully this is the only pandemic we experience, but I know we'll always remember getting up at 5:30 in the morning and broadcasting from our dining room."