Incoming Freshman Spearheads Homemade Mask Donations for BU's Student Health Services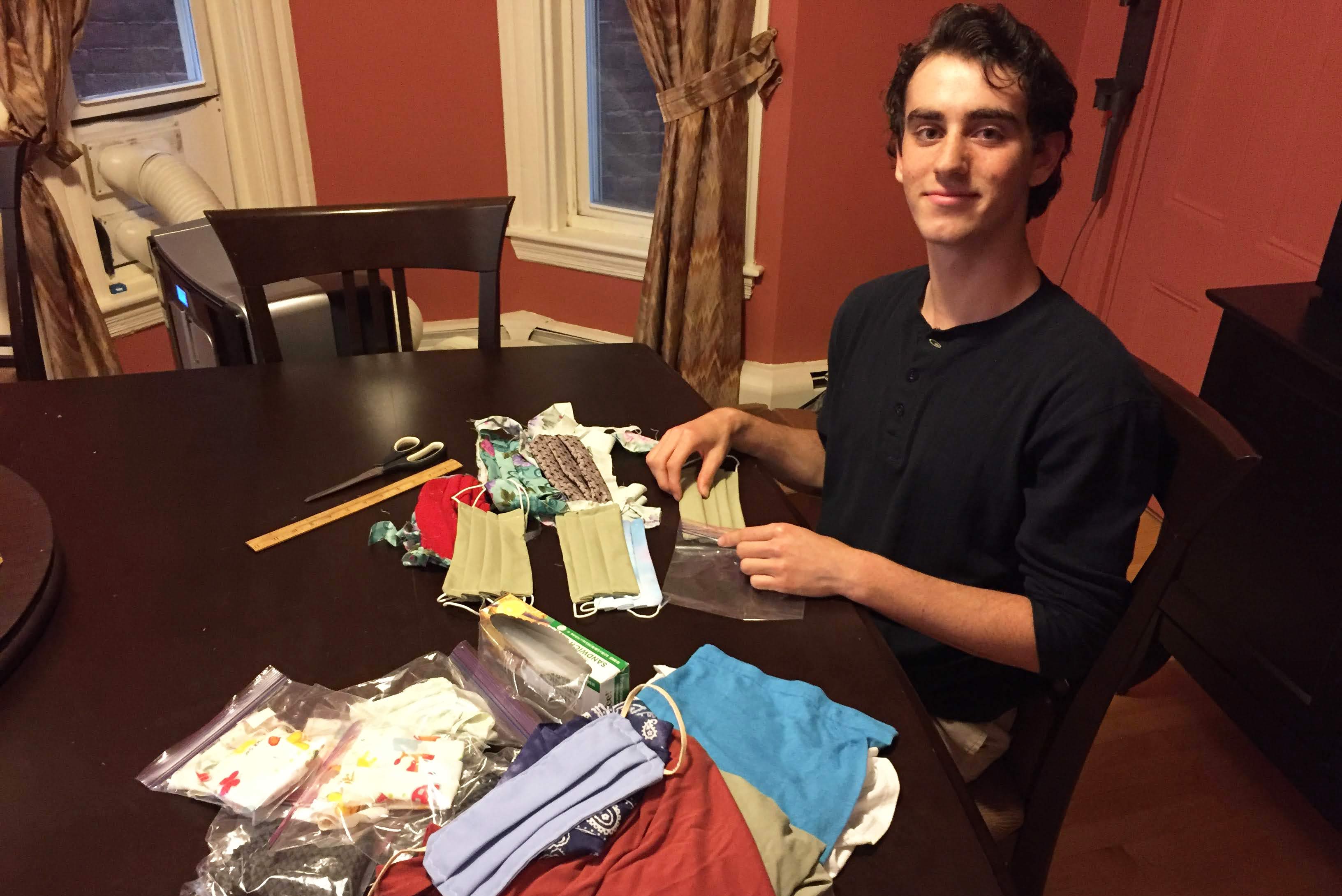 Student Life
Incoming Freshman Spearheads Homemade Mask Donations for BU's Student Health Services
Student team has produced 100 masks, with more on the way
For the incoming Class of 2024, the coronavirus pandemic has meant an irregular end to their high school experience, and an uncertain future with their freshman year of college. Despite these hurdles, one incoming BU freshman has already started giving back to his new community.
Recent Brookline High School graduate Adam Katz (CAS'24) was inspired to help make and donate masks when his mom, Ellen Katz, who works as a nurse practitioner at BU's Student Health Services, said her office was in need. SHS has been providing in-person appointments for several months, and masks are needed for students as they enter, and occasionally for staff, the office says.
"This whole thing came into fruition from just the desire to do something," says Katz, who will enter the College of Arts & Sciences this fall as a neuroscience major. "The world was in a pandemic, I wanted to help in some way."
By the end of April, Katz had reached out via social media to people he knew in the Boston area asking if they had any materials or fabrics that could potentially be used to make masks. Soon enough, Katz was driving around picking up material that would eventually be converted into masks and donated.
While the Centers for Disease Control and Prevention says that cloth face masks are not a replacement for professional grade personal protective equipment, like N95 respirators and surgical masks, fabric face coverings can help reduce the spread of COVID-19 when widely used, on top of social distancing.
Judy Platt, director of SHS, says that successfully bringing the community back to campus in the fall is contingent on the actions of every student and faculty member, meaning wearing masks and social distancing are crucial. She says Katz's donations have helped provide a critical component to reducing viral transmissions.
"He has demonstrated one of the core principles of what we all need during this pandemic—everyone collaborating to recognize our shared responsibility in keeping our campus safe," she says.
Once Katz collects the materials used for the masks—which include a variety of fabrics, but preferably cotton—he gives them to two of his hometown friends who know how to sew and are eager to help.Sana Reddy, an incoming freshman at Brandeis University, and Grace Smotrich, a rising sophomore at Barnard College, take Katz's donated materials and sew them into wearable masks for his mom to bring to SHS.
In their first two months, Katz estimates he and his friends produced and sent out about 100 masks. They have used up most of their donated material, so Katz plans to start another push for materials so they can continue the project.
Reddy, who was making masks before teaming up with Katz, says she will only stop making face coverings when there is no longer a need.
While coronavirus cases and deaths are climbing dramatically across the nation, Massachusetts has seen a steady decline in new cases over the last two months. Still, Smotrich says people need to continue being cautious and wearing masks. "If I could say one thing, it's just for everyone to not give up on the social distancing and the mask wearing," Smotrich says. "Don't ignore [the coronavirus], because it definitely has not gone anywhere."
In regards to the upcoming fall semester, Katz says he is hoping to have as good of a first year experience as he can.
"I know there's going to be changes," Katz acknowledges. "It's going to be different than what I hoped, but I'm going to try to make the most of it."