Coronavirus: BU Tuesday Roundup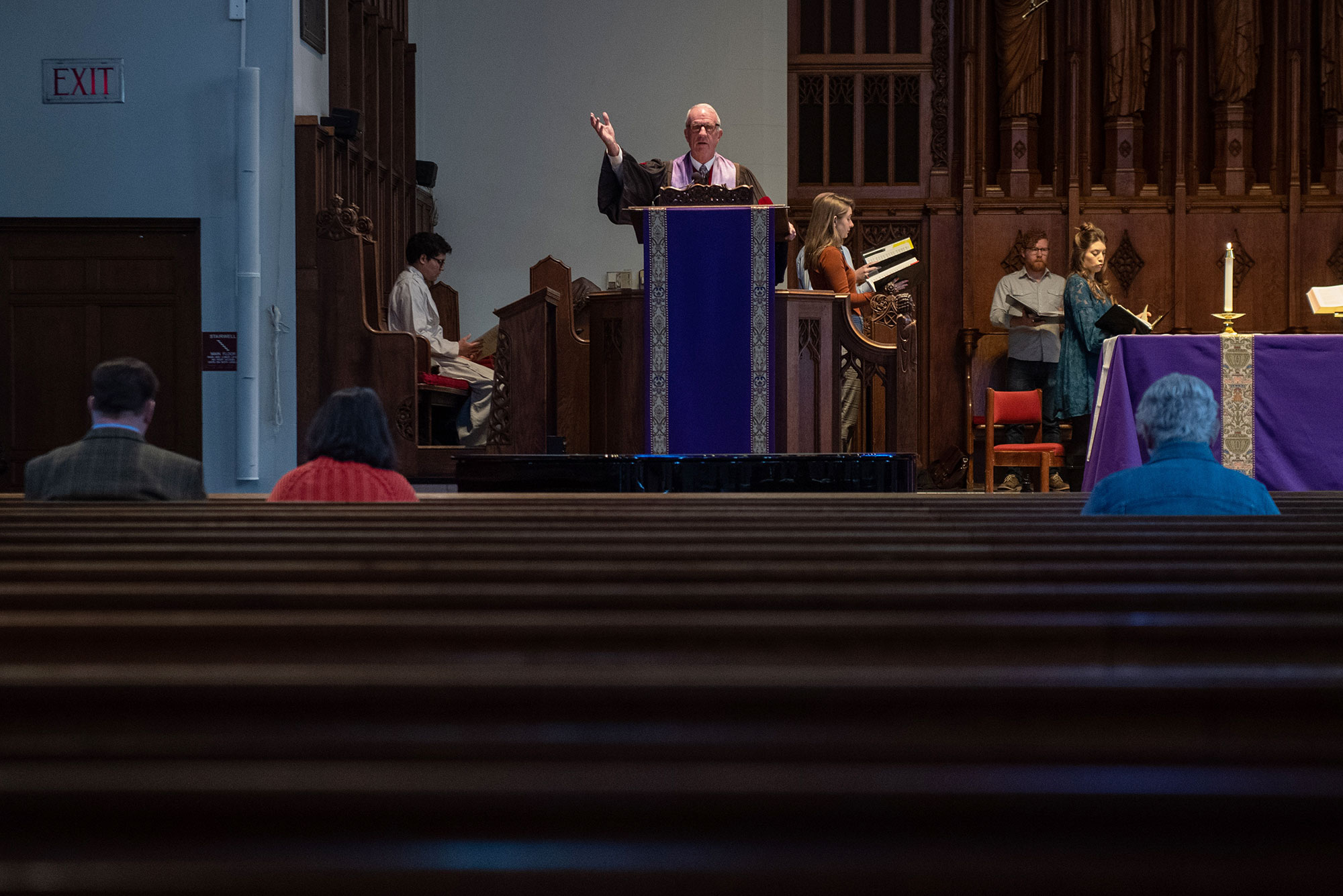 Public Health
Coronavirus: BU Tuesday Roundup
BU, Boston, state, national, and global updates
Quote of the day:
---

I believe that, especially in this very time, the voice of Marsh Chapel may have something particular and helpful to offer, come Sunday.

---
Stat of the day:
Distraction of the day:
Bad news: the Dropkick Murphys will not perform their annual St. Patrick's Day concert, breaking a quarter-century tradition. Good news: the band will livestream a free concert from Boston on YouTube, Instagram, and Facebook Live on March 17 starting at 7 pm EST.
---
BU News
University information hotline: 617-358-4990
That's the number for faculty, staff, students, and visiting scholars to call for referral of their virus-related medical concerns. Callers will be routed to the appropriate University office for their questions. BU's Occupational Health Center will staff the hotline Monday through Friday from 9 am to 5 pm. People who call after hours are asked to call back on the next business day.

"When [callers] press the option for our office, a call screener will ask a series of questions," says Ann Zaia, director of Occupational Health. "The responses and their number are then routed to a medical provider so we can contact them to address their concerns."

Faculty: if remote teaching is a problem…
…the University's Digital Learning & Innovation has put together a web page here with a schedule of trainings, recordings of past training sessions, and other resources.
Goldman School of Dental Medicine cancels nonemergency surgery
Acting on a state order, the School of Dental Medicine has canceled all nonemergency patient care at its 635 Albany Street and 930 Commonwealth Avenue locations. The cancellations are effective from March 18 until April 13. "We will, however, continue to provide emergency oral healthcare, and are working now on what the protocol for that care will look like," says Jeffrey Hutter, dean of SDM.

Also, during the same time frame, SDM has canceled educational activities at its Simulation Learning Center, the dean announces. "Small-group exercises, especially those that involve hands-on components (e.g., medical emergency simulations at Boston Medical Center; preclinical implantology), will remain as originally scheduled to the extent possible," Hutter says.
Find the dean's message here.
University insurance plans to cover telehealth
As patients seek as much medical treatment online as possible to practice social distancing, the University has announced that its two health plans began covering telehealth March 16. According to BU's Human Resources office:
"Telehealth will allow covered members to receive care for many routine and non-emergency conditions from a licensed doctor or provider from the convenience of your smartphone, tablet, or computer. You will have the option to see licensed doctors and providers in the BCBS Well Connection network, as well as local doctors and providers in the Blue Cross Blue Shield of Massachusetts network who offer covered services using live video visits through a service other than Well Connection. You can learn more about the telehealth benefit on the Human Resources website. If you have any questions, please contact the Human Resources Service Center at 617-353-2380 or HR@bu.edu."
MBTA curtails service starting March 17
Beginning today, the MBTA is implementing its less-frequent Saturday schedule weekdays on trains—including the Green Line B branch bisecting the Charles River Campus—as well as on most buses. The T did not specify when regular service might resume. The transit agency acted as employees working from home and canceled school classes have slashed ridership.
Riders on the Green Line should expect trolleys every 7 to 13 minutes, the T announced. Find information on other service changes here.
University temporarily cuts student/employee parking fees

BU students and employees who don't have parking permits may park on the Charles River Campus (CRC) for $8 a day under a temporary plan from Parking & Transportation Services, which issued the following announcement:
BU students and employees who wish to park on the CRC, but do not have a parking permit, may present their BU ID to the lot attendant to receive a flat rate of $8/day at attended lots and garages. Red and Black Permit holders are also eligible for the flat rate of $8/day. More information on lots where the temporary daily parking rate will be honored can be found here.
Boston University Medical Campus (BUMC) students and employees may pull a ticket to park at either the 710 Albany Street Garage or the DOB Lot (720 Harrison Ave.) for $8/day, space permitting. To pay this temporary rate, students and employees must present their BU ID along with their ticket to the cashier in order to pay before returning to their vehicles.
Additionally, BUMC students and employees may present their BU ID to receive a flat rate of $8/day at attended lots and garages on the Charles River Campus. They may then take the BU Shuttle to the Medical Campus. Find more information on Charles River Campus attended lots where the temporary daily parking rate will be honored here.
Marsh Chapel suspends in-person Sunday services
Marsh Chapel's interdenominational Sunday service will be closed to public attendance starting with worship next Sunday, March 22, through at least April 12. As usual, the service will be broadcast at 11 am on WBUR 90.9 FM, the University's National Public Radio station, and on wbur.org.
The move follows similar actions by other churches, including the Roman Catholic Archdiocese of Boston, which has suspended Catholics' Mass obligation until further notice.
Researchers asked to curb lab activity as much as possible

BU has issued guidelines to researchers to help them "minimize lab activity to the greatest extent possible," says a memo from the Office of Research.

The Office of Research is asking researchers to observe the following precautions:

ensure that any work that can be done remotely is done off campus
delay or stop any work that can be stopped
limit the work done on campus to long-term experiments and activities that would generate significant financial and data loss if not completed; this includes work to maintain critical samples and animal populations
reduce the density in laboratories to three or fewer essential personnel
hold lab meetings remotely
"No human subjects should be tested unless there are very special circumstances," the memo says. "This includes on-campus and fieldwork. Exceptions to testing human subjects are:
testing subjects who have already begun to be tested and for whom testing is essential to avoid an irretrievable loss of data
human subjects research that holds the potential for direct benefit to the subject (e.g., investigational drug, devices, or surgical procedures) and the interaction is required to deliver that potential direct benefit
if you are testing human subjects, contact Ann Zaia, director of Occupational Health, at azaia@bu.edu or the Occupational Health Center at 617-353-6630 to ensure that an appropriate screening protocol is in place."
Further shutdowns may be imposed on the University's research, the Office of Research says. Researchers with questions can visit the research update site or submit questions with this form.
Residential portions of all Study Abroad canceled
After scotching the residential aspects of its London and Dublin programs for spring semester, BU has extended the cancellation to all Study Abroad programs, says Willis Wang, vice president and associate provost for global programs. The affected spring programs include Sydney, Australia; Auckland, New Zealand; Haifa, Israel; Pueblo and Monterrey, Mexico; Singapore; and domestic residential study in Los Angeles and Washington, D.C.
"These decisions were not made lightly," Wang says. "We will work with students and their respective schools and colleges to help minimize the impact of these decisions on their academic time this semester."

Walsh turns off the dozers, including at BU
No more detouring pedestrians around work sites into the bike lane. Not only because there are far fewer pedestrians on campus, but because Boston Mayor Martin Walsh has closed all construction sites, save for emergency work such as utility and road repairs, starting March 17.
Walsh gave construction companies until March 23 to secure their sites, while allowing skeletal security to remain after that. He also urged firms not to fire workers: "I want to remind Boston's employers that we are in a robust construction market. Boston is home to a talented, hard-working construction workforce. When we are back to business as usual, employers will need to bring these workers back. The right thing to do is lay them off, not fire them."

Affected projects at BU include work at the College of Fine Arts, the Center for Computing & Data Sciences, the Children's Center, and the George Sherman Union.
International Students & Scholars Office suspends walk-in appointments
The ISSO has suspended walk-in appointments for the foreseeable future but is taking appointments by phone and online, and students and scholars may still make appointements with their ISSO advisers. Call 617-353-3565 or contact the office here or make an appointment with your advisor.
---
Massachusetts and Boston News
Two Boston hospitals report workers with virus
Brigham and Women's Hospital and Massachusetts Eye and Ear reported one worker at each had tested positive for the coronavirus. The hospitals are alerting patients and employees who may have had contact with the two workers. Mass Eye and Ear is next to Massachusetts General Hospital (MGH).
With healthcare workers obviously vulnerable, the hospitals had already adopted precautions. The Brigham permits only one healthy visitor per patient per day and warns of delays seeing patients due to screening all visitors.
MGH has a similar rule, as does Boston Medical Center, the School of Medicine's teaching hospital.

Need a test? Insurance will pay

The state's insurance regulator has ordered Massachusetts insurers to cover the costs of testing for, and treating, the coronavirus, including counseling and any vaccinations that may be invented and approved for the disease. Patients won't face deductible or co-pays under the rules, but any submitted bills to insurers must be for medically necessary services.
Lights out at the Boston Public Library
The BPL has closed all its locations until further notice. But all of its online services are operating.
Temporary curtain call at Coolidge Corner Theater
This Brookline landmark opened during the economic freefall of 1933. Today's medical crisis has led its owners to close, with plans to keep it shut at least through April 3. Management cited a "precautionary and voluntary measure" of social distancing. "We appreciate your support in this unprecedented time," theater officials wrote in an email, "and will share our plans when we reevaluate at the end of the month." They said there were no known coronavirus cases associated with the four-screen, 700-seat theater and that employees will continue to be paid.
Northeastern asks students to leave campus by today
Reversing an earlier decision, Northeastern University has asked all students to vacate campus by 5 pm today, Tuesday, March 17. The university did not make such a request when it moved all classes to remote status last week, but the student newspaper quoted the administration as saying it decided to empty the campus "based upon continuing guidance from public health officials." Students facing hardships with relocating, such as international students, may petition to remain on campus.
Craps!
The two casinos and one slots parlor in Massachusetts have agreed to stop spinning the wheels and close for two weeks to help halt the spread of the coronavirus disease.
Boston Public Health Commission updates
The Boston Public Health Commission is posting updates on the situation in the city here.
---
US & Global News
State Department warns Americans against all global travel

The US State Department has issued a global Level 3 travel advisory, meaning Americans should "reconsider travel" anywhere abroad. That's one level below its strongest warning. The Centers for Disease Control and Prevention (CDC), which use a different metric, issued its own Level 3—the CDC's highest alert—for Europe, advising people to "avoid nonessential travel" there.
For now, it's bye-bye, happy hour
Massachusetts is one of at least eight states prohibiting on-site dining and drinking at restaurants and bars.
Find FAQs about BU's response to the pandemic here.