CAS Student's Podcast Takes a Deep Dive into the Criminal Justice System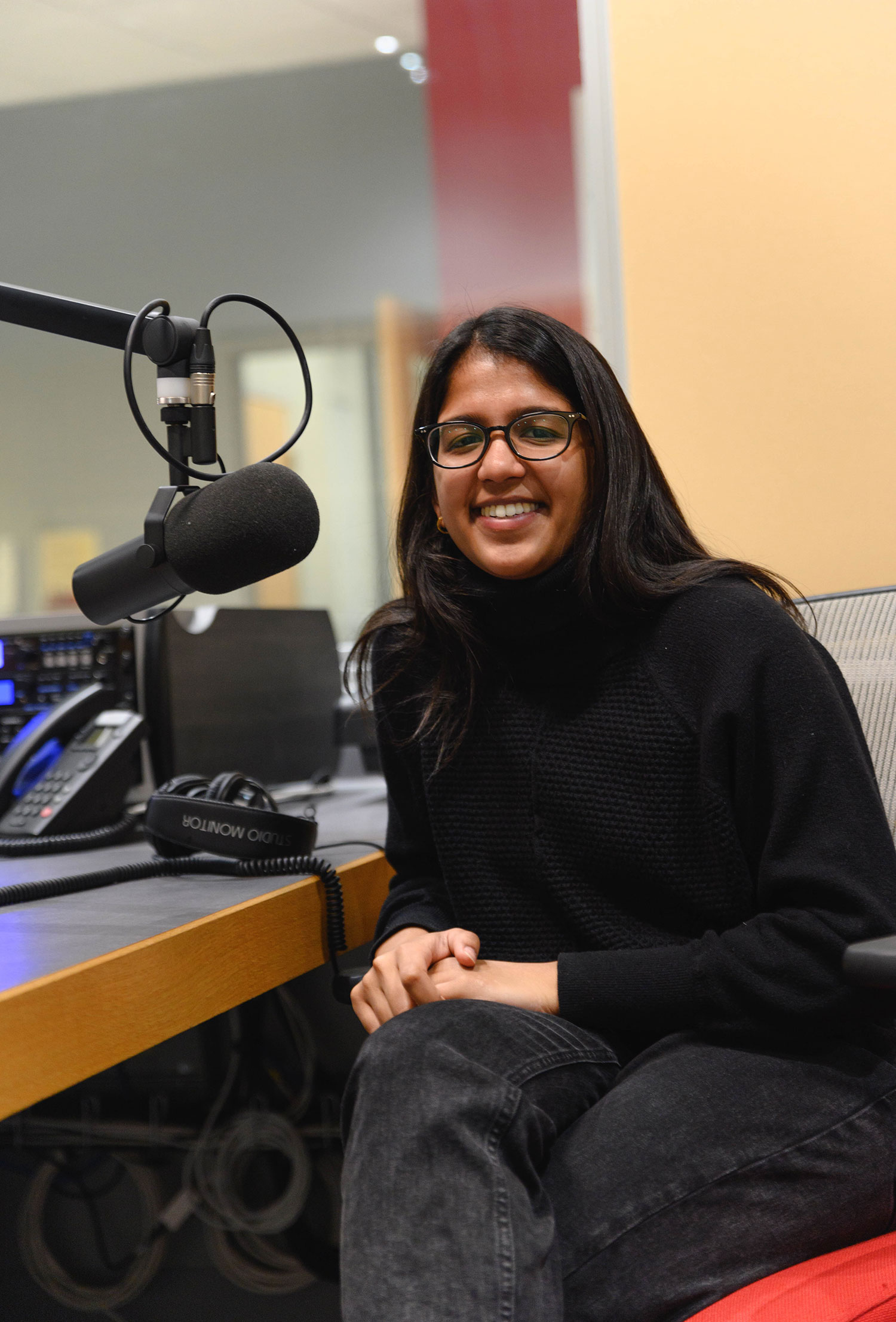 Student Podcast
CAS Student's Podcast Takes a Deep Dive into the Criminal Justice System
In Criminalized, Sarika Ram interviews formerly incarcerated people, lawyers, and community activists to examine mass incarceration
As a BU freshman, Sarika Ram signed up for a narrative radio class. She didn't know it at the time, but the class would play a huge role in the rest of her time in college. In both that class and as a Daily Free Press reporter, Ram (CAS'21) spent the next couple of months working on stories about solitary confinement and affordable housing for people with disabilities and reporting on the Massachusetts Criminal Justice Reform Bill. "After learning more about how mass incarceration disproportionately affects low-income people and people of color," she says, "I thought I could use my energy and the resources I have at BU to create a podcast."
Ram's podcast, Criminalized, examines issues in the American criminal justice system and intertwines interviews with formerly incarcerated people, those working in the courts, community organizers, policy experts, and academics to explain the drivers of mass incarceration in the United States. "I started seeing the justice system as unjust," Ram says, "because it perpetuates injustice and inequity." So far, she has recorded three episodes, with more in the works.
To further develop Criminalized, Ram worked in COM's podcast studio and did a directed study with Anne Donohue, a College of Communication associate professor of journalism (Donohue edited some of the podcast). The podcast is sponsored by Innovate@BU's BUild Lab, a coworking space for students and alumni for new ventures and collaborative projects. Specifically, Ram worked in the Innovation Pathway Projects Track, a self-paced program that coaches BU students and recent alumni through the process of transforming innovative and entrepreneurial ideas into impactful projects.
She acknowledges that the subject matter has taken on a new urgency following weeks of national protests over the treatment of Black citizens at the hands of law enforcement officers. Studies show that those incarcerated in the United States are disproportionately people of color, many inordinately jailed for infractions. Adding additional urgency to the situation is that inmates housed in overcrowded jails are at especially high risk of contracting the coronavirus.
In the podcast's first episode, "Criminalization of Adolescence," a young man named Calvin Feliciano talks about growing up as a person of color in a South End housing development and his involvement with the Jobs Not Jails Coalition, a nonprofit seeking to advance economic and racial justice by ending mass incarceration, where he works with the juvenile justice system. Feliciano has a juvenile criminal record, which includes convictions for selling marijuana and for assault and battery, according to a Bay State Banner story on him. "Black and brown kids in low-income communities are more likely to be arrested and incarcerated for doing the same things that white kids in upper class neighborhoods do," Ram narrates. "For example, at Boston University, where I go to school, kids smoke weed and drink alcohol underage and get in fights, steal electronics. But they're usually not busted by the police. But kids [like Calvin] who live in a low-income project in the South End will be."

Episode two examines the criminalization of addiction, how the criminal justice system views addiction as a crime. This punitive approach fails individuals, particularly those in communities of color, and too often fails to take into account mental health issues, Ram says. The third episode focuses on a person who had committed sexual violence, and explores the role that criminal justice plays in addressing sexual violence, which Ram argues is ineffective.
Talking about the third episode, Ram says she was anxious, especially in light of the #MeToo movement, about balancing a critique of the criminal justice system and validating survivors who have experienced horrible trauma and tragedy. "Most people who are for criminal justice reform are also for arresting and incarcerating people who have committed sexual violence. I don't think that's invalid, but that's something I wanted to critique in this episode," she says. "The police and [supporters of] prison abolition have recently come to the forefront of the conversation, but often in those talks, there is a lot of focus on low-level crimes, and we are hesitant to talk about how the criminal justice system also fails and is ineffective for people who have caused unspeakable harm, such as murder and sexual violence." While she was nervous putting that idea out there, Ram says the reception has been positive.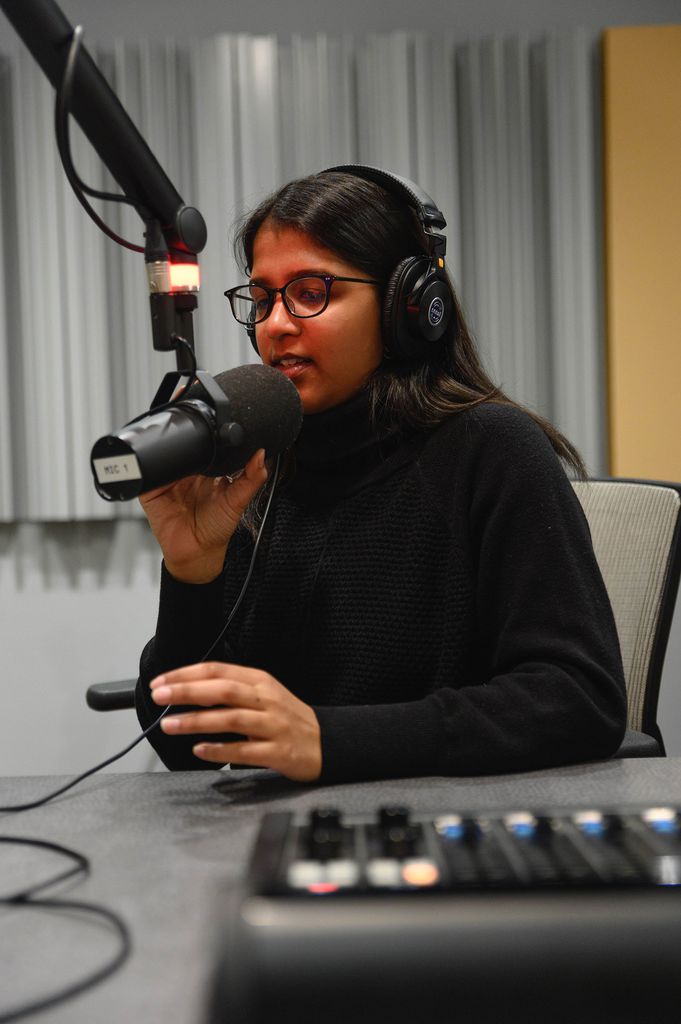 As part of her research, she connected with groups like the New England Innocence Project, which fights wrongful convictions, and Black and Pink, an LGBTQ+ prison abolition organization, to learn more about what they do. She also volunteered with the Petey Greene Program, which sends tutors to local prisons, and she says she admires the work of progressive Philadelphia attorney Larry Krasner, who has argued for the release of many low-level offenders, who face increased health risks by being in jail.
A sociology major, with a minor in public health, and an aspiring lawyer, Ram is interning remotely this summer at Upturn, a Washington, D.C.,–based nonprofit working to leverage technology to improve justice in housing, hiring, and the criminal justice system.
She is also working on upcoming podcast episodes. One topic that interests her is how the system treats surviving families who have been harmed by murder and other violent crimes. She says some of her friends have circulated published episodes to start a conversation about the criminal justice system—or as Ram calls it, "injustice system"—and how it disproportionately targets Black people and others of color. She says that hearing how it's been a tool in starting conversations about the events that have taken place over the last few weeks has been gratifying.
"Those of us who are in privileged circles don't see the ways up close and personal in which the criminal legal system causes such harm in people's lives," Ram says. "I hope that by centering this narrative on people who are survivors of the system, it will provide a rich way of understanding how these systems of real harm manifest themselves in people's day-to-day lives. I think that's really my goal—humanizing this issue."