BU Alum Launches a Website for Young Readers
Books
BU Alum Launches a Website for Young Readers
Shirali Merchant's World of Imagination is filled with original stories about witches, dragons, and magic
For Shirali Merchant, reading and writing children's stories is a passion. In the wake of COVID-related lockdowns and restrictions, she launched World of Imagination, a website filled with stories she has written and illustrated—fantasy adventures featuring witches, dragons, and magic.
Merchant (CGS'05, COM'07), who lives in Mumbai, India, with her family, says she was inspired by her older daughter's obsession with stories about witches, villains, and evil stepmothers—all of whom must emerge victorious.
"Every night, she insists I sit and tell her a 'made-up story from my mind,' and she has characters that she demands in every story," says Merchant of her five-and-a-half-year-old daughter. "I figured if I'm going to tell her a new story every night, I should start writing them down before I forget them." Her daughter's tendency to root for the villains has been especially influential. "Literally every character has a story or a theme that my daughter will love, because I feel like she's my target audience."
In one of the stories, The Jaguar King, two young blue jaguars, Sinsin and Beebee, come across a pink parrot forced to work for an evil witch who lives in the mountain. The cubs enlist the help of their powerful father, and they embark on a quest to defeat the witch and free the parrot.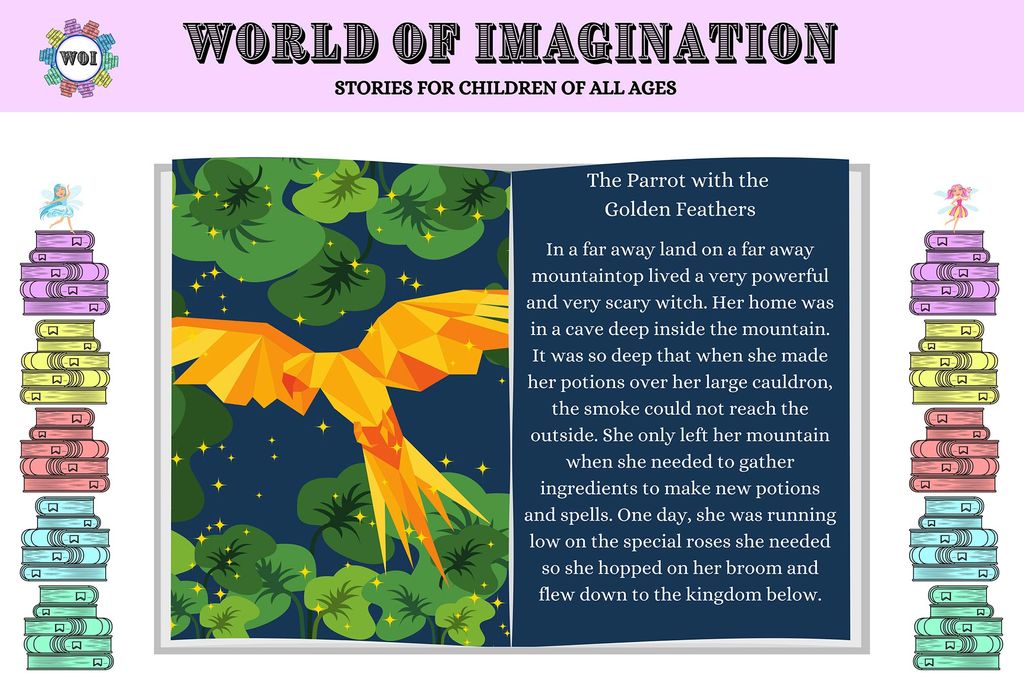 Merchant launched World of Imagination in June. The pandemic lockdown gave her the time to design the site and write, illustrate, and upload the stories. "I usually just sit in front of my computer, and I start writing within a generic theme," she says. "I know it has to be a little evil, and it has to have some bad things happen, so that gives me a guideline." 
Each story site is accompanied by vibrant original artwork, most of which Merchant creates digitally. (She recently recruited her mother to help illustrate some of the new characters.) And the stories have been translated into Russian, Italian, and Hindi; she hopes to include French and Spanish translations soon. Her goal is not only to invite children from around the world to read, but to encourage a love of learning languages.
"Kids everywhere like stories," says Merchant, who also has a two-year-old daughter. "So I just have to try and get it out there to as many people as possible. I thought that if I offer different languages, it will be something that my daughter will always find interesting. If you're introduced to languages at a younger age, it can become something that you might want to learn yourself when you're older as well."
Merchant was one of those kids who liked stories. From the time she was young, it was impossible to pry a book from her hands. "I was reading constantly," she says. "I was that child who was sitting in the back row in school, quietly reading my book." She was drawn to fantasy books by Roald Dahl and Enid Blyton, authors who have influenced her own writing.
After graduating from BU, where she studied public relations, Merchant worked for an advertising firm in Mumbai. But she didn't want to make a career of advertising, so she left. She wrote a children's book, The Adventures of Zulu & the Gang, got married, and had her two daughters. In 2017, she started a small business called Purple Hathi, selling home accessories, but she's focusing now on World of Imagination.
She hopes to expand World of Imagination onto different platforms. An app is available on the Google Play Store, and she plans to offer it for iOS as well. The app is linked to the website, so whatever is uploaded to World of Imagination will appear on the app. "Purple Hathi is still around and I've launched the app under that company as well," Merchant says. "So it's all connected."
Merchant also has plenty of new stories planned. "My only thing that I ever wanted to do or be was a writer," she says. "It just didn't happen in the time frame that I had planned, but I'm happy to do it now."