Bonnie Arnold (COM'78) on Her Oscar Nomination for Best Animated Feature Film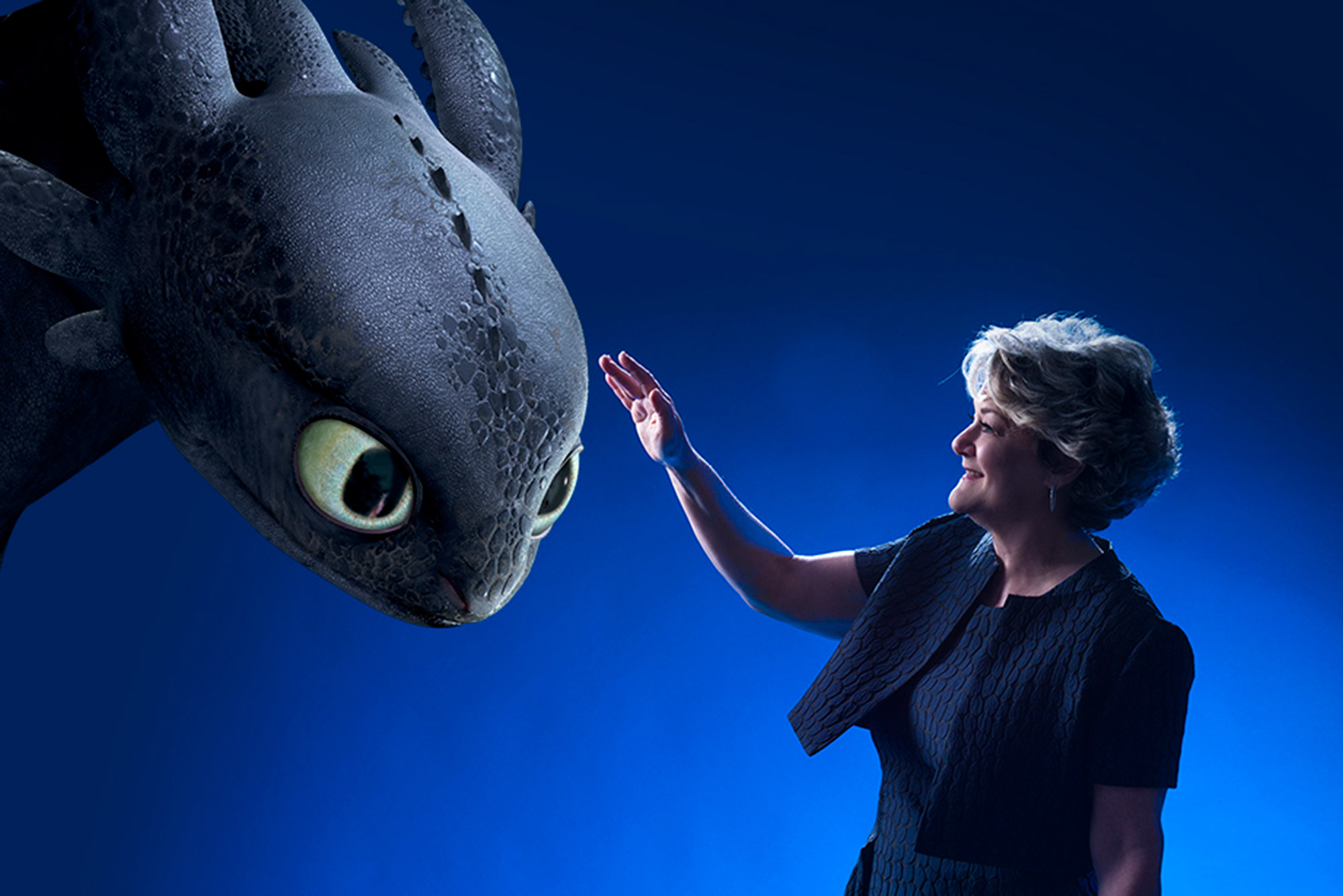 TV & Film
Bonnie Arnold (COM'78) on Her Oscar Nomination for Best Animated Feature Film
Will third time be the charm for How to Train Your Dragon: The Hidden World at the 2020 Academy Awards?
It's the would-be dragon slayer versus cowboy doll Woody in a face-off at this year's Oscars ceremony—again.
This Sunday, How to Train Your Dragon: The Hidden World and Toy Story 4 vie for Best Animated Feature Film at the 2020 Academy Awards. If that sounds familiar, it echoes a previous showdown between the two franchises. In 2011, Toy Story 3 won the Oscar in the same category, competing against the original How to Train Your Dragon.
Bonnie Arnold has had a unique window on the world of animated feature films. She produced each installment of the DreamWorks series How to Train Your Dragon, which has been nominated every year one of the films was released, and was a producer of the original Toy Story for Pixar Animation Studios. Her résumé as a producer and executive includes a long list of box office hits, including Kung Fu Panda 3, Trolls, and Dances with Wolves.
BU Today spoke with Arnold (COM'78) just before Oscar weekend about what it's like competing against the Pixar juggernaut, as well as two Netflix films (the French animated drama I Lost My Body and the Santa Claus story Klaus). Arnold also offers some advice to students looking to follow in her footsteps, and weighs in (diplomatically) on her favorites in this year's heated best picture category.
Bostonia: How are you feeling about the prospects for a win this year for How to Train Your Dragon: The Hidden World?
Bonnie Arnold: So my fingers are crossed. But listen, as we know in any election, if people are voting, you never know how it's going to turn out. The ultimate thing is to win an Oscar, but it's a pretty high honor in my business to be nominated—it's a very, very high honor, and I'm completely thrilled.

You produced the original Toy Story, Pixar's feature film debut and the first entirely computer-animated feature film, when you worked there. Is it strange to be competing against a movie franchise you helped create and that helped create the genre?
Toy Story is such a big thing in my life. My daughter was actually born during the making of it, and there's so many firsts associated with it. And I still know a lot of people who work there. A lot of us in the animation business, we all know each other. And we root for each other. It's a friendly competition.
You produced all three How to Train Your Dragon movies for DreamWorks, and all three were nominated for an Oscar.
Yes, but the first time it was nominated, the producer was not included in the nomination. I wasn't personally nominated until the second movie.
So you got robbed?
Yes, I did get robbed, so to speak. But we set the rules straight, thanks to some complaining by a lot of people. Anyway, now the producers are actually included in the animation nomination.
Bostonia:
Netflix received 24 Oscar nominations this year, more than any other major Hollywood studio. How have they changed the landscape?
I Lost My Body was actually released by Netflix, but it wasn't produced by them. It's an independent French animated film….As a filmmaker, it's very exciting to have Netflix playing a role in feature animation, in particular. They have some very good films in contention this year. And they are giving a lot of filmmakers a chance to make their passion projects. I applaud that.
Bostonia:
In light of the ongoing Harvey Weinstein trial and that there wasn't a single woman given a best-director nod this year, what's your advice to young women who want to follow in your footsteps and find their way in Hollywood?
I definitely think this is the best time to be a woman—companies have kind of gotten awakened. It's also a tough time because of #MeToo, and we don't want to scare young women off. The whole work world is not like that all the time—that's an extreme example. But you have to listen, you have to be aware. There's always a dynamic between men and women in the workplace. The good news is there's a huge awareness of that now.

[My advice is] do a good job and if there's something that you aspire to, you have to be willing to speak up about it. Even when I was carrying coolers around the production set [in the early days], whenever anyone asked what I wanted to do, I said, 'Well, I want to be a producer.' Even though I wasn't even close. I just kind of had it in my head.

Bostonia:
What was your big break?
I feel like it was a little bit of being in the right place at the right time. I got this internship with the public television station in Georgia. They introduced me to a guy who was making a film, and I got to go on location. The first day they were like, 'Welcome to the production office,' and I thought, OK, this is it. Sometimes you see something and you just say, 'OK, this is what I'm going to do.'

But I had different opportunities that presented themselves along the way….[Kevin Costner] was a producer on this other movie, called Revenge…and he and I are the same age and we kind of hit it off. We had a set that was in Mexico, so there was a very small American crew. He and his producing partner, Jim Wilson, [and I] were on this farm, and they were telling me about this thing they were going to do in South Dakota—that it was going to be so different. And they asked me, 'What do you want to do?' I go: 'I want to be a producer.' And they said, 'Well, if we get our money together, you come work for us on this movie.' And sure enough, they said, 'Why don't you come with us and be an associate producer?' [That film was Dances with Wolves, which won seven Oscars in 1991, including Best Picture.]

It was a life-changing experience for sure. I got to go to the Academy Awards with them and it was just so much fun.

Bostonia:
You've been described as a "creative producer" because your involvement extends far beyond the business side of moviemaking. Can you talk about how you view your role?
A lot of it is helping the director; obviously, it's the director's vision of the movie. But I think it's the producer's job to guide that person, because, especially in animation, you're dealing with a lot of small details along the way. And as a producer, I like to come up and have the 30,000-foot view and make sure we're staying on the path, asking, 'Have you thought about this, and maybe you should go a little to the right or a little to the left, because you're there.' We talk about the beginning and the end, and making sure you don't get off track. That's kind of my superpower.
Bostonia:
Do you have a favorite in the best picture category (Joker, 1917, Ford v Ferrari, The Irishman, Jojo Rabbit, Little Women, Marriage Story, Once Upon a Time in Hollywood, and Parasite)?
I really, really, really enjoyed Little Women. I just thought it was super charming and I really enjoyed it. I have a couple of favorites. I loved Jojo Rabbit too. Hard to choose.
Writer Scott Silver (COM'86) has been nominated in the Best Adapted Screenplay category for Joker; it's Silver's second nomination: he was a nominee in 2011 for Best Writing, Original Screenplay, for The Fighter.

The 92nd Academy Awards will be held on Sunday, February 9, at the Dolby Theatre in Los Angeles. The ceremony will be broadcast on ABC starting at 8 pm ET. Red carpet coverage begins at 5 pm, EST, Sunday, February 9 on E!