Remembering Pardee Senior Sharat Kumar Nambiar, Working Hard towards Graduation before Car Crash That Left Family and Friends Grieving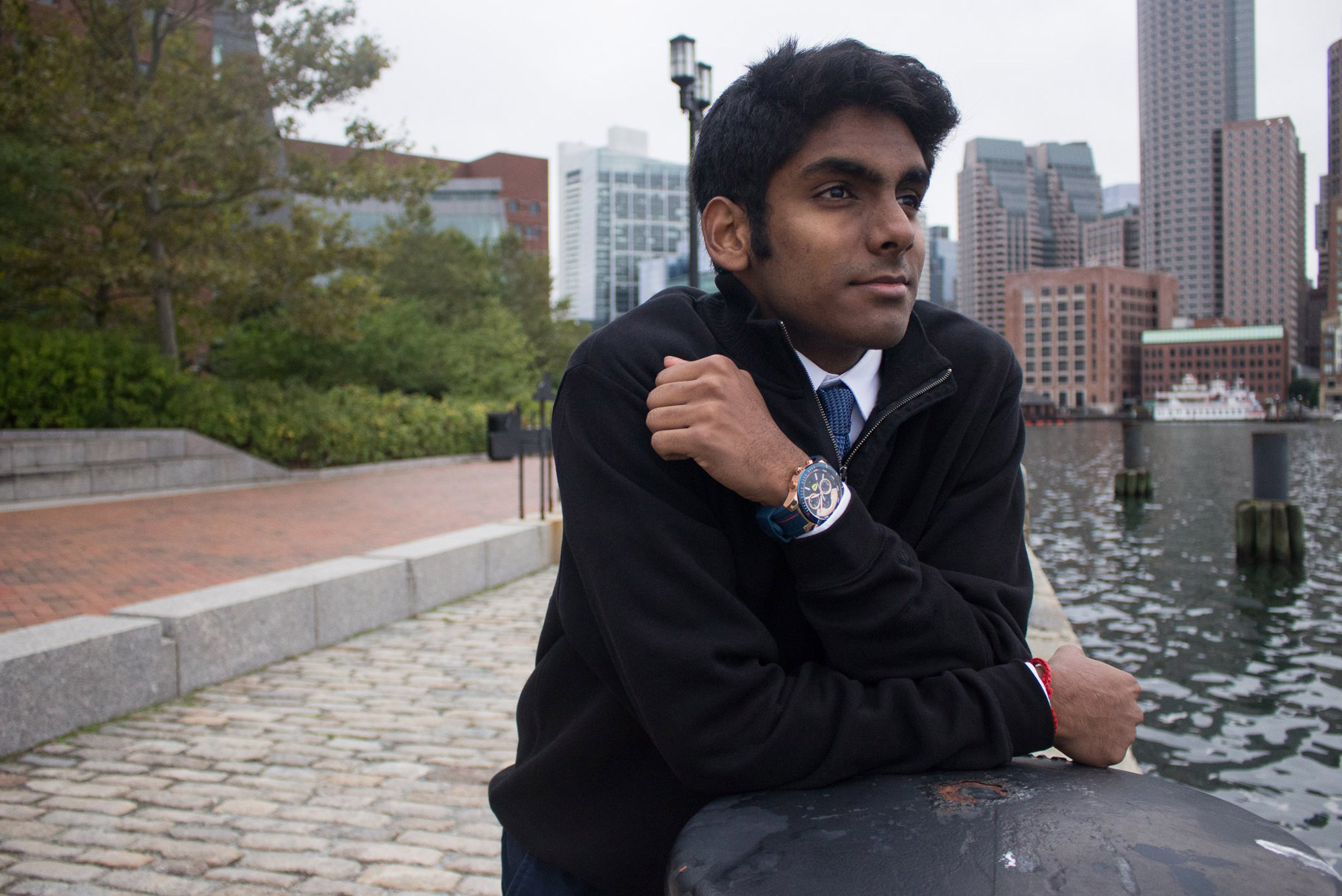 Obituaries
A Young Life, Anticipating Graduation, Cut Short in Dubai Car Crash over the Holidays
Pardee senior Sharat Kumar Nambiar to be remembered at a campus gathering today
It was odd for Sharat Kumar Nambiar to skip his Understanding the Modern Middle East class. Teaching the course last fall, Shamiran Mako, a Frederick S. Pardee School of Global Studies assistant professor of international relations, knew Nambiar (CAS'20, Pardee'20) as hard-working, engrossed in the Middle East, and "up-to-date with all the news and developments from the region." He was also caring, so his explanation for his absence, when he stayed after class the following week to give it, wasn't a surprise.
He "profusely apologized for missing class and proceeded to tell me he was donating blood at the Red Cross clinic, and it took longer than anticipated," Mako recalls.
Nambiar died in the wee hours of December 25 when the Mercedes sedan he was driving crashed into a tree in his Dubai neighborhood. A childhood friend and passenger, Rohit Krishnakumar, who attended college in Britain, was also killed.
"It's devastating," says Mako. "My heart is breaking for his parents and his family and friends. I cannot imagine their loss."
Others at Pardee are grieving for a student who eagerly anticipated what life would bring after his planned graduation in May.
Ashley Glenn saw a lot of Nambiar last fall. As Pardee senior undergraduate advisor, her job was to counsel Kumar on courses and his academic status as he neared his Commencement walk onto Nickerson Field. "He was really looking forward to graduating," Glenn says, "and wanted to ensure he was on track. To him, nothing would stand in his way of walking across that stage. It was going to be a proud moment for him to share with his family."
He "was heavily trying to improve his GPA in time for graduation," she says. "I am saddened that it will not happen."
Self-betterment was an important philosophy to Nambiar, recalls Melissa Chan (CAS'20, Pardee'20), who says he sometimes arrived late for a class they both took two years ago. "He definitely improved on class attendance and actively participated in class discussions," when they took Mako's course together last fall, Chan says. "He spoke up every time, and when he did, his contribution mattered."
She says he confided his enjoyment of that class, telling her that Mako's lectures "'were like telling stories… Every time she said something, I felt like I got smarter and smarter.'"
"Everything he said made me smile or laugh," Chan says.

Nambiar took two classes with Jayita Sarkar, including International Nuclear Politics. The Pardee assistant professor of international relations says that in an essay introducing himself, Nambiar said he wanted to study the topic to prepare for a career as a diplomat, representing India, his native country. "I hope to gain a sound perspective," he wrote, "on how nations and international institutions govern the possession and foundation of nuclear arms."
"He would frequently see me during office hours," Sarkar says, "asking questions about the world, always curious to learn more.…We lost someone who genuinely cared about international relations, a fine young man who could have done much to change the world."
That "drive to achieve" impressed another faculty member who taught Nambiar. "He was a regular visitor to my office," says Michael Woldemariam, a Pardee associate professor of international relations and of political science, "where we would talk about course material and various topics in African politics."
The accident that killed Nambiar happened around 3 am. He and Krishnakumar had met friends for a late-night snack, and after dropping off the friends, Nambiar was taking Krishnakumar home.
Members of the BU community are invited to a gathering remembering Nambiar hosted by the Pardee School of Global Studies today, Friday, January 24, in the Bay State Room at 121 Bay State Road, from 4 to 5 pm. 
Individual grief counseling support for students, faculty, and staff will be available at the gathering. Additional counseling can be arranged through the following resources:
Marsh Chapel chaplains can be reached at 617-353-3560.
Behavioral Medicine providers at Student Health Services can be reached at 617-353-3569.
Counseling is also available for faculty and staff through the Faculty & Staff Assistance office, 617-353-5381.
The Center for Anxiety and Related Disorders is at 617-353-9610.