Wheelock Family Theatre Puppet Workshop Offers Hands-on Summer Fun for Kids
Theatre
Wheelock Family Theatre Puppet Workshop Offers Hands-on Summer Fun for Kids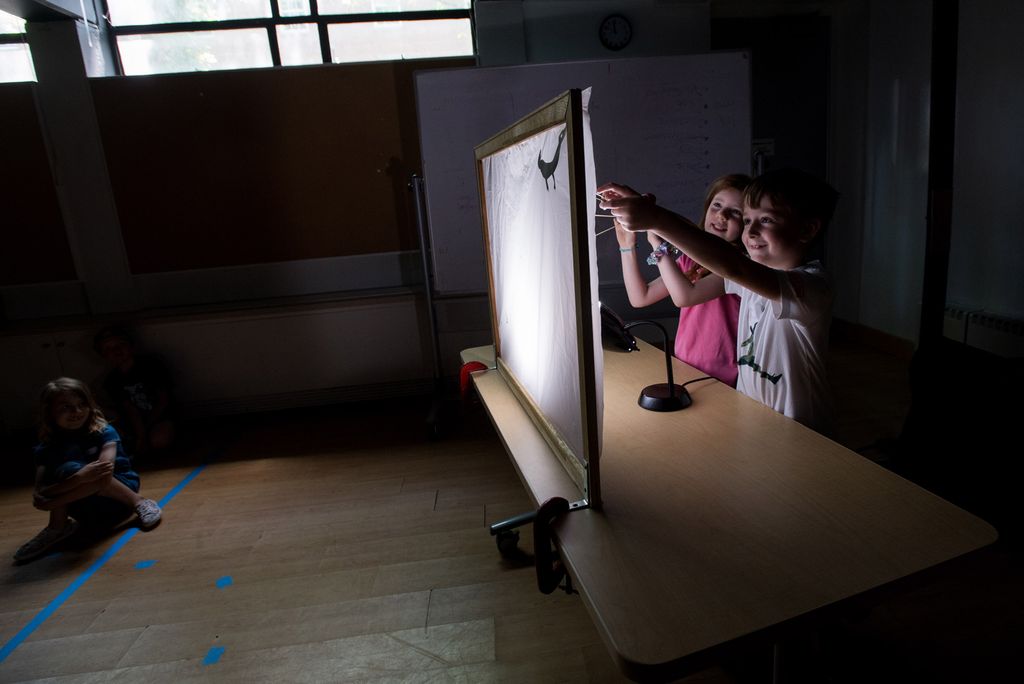 On the Fenway Campus, they're passing out eyes.

Plastic googly eyes, to be exact, for students to glue on wooden spoons, along with fuzzy noses and hand-cut felt smiles, creating rather charming rod puppets.

"Each puppet can have two eyes," says puppeteer Sarah Nolen, overseeing a classroom of four- and five-year-olds.

"Or one!" insists five-year-old Aya.

A handful of kids in this weeklong Wheelock Family Theatre Summer Puppet Academy follow Aya's lead and go with one eye, à la Cyclops. Creativity is definitely encouraged among the 60-plus students in the program, a collaboration between Wheelock Family Theatre (WFT) and Brookline's Puppet Showplace Theater, where Nolen is a resident artist.
"High five for colorful hair!" green-tressed puppeteer John Regan says later, leaning down to slap five with a girl sporting red braids.

WFT's summer education program has been a mainstay of the nonprofit for decades, drawing hundreds of students each year—a few of them go on to join WFT's mainstage productions and even make theater a career. Puppet Showplace, which has a storefront theater in Brookline Village, tours all over Boston and New England and has lent its expertise to WFT productions when needed, says Puppet Showplace artistic director Roxanna Myhrum.
"In the past 10 years or so we've really seen the need to do our part to increase puppetry literacy in the community," Myhrum says. "We are one of the few existing puppet theaters in the country, and for people to love the art form, they need to know about what it is and how it works and where it comes from, the fact that it's practiced all over the world. We want to get skills in the hands of people of all ages."

Last year, the two organizations teamed up to launch the Summer Puppet Academy.
"I'm a firm believer in giving the kids the real thing, from the real people who are doing the work," says Jeri Hammond, WFT's director of education and community engagement. "We said, 'Why don't we have a whole week kicking off the summer dedicated to puppets?'"

The academy students, who range from kindergartners to high-schoolers, are broken into four age groups that rotate among classes in how to make rod puppets, tabletop puppets, shadow puppets, and hand puppets. Each group is taught by a Puppet Showplace artist paired with a WFT teaching assistant.

"School just got out, and Devin was like, 'I don't want to go to camp, I just want to sit home and be on my phone," says parent Martha Davis, a Northeastern University School of Law professor of law and associate dean for experiential education. "I kind of insisted that they go, and they've just loved it, wanting to go early in the day and get picked up late, making cool stuff and making friends. So it's really been very, very positive."

The family had previously participated in several short workshops at Puppet Showplace, Davis says, including a puppet karaoke event. "I do think it's a way for my child to express feelings through the puppet sometimes," she says. "Going up there with a puppet allowed them to fully participate, but not take quite as much of the risk as doing it themselves."

The shadow puppet class finds puppeteer Brad Shur, sporting a porkpie hat, and teaching assistant senior Nicholas Walker (CFA) wrangling a class of seven-, eight-, and nine-year-olds. The students take turns standing by a spotlight behind a piece of translucent shower curtain, where the shadows of their robot and snake and bird puppets do what Simon Says.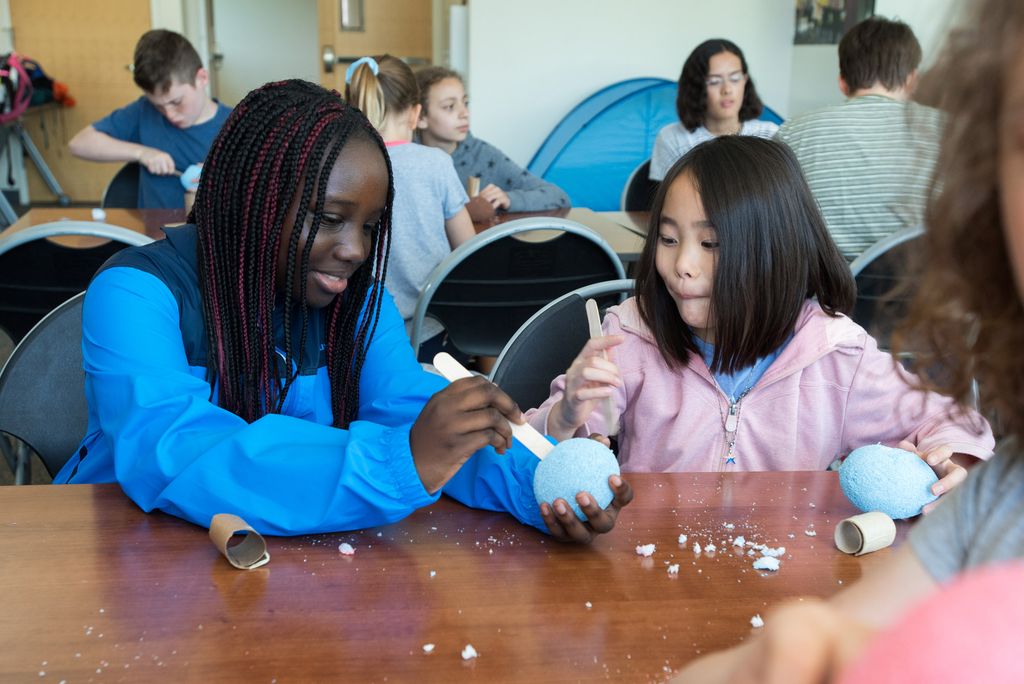 "Simon says, 'On screen! Simon says, Off screen!'" Shur says. "On screen! Oooh, I didn't say 'Simon says!'"

The best puppeteering of the day, though, comes when a student takes over as Simon and commands a dance break: "Simon says, 'Do the Floss!'"

A big part of WFT's reputation is its commitment to inclusion on and off stage. This year's Puppet Academy student cohort comprises children of various races, ethnicities, and gender identities as well as neurodiversity. Professional development for the staff focused on strategies for supporting and including students with disabilities and developing a toolkit of strategies and resources. There are small tents set up here and there for students who need a safe space. A Mass Cultural Council Universal Participation Initiative (UP) grant helped fund this part of the summer program.

"My daughter, Rose, has autism, and puppets have a unique draw to her," says parent June Mallon of Marlborough, Mass. "She seems to find a way to express herself through puppets. She always has—she used her stuffed animals like that before she had puppets."

Rose had enjoyed a one-day workshop at the Puppet Showplace. The weeklong Puppet Academy was more of a stretch, but Mallon decided to take the chance and it's worked out. "She talks about how much she loves it," her mother says. "She's really impressed—and I'm really impressed—with the quality of the teaching staff. They've gone out of their way to provide an environment where a diverse group of people can benefit from the program."

In the hand-puppet class for ages 10 to teen, taught by Puppet Showplace resident teaching artist Honey Goodenough and WFT teaching assistant Alyse Clinton, students use tongue depressors to carve finger holes in styrofoam balls that will eventually become their puppets' heads.

"My fingers are, like, literally huge," one teen says, trying it out.

Another jokes with a friend that his puppet will have no problem getting cast as a Muppet: "I know Kermit."

The day ends with all hands on the mainstage for sharing time. Three students from each group share a little of what they've learned that day, and then Regan takes over for a brief shadow-puppet show of his own, followed by a Q&A.

Whether or not any of the students grow up to work with puppets, or even in theater, Hammond says, "our deeply held belief is that all students grow from this experience and develop essential life skills such as empathy and cooperation and creative thinking and expression and problem-solving.  All kinds of things which help them be a better person no matter what they choose to do in the world."

The  WFT Summer Puppet Academy is over for this summer but will be offered next year. Registration opens in early 2020.  Find information about all of WFT's summer programs here.