Visionary for Your Vision
ENG alum creates mobile eye exam technology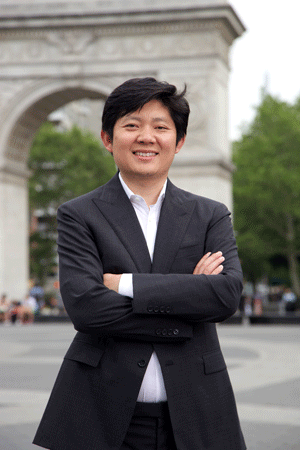 "There are over a billion people around the globe suffering uncorrected vision," says Yaopeng Zhou. "Many of them live in developing countries like India and China and they fundamentally just lack access to eye doctors. To solve that problem, either you spend a ton of money and time to train people or you can figure out a piece of technology to do the work."
That, says Zhou (ENG'05,'09), was the inspiration for him to develop a handheld, easy-to-use mobile technology that performs eye exams. After years of development, Zhou and fellow Boston University graduate Marc Albanese (ENG'99,'03), cofounded Smart Vision Labs in 2013 to make eye care and exams more accessible to everyone.
After graduating from the College of Engineering in 2009 with a PhD in manufacturing engineering, Zhou went to GE Healthcare to work as an optical development engineer. There, he helped to develop an optical fiber–based multiwavelength fluorescence microscope for drug discovery. Zhou then moved to Abbott Laboratories and worked on building a handheld blood testing device. Both projects required building complex microscopes, but Zhou thought, "I definitely can do something different—maybe even better. That planted the seed to start something on my own."
Before coming to BU, Zhou studied in China for his bachelor's degree in mechatronics, a field that combines mechanical and electrical engineering. "I didn't have an idea I wanted to work in optics. I just knew I wanted to work on something challenging," he says. "Optics is the first thing that caught my eye."
"With optics, you actually need to build the piece of equipment that shoots a laser into a part of the body, and also measure the physical property of the laser," says Zhou. "That makes optics so much more fun and interesting—the two components together really pushed me to go really deep into understanding the whole subject."
Before Smart Vision Labs was formed, Zhou had to build and test the product on his own. The device, called an autorefractor, is the same technology used in laser eye surgery to correct vision, but this device measures imperfections in the eyeball.
"We essentially shoot a laser into the eye and capture the light going in and out using a camera, and then measure how the light travels in your eyeball," says Zhou. "Mathematically there's a perfect eye, but nobody has a perfect eye. Once we measure how the light travels and compare that pattern to a perfect pattern, the difference will be the eyeglasses you need to compensate for the imperfection of your eyeball."
Zhou sees his portable autorefractor as changing the way eye doctors perform exams in their offices, but he also wanted to disrupt the market beyond the traditional model with telemedicine. His device can generate the results from an eye exam in five minutes, then digitally send those results to an ophthalmologist to write prescriptions remotely, and the patient never has to go into a doctor's office.
"You don't need to have a medical degree to run the technology," says Zhou. The Smart Vision Labs exam costs $30 and within 24 hours a patient can receive a prescription to buy eyeglasses or contact lenses. "It's a more straightforward, direct-to-consumer practice at a reduced cost to the customer," he says.
"We didn't just want to become a player to support the existing system," he adds. "We really want to push something to benefit the consumer, not just the doctor or the hospital."
And Zhou doesn't just want to benefit consumers in the United States. Smart Vision Labs partners with organizations like the ASCRS Foundation, which helps increase access to patient eye care in Ethiopia, and with Education In Sight, a nonprofit government organization that works in China, and Healthbridge Global, an organization that works with iCareforIndia to expand eye care throughout India.
"A pair of eyeglasses only costs $1.50 to make," says Zhou. "Really, it's not that expensive, right? But the bottleneck is you don't know your prescription. But we are solving that problem—we are offering prescriptions to people who need eyeglasses."
Increasing access to eye exams and eyeglasses is also a local initiative. "The US is one of the most advanced countries in the world, but we still have students from New York City suffering from the same problem as students from India and China," says Zhou. "There are some students who are at the bottom of the class, but it's not because they're bad students—they just can't see the blackboard."
Based in New York City, Smart Vision Labs partners with schools to provide free eye exams for students. From there, students can get a prescription if needed and then work with organizations like 141 Eyewear, the Essilor Vision Foundation, and Big Brothers Big Sisters of New York City, who donate eyeglasses for these low-income students.
As Smart Vision Labs continually improves the product, Zhou says it wants to disrupt the industry even more. With records from over 110,000 patients, Zhou says they have one of the largest eye exam results databases in the world.
"Data can tell us mathematics patterns," says Zhou. "So, we looked at how doctors are prescribing and their patterns, and then we transformed those patterns into code to develop software to prescribe automatically."
He says the initial impact of this is economic. "If there are a million people living in a remote village, it's not economical to have a US doctor prescribing for those people," he says. "A US doctor is pretty expensive for their time. So how do you actually offer service to those people? Software."
When a patient receives an exam, the software, which is being developed with machine learning, would analyze the results and automatically recommend a prescription, if necessary. In addition to lowering costs globally, this could also lower costs within the United States by decreasing the amount of time a doctor takes to write an eyeglasses prescription.
As of 2018, Smart Vision Labs has around 650 devices in the United States and has performed over 110,000 exams—half from eye doctors and half from optical retail stores. "When you have a problem that affects 60 percent of the entire global population," says Zhou, "that is a worthy problem to solve."
Liz Sheeley can be reached at esheeley@bu.edu.