Looking Back at the Original Bruins vs. Blues Stanley Cup Battle
CGS professor Tom Whalen's upcoming book will chronicle Boston hockey's greatest season
A scrappy Boston Bruins team full of characters takes on the St. Louis Blues in the NHL Stanley Cup finals. Sound familiar? Well, yes, but we're talking about the 1970 Bruins, led by 22-year-old superstar defenseman Bobby Orr. Orr's flight through the air after scoring the championship-winning goal in overtime became a poster on the bedroom walls of thousands of fans and is now immortalized in a statue outside TD Garden.
"Bobby Orr was like Gene Kelly on ice—he was just magnificent," says Thomas Whalen, a College of General Studies associate professor of social sciences, who had that Orr poster on his wall as a boy growing up in Danvers, Mass. Whalen is now writing a book commemorating next year's 50th anniversary of that never-to-be-forgotten series and season. "He rewrote the rulebook for defensemen. He said defensemen could be offensive players, and hockey was never the same. But it was how he did it," Whalen says, "his acrobatic, balletic moves, his changing of speeds. He was this great athlete, but he brought art to the ice in a way no one had ever done."
Whalen, the son of an avid amateur hockey player, bridges two eras of Bruins defensemen. As a boy, he met Orr at a promotional appearance at a North Shore mall; as a BU professor, he taught Charlie McAvoy in a class on US foreign policy. Former Terriers McAvoy, Charlie Coyle, and Matt Grzelcyk (COM'16) were on the ice for the Bruins Wednesday night at TD Garden when they lost to the Blues 3-2, tying the series. Grzelcyk was injured and his status going forward is unclear. Games three and four are in St. Louis on Saturday and Monday.
This is the Blues' first trip to the finals since their loss to Orr and company in the old Boston Garden 49 years ago. Whalen is looking forward to next year's anniversary of that series and the publication of his book, tentatively titled Kooks and Degenerates on Ice: Bobby Orr, the Big Bad Bruins, and the Stanley Cup Championship That Transformed Hockey (Rowman & Littlefield Publishers, 2020). "It was transformative in terms of making the NHL a big-time pro league like the NFL, MLB, and the NBA," Whalen says.
The Bruins book is the conclusion of Whalen's trilogy looking at Boston pro teams that helped change the city at that time: Spirit of '67: The Cardiac Kids, El Birdos, and the World Series That Captivated America (Rowman & Littlefield Publishers, 2017), about the Red Sox Impossible Dream season, and Dynasty's End: Bill Russell and the 1968-69 World Champion Boston Celtics (Northeastern University Press, 2003).
Long a backwater, by 1970 Boston was building a new attitude, from the Prudential Tower rising into the long-static skyline to its sports teams giving fans something to cheer for—in the case of the Bruins and Red Sox, for the first time in many years.
Boston Mayor "Kevin White (Hon.'74) called it the New Boston," Whalen notes. "He became mayor in 1968, and he was basically bringing the city into the 20th century. It had been on the outs for several decades, people weren't investing money here, the population was leaving. But now there seemed to be a revitalization taking place, and we were just a few years from Faneuil Hall Market being done over by White."
The Bruins brought a fresh kind of hockey to the ice, from Orr's graceful skating to Phil Esposito camping out in front of the opponent's net to score. One trait that wasn't new was their willingness to fight, starting first and foremost with the hard-partying Derek Sanderson, who fed Orr the puck for that famous goal, and came to epitomize a new kind of hockey player off the ice—hipper and more in tune with the times.
"The Bruins wore their hair long and engaged in—how shall we say it?—hedonistic activity," Whalen says with a laugh. "And I think that was one reason people remembered that team so fondly. They had a good time."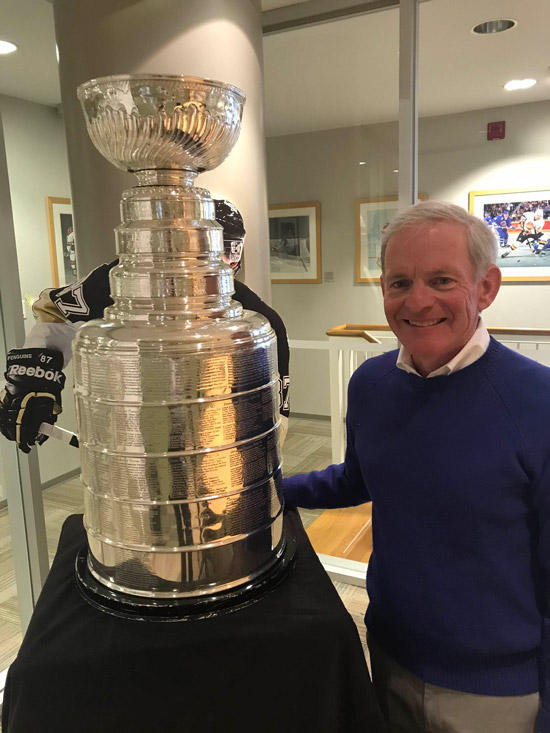 But while they were "a team of characters, they also had character," he says, calling that 1970 squad the "clutch-est" team in Boston history, as they ran through the rest of the league to get to the Stanley Cup finals.
"They owned New England," Whalen says. "People talk about how the Patriots and Tom Brady own New England now? Not even close."
Orr was already the game's brightest star when he slipped the puck past St. Louis goalie Glenn Hall on May 10, 1970, winning the game for the Bruins, 4-3, to complete a sweep of the Blues. But the moment became truly iconic because Blues defenseman Noel Picard tripped Orr with his stick just as he was shooting. Orr flew through the air like Superman as the puck went in, and the late Boston Record-American photographer Ray Lussier captured the moment.
"It was a magical time," Whalen says, even though (or perhaps because) in those pre-NESN days New Englanders had to turn to Channel 38's often snowy picture to see the games. "The team, and Orr in particular, captured the imagination of all of North America and made hockey relevant."
That season kicked up a groundswell of interest in the game, including a boom in rink construction and youth hockey participation in New England and beyond, which Whalen says helped create the generation of players that gave us the 1980 US Olympic "Miracle on Ice" team, captained by BU's Mike Eruzione (Wheelock'77) and three other former Terriers.
The Bruins won the Cup again in 1972 and reached the finals in 1974, but a fledgling rival pro hockey league, the WHA, lured away Sanderson and other players. Hobbled by injuries, Orr was eventually traded to the Chicago Blackhawks, where he played only a few games before retiring. Today he is a beloved Bruins icon, whose name is spoken in the same breath as Williams, Russell (Hon.'02), Ortiz (Hon.'17), Brady, and other New England sports legends, and he's been visible at the Garden during this year's playoffs.
As for Whalen, his own hockey fandom has waxed and waned over the years, but he still has a framed copy of Lussier's photo hanging on a wall at home. "There's something about that team that just brings warm memories," he says. "It's just a special moment, before everything got complicated."