The Weekender: November 14 to 17
Boston Comedy Festival, veggie fast food, and a vintage clothing paradise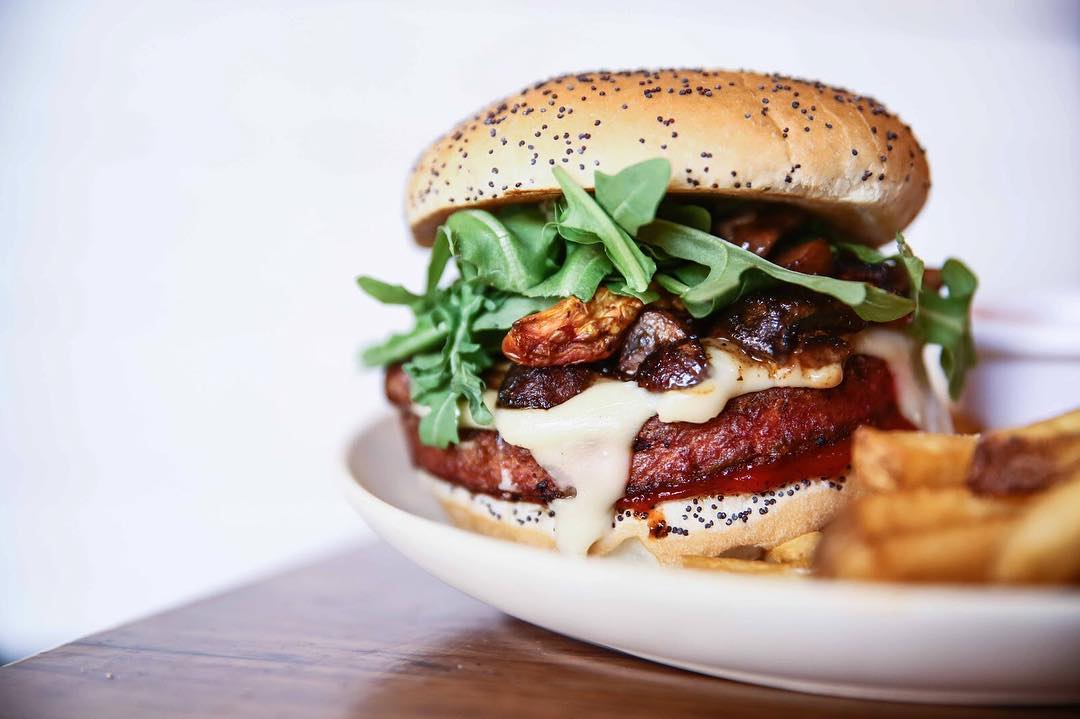 The temperatures may be rapidly dropping in Boston, but that doesn't mean you should spend your weekend camped out in your dorm room (not your entire weekend, anyway). Despite the frigid conditions, the city is still booming with things to do. There are only two more weekends until Thanksgiving break, so in between daydreaming about turkey and stuffing, take some time to relax with a good meal or a fun festival (just be sure to bring a warm jacket).
This California-based healthy food chain made its East Coast debut last month and has been serving up plant-based fast food gems steadily since. The fast-casual eatery has an all-vegan and largely gluten-free menu that mimics the food coming out of a traditional fast food joint. It has burgers, nachos, wings, and rice bowls, all made from plants. It also carries the Beyond Burger, a veggie burger that is made to look and taste exactly like a real beef burger. Try the "luxe" version of the burger, which comes topped with white truffle "cheese" sauce, roasted mushrooms, arugula, sriracha ketchup, and roasted tomatoes.

Veggie Grill, 57 John F. Kennedy St., Cambridge, is open weekdays, 10:30 am to 10 pm, and weekends, 11 am to 10 pm.

If sustainable shopping is your thing, Vivant Vintage should be one of your top shopping destinations. The Allston shop is home to an eccentric collection of all kinds of vintage clothing, accessories, and knickknacks. In addition to the vintage finds, Vivant Vintage has a growing collection of artist-made items too. From '50s leather jackets to more than 75 styles of vintage graphic tees, this shop has something to interest almost everyone—plus, it's much cheaper than a lot of the stores you'll find on Newbury Street.
Vivant Vintage, 318 Lincoln St., Allston, is open weekdays, noon to 7 pm, Saturdays, 11 am to 7 pm, and Sundays, 11 am to 6 pm.

One man performs 9,000 words in an offbeat rhyme in The Smuggler, which runs until November 24 at the Boston Playwrights' Theatre. The show is directed by Ronán Noone (GRS'01), a College of Arts & Sciences adjunct assistant professor in the MFA in Playwriting Program, which he also graduated from. The play is about an Irish immigrant who works in America as a bartender, but dreams of being a writer. That changes when a stranger pitches to him the idea of smuggling people. The Smuggler won the Best Playwright Award at Origin Theatre Company's 11th annual 1st Irish Festival.

The Smuggler is on stage at Boston Playwrights' Theatre, 949 Comm Ave, through November 24. Performances are Thursdays at 7:30 pm, Fridays and Saturdays at 8 pm, and Sundays at 2 pm. Tickets: adults, $35; BU faculty and staff, $20; seniors (62+), $25; students with a valid ID, $10. Purchase tickets online here or by calling the box office at 866-811-4111.

If cold weather and exams have you feeling blue, check out the 20th annual Boston Comedy Festival this weekend. The four-day event features more than 75 comedians and a variety of performances, including stand-up comedy contests, all-star shows, and a show called "Pick a Side, Stupid," where, according to the festival website, comedians choose a side in a ridiculous debate. Comedians like Artie Lange and Caroline Rhea (from Sabrina the Teenage Witch) will headline their own shows, and you can catch up-and-coming comedians and a special show featuring women of the Boston Comedy Festival.

The Boston Comedy Festival will host events at various locations throughout Boston from today to Saturday at 10 pm. Ticket prices range from $15 to $100, depending on who you see. Check out the website for more information.

On Saturday, it's the BU miXx K-Pop Cover Dance Crew's sixth annual winter semester showcase, miXxhibition. The student dancers in the group learn the choreography of some of K-Pop's biggest hits, and a film crew then records their performance. At Saturday's event, the dancers will dance the YouTube cover videos live on stage, with the mission of promoting Korean pop culture.
The miXxhibition 2019 Annual Winter Showcase is Saturday, November 16, from 7 to 9 pm, at the Tsai Performance Center, 685 Commonwealth Ave. Tickets are $9 for students and $11 for the general public and can be purchased at the door.